Big Sugar Gravel: Paige Onweller is a dark horse no more
The Abus rider celebrated a breakthrough victory in Bentonville, with Emily Newsom and Alexis Skarda rounding out the podium.
Heading out the door? Read this article on the new Outside+ app available now on iOS devices for members! Download the app.
On Friday, Paige Onweller was a dark horse going into Big Sugar Gravel, and on Saturday she was a dark horse no more.
The 33-year-old from Michigan won the race in commanding fashion, coming across the line into downtown Bentonville in 5:33:05.
Emily Newsom finished second on the day, in a time of 5:39:44, with Alexis Skarda completing the podium in third.
Onweller blinked back tears as the media swarmed her at the finish.
"This was a huge goal," she said. "I've been waiting so long for everything to come together and gravel is just so unpredictable. So this feels really good."
Also read: Meet Life Time Grand Prix dark horse Paige Onweller
A blazing-fast Ruth Winder was the race's early leader, but the former pro bonked badly after pushing the pace early in the race. She also got lost.
Onweller said that, despite a bad start position and a bit of challenging navigation in the bunch on an early road section, she caught and passed Winder around mile 50.  
"Thankfully, I just started feeling good, focused on eating and picking people off. The group kept growing from guys that fell off the main group. We had a good pace line through the wind, it was perfect."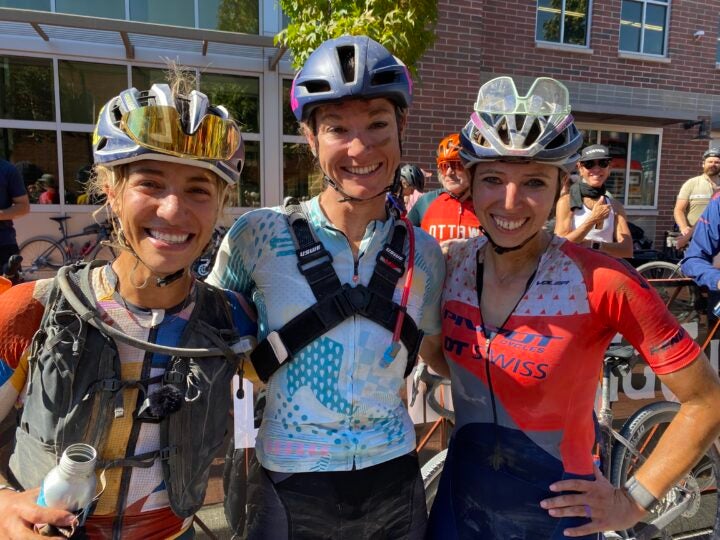 Before Onweller's break, many of the women at the front of the race worked in groups together, which isn't always the case in gravel race. A highlight for Sofia Gomez Villafañe, who was seventh on the day, was "riding in the biggest women's peloton that we've seen at a US domestic gravel race. That was sick," she said.
Emily Newsom, who was second in today's race and also in 2021, was with that group of women early in the race.
"In the beginning, I was really trying to get with a group of men, and I just got gapped in some of the corners so I fell back to a group and it was Sofia, me, Rose [Grant], Sarah [Sturm], Alexis, Paige and maybe another one. Gradually people just fell off. It was attrition."
Skarda, who left the finish line to catch a 3 p.m. flight to Maryland for US Marathon MTB nationals, was one of the riders who eventually fell off that group's wheels.
"Those road girls have another level of power, and I could feel it that they were a little stronger on those punchy climbs, so I was like, 'I'm just gonna see what happens, how long I can hang on,'" she said. "I was yo-yo'ing off the back and was like, 'stay on as long as you can cause once you're by yourself it sucks."
At mile 85, Skarda finally lost the group and was on her own "until another guy came by and worked with me. He was kind of an angel actually because it just goes so slow when you're by yourself," she said.
Also read: Big Sugar Gravel: Russell Finsterwald takes solo win in men's race
The weather on race day was also challenging; a steady wind from the south blew from start to finish.
It was an emotional finish for many riders at the finish, some of whom were competing in the six-series Life Time Grand Prix. Newsom was joined by her husband and young daughter who rarely get to see her race in person. She finished fifth in the Grand Prix.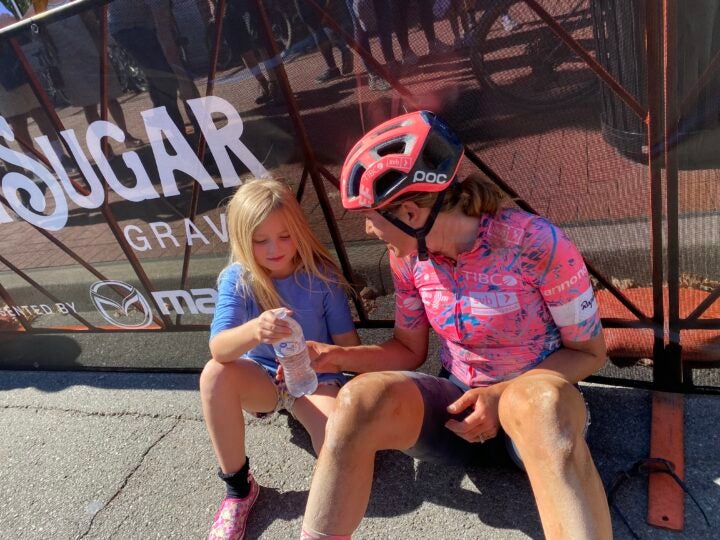 Rose Grant finished a phenomenal fourth place on the day, her last gravel race as a professional cyclist. She was also fourth in the Grand Prix.
Sarah Sturm, ninth on the day and third in the Grand Prix, said that the race was especially challenging, "because everyone had something on the line."
Onweller's win sent her from 12th to ninth in the Grand Prix, and the result is particularly sweet considering the fact that she was certain she wouldn't even get accepted into the series when she applied.
"This is what opportunity looks like," Onweller said. "I would have never done half these races, and they let a total newbie come into it. 
"I think I'm officially not a newbie anymore. Out there, I kinda knew I was gonna win, but I didn't want my mind to go there because I was like, 'no, anything can happen, I could flat.' With nine miles to go, I was like, 'yeah I think I'm gonna win, and I got goosebumps, started tearing up. I've sacrificed so much to get here and I'm just thankful to end the season like this."
Full women's results here
1. Paige Onweller, 5:33:05
2. Emily Newsom, 5:39:44
3. Alexis Skarda, 5:45:43
4. Rose Grant, 5:48:18
5. Lauren De Crescenzo, 5:50:19
6. Maeghan Easler, 5:50:39
7. Sofia Gomez Villafane, 5:50:42
8.Whitney Allison, 5:50:44
9. Sarah Sturm, 5:50:54
10. Savilia Blunk, 5:51:04