Big Sugar Gravel: Russell Finsterwald takes a triumphant win to close the season
He is joined on the podium by Keegan Swenson and Adam Roberge
Heading out the door? Read this article on the new Outside+ app available now on iOS devices for members! Download the app.
Russell Finsterwald finished off his season with a huge win at Big Sugar Gravel in Bentonville, Arkansas on Saturday. The 31-year-old attacked before the finish, besting his friend Keegan Swenson by 25 seconds.
Finsterwald won in 4:57:59.
Adam Roberge completed the podium, finishing a further few seconds back.
Finsterwald's win also moved him up into the top three of the Life Time Grand Prix series, behind Swenson and Alexey Vermeulen.
Read also: Pro bike gallery: Russell Finsterwald's Specialized Crux
The Specialized pro from Colorado Springs said there was only one way to describe the highly competitive field on race day.
"It was a dog fight out there," he said. "I think everyone was racing for that top spot, for a lot of people they could move up and shake up the Grand Prix, so I think a lot of us were going for it. It was the last race of the season, there was nothing to lose out there."
Stiff, gusty winds greeted riders all day, especially as they traveled southward on course. A strong group of 17 riders were off the front within 20 miles of the race, and Lachlan Morton and Howard Grotts led out of the first aid station at mile 38 (Morton would later DNF due to losing a crank arm).
That group was full of Grand Prix athletes and race favorites, including the top three, as well as Brennan Wertz, Logan Owen, Andrew L'Esperance, Griffin Easter, Michael Garrison, Vermeulen, Pete Stetina, Cole Paton, Nicholas Roche, John Borstelmann, Alex Howes, and Bradyn Lange.
55 miles in, the group dwindled to 12.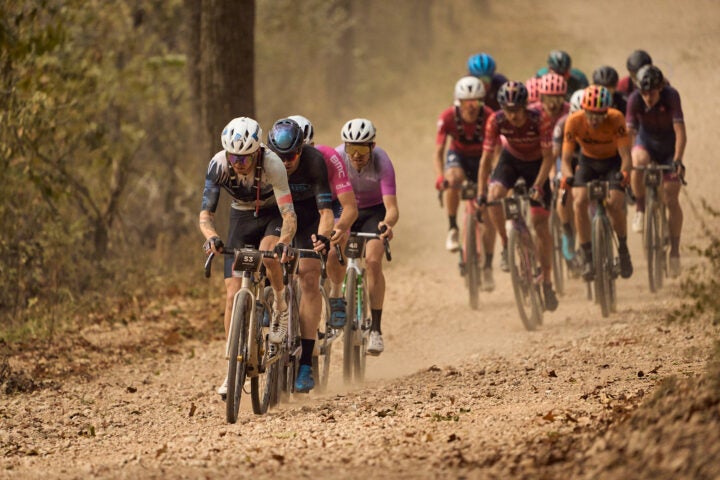 "Full gas," was another descriptor Finsterwald used for the day.
"Two hours in, we'd averaged like 330 watts," he said.
Some time after the mid point of the race, John Borstelmann ended up making a move that saw him take a healthy lead for a spell.
Unfortunately, he punctured and lost seven minutes in repairing the flat.
"I was just forcing it from the beginning," Borstelmann said. "I was in a couple moves, ending up getting away with Griffin, then dropped him. I had 2.5 miles on the field right at that descent into the aid station at mile 73. Almost to the bottom I smacked a massive rock and blew out my front tire."
Swenson led the group out of the aid station at the Whistling Springs Brewery, and said that the lead group "slowly got whittled down with people cracking, getting flats and so on."
Pete Stetina found himself in the latter camp.
"I lost contact in the second feed zone," he said. "I couldn't hang on the climb out of there, and then it was Cole and I at the back into a headwind, and those front six rolled away."
The six were Swenson, Finsterwald, Vermeulen, Roberge, as well as Alex Howes and Nicolas Roche. Eventually, the first four would ride away. 
Vermeulen, who finished fourth on the day, was practically speechless at the finish. "That was everything I had," he said. 
The 27-year-old also nabbed second overall in the Grand Prix.
As for the so-called spirit of gravel, called into question numerous times this season, Finsterwald had nothing but positive things to say.
"The spirit was strong. There was a lot of camaraderie out there amongst all of us today, everyone working together. It was a lot of fun."
Full men's results here
Results

| Position | Rider | Finish result |
| --- | --- | --- |
| 1 | Russell Finsterwald (USA) | 4:57:59 |
| 2 | Keegan Swenson (USA) | 0:00:25 |
| 3 | Adam Roberge (CAN) | 0:00:31 |
| 4 | Alexey Vermeulen (USA) | 0:01:20 |
| 5 | Nicolas Roche (IRE) | 0:02:50 |
| 6 | Alex Howes (USA) | 0:03:43 |
| 7 | Brennan Wertz (USA) | 0:07:37 |
| 8 | Peter Stetina (USA) | 0:07:44 |
| 9 | John Borstelmann (USA) | 0:08:17 |
| 10 | Cole Paton (USA) | 0:08:58 |