Bikepacking: What to bring, what to leave at home
After his first foray into the world of bikepacking, Dan Cavallari has five tips to help you pack more efficiently for a night outdoors.
Heading out the door? Read this article on the new Outside+ app available now on iOS devices for members! Download the app.
Last summer, I dipped my toe into the world of bikepacking. I had fun and I learned a lot (the hard way). So here are five tips for the bikepacking-curious to help you plan and pack for success.
Redundancies
I slept in a hammock (see below), so I didn't really need a pad, even the super-light (348 grams) one I brought. That said, I do recommend one if you're sleeping on the ground. Had the temperature been lower, the pad would have added a layer of insulation.
Similarly, I could have left my backup camera battery at home (we were only out for one night, after all), and either my fork or spoon. Remember to cut out everything extraneous to save weight and space. Be judicious with your gear choices.
Sandals
It was really nice to have these in camp, and I wore them for several hours at our campsite. All told, I could have saved 471 grams of cargo and would only have sacrificed an hour or two of comfortable flip-flop time.
Second kit
You read that right: I brought two kits for two short days of riding. While it's certainly nice to throw on a fresh chamois in the morning, the pleasantry is short-lived. I would have been fine tossing on the stinky garb from the day before since we were all smelly from camping anyway. And it would have opened up quite a bit of space in my pack for other necessities.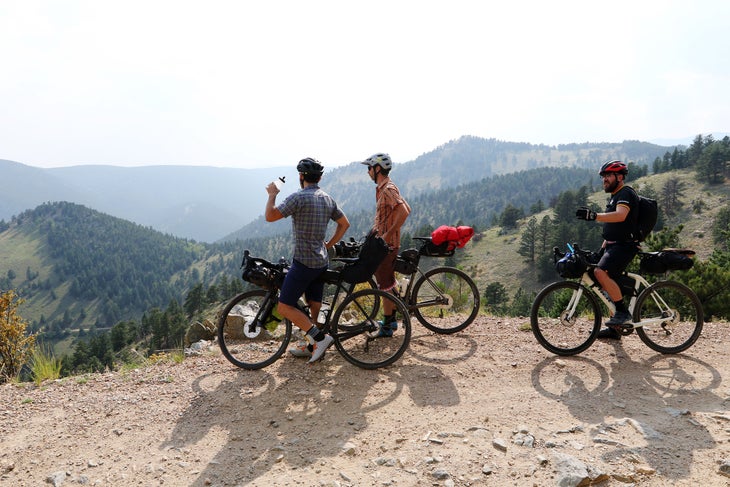 Hammock
The hammock was super comfortable and relaxing. But the entire setup (hammock straps, bug net, rain fly, hammock warmer) took up a lot of space and added a lot of weight. I could have just brought the rain fly and a comfortable sleeping pad and slept on the ground, saving myself a fair bit of weight and space in my bags.
Phone
Yes, it's a layer of security should something go wrong. Yes, it has a camera on it. But it's also a distraction from the mission of bikepacking: getting away. I used my phone a few times to snap photos and to check my email a couple times, which not only reintroduced stress to the trip, but also drained my battery. When it finally died, I kept it dead until we got back to the car.