Elite riders react to Unbound Gravel's new start format, aero bar rule
So far, it's been mostly positive reactions from the riders who will be affected by the changes.
Heading out the door? Read this article on the new Outside+ app available now on iOS devices for members! Download the app.
On Tuesday, Life Time announced major changes to one of its marquee events, Unbound Gravel.
For the first time in the race's nearly two-decade history, riders in the elite categories of the 200-mile race will start in a wave ahead of all other participants. They will also be forbidden from using aero bars, although non-elite riders may still use them. 
Read: Unbound makes big changes for 2023
VeloNews reached out to some of the elite men and women who have ridden previous editions of Unbound to see how they felt about the changes. 
Separation at the start
Haley Smith — I think there's now a chance that we will see an actual women's race go on. Of course, the separations won't last too long (the fields will be intermixed again within 20 minutes or less, I'd say), but I'm happy with both of these changes. I think they will preserve the spirit of the event. Pros and ams will still be out there together and will all be intermingling shortly after the start, and I think this will decrease the amount of high speed crashes in the first 30 minutes.
Sofia Gomez Villafañe — It's gonna add an element of uncertainty to the race. I'm really curious to see how it plays out. Are we gonna go hard? If the men aren't, are we gonna go hard at the start to catch them? Are we gonna soft pedal? It will be cool to add a level of uncertainty and something new. It will also be refreshing to not have women complaining that men are ruining their race.
I applaud Life Time for doing something different and trying to address issues. It's the right direction. I've always said we should have our own start, but we can't start with something like SBT GRVL or Unbound because they're so long. I smashed the time in 10.5 hrs last year, but if we're doing our own start and we have drafting rules, we'd go up to a 13-hour race day. It's awesome that they're separating us but still allowing us to draft. Even though I've always been a big advocate of a separate women's race entirely or keep it mass start, for that race it's a happy medium.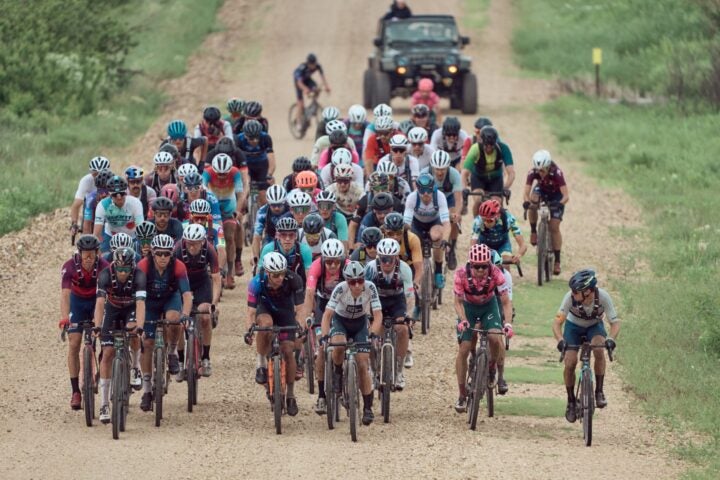 Pete Stetina — I think the beginning of the race can be unsafe at Unbound now with such a big group and such a vast skill level. It feels like a WorldTour bunched pack, but the skill level isn't quite the same. Last year, things were a little dicey and if people aren't used to it … I think it's a good move for the majority. I do feel bad for a few people who might not get into that elite field, but there's a barrier to entry in a lot of sport and maybe if you perform well this year you can jump ahead the next year.
Sarah Max  — I'm sure there are lots of pros and cons — but my initial reaction is one of relief. Sure, it changes the dynamic. For example, pro women will have a harder time trying to hitch our wagons to the pro men. But it's a long race, and the start is just one part of it.
Russell Finsterwald – I welcome the changes being brought on for the 2023 edition of Unbound. I'm glad to see the women get their own start as I know that is something that many have been advocating for. I think this will create a more exciting and dynamic race for them.
I will miss rolling out with the amateur field, though. I always enjoyed saying hey to a few new faces the first few miles of a race.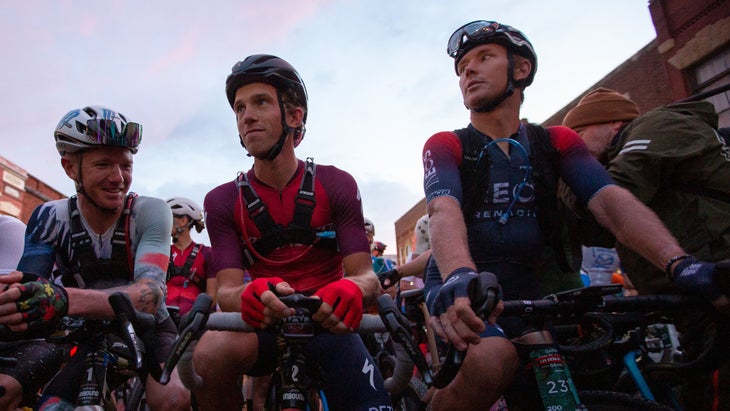 Payson McElveen — It's great to see these adjustments being made to the rules, and also really encouraging to have a race organizer open to feedback on this scale. Obviously Life Time is bringing something new to professional racing with the Grand Prix in general, but the desire to seek out feedback from the athletes and then implement significant change is incredibly encouraging as well.
I think these adjustments to the rules strike a good balance for everyone involved as gravel racing continues to grow and evolve.
Lauren De Crescenzo — I can't contain my excitement.
I've always been an advocate of separating the fields for safety, for the race dynamics, for media coverage. I think that will all be really good. I'm a big advocate of safety, and I feel so much relief because the first hour of Unbound has been a blood bath. Last year, there were multiple pile ups in the first hour. It was unnecessarily dangerous. 
For us, now the field is deep enough and being able to start together, we'll know who we're racing against. Not being swallowed by the men's race is great. For the media, I think it's also gonna be great. We're all racing 200 miles but now there will be equal media coverage, too. It's a huge step toward equality.
John Borstelmann — In general I'm happy about those changes, and glad that race organizers are thinking about moving forward to try to make things better rather than holding to the "this is the way it's always been" spirit of gravel argument.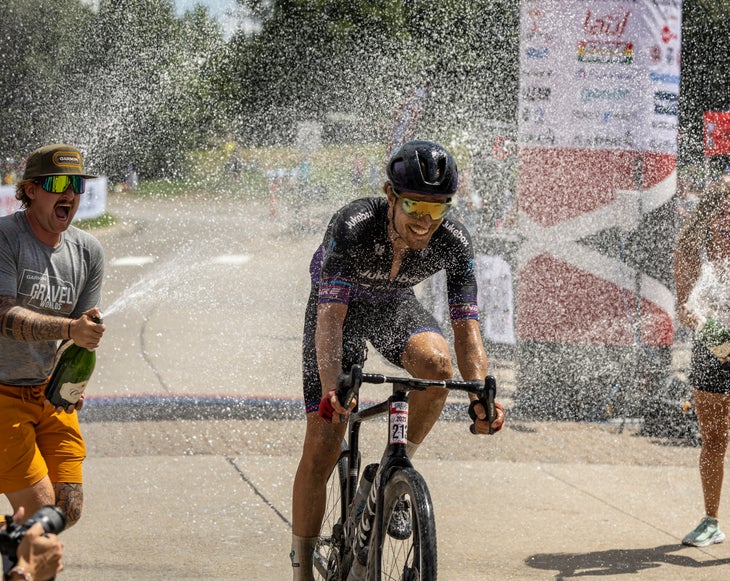 Adam Roberge — I get why they're doing it and there are pros to it, but I think it could be dangerous to move the sport in the road direction and make it less inclusive. I think of Gravel Worlds in Nebraska. It's like a big party at the start, even if you're there to win it or there to finish. Maybe it sounds corny or disingenuous, but it feels special if everyone is leaving at the same time.
I'm not sure it's gonna be way safer, we're still gonna be a big group going into tight gravel sections. It depends how big the elite field is. If it's an elite field of 400 I don't think it will make a difference, you'll still have to race it like crazy to stay in the top 10 or top 20. It won't make it safer. It will only be good for guys who are strong but bad at positioning. I don't think it's gonna change anything of who's gonna win or in terms of safety.
Sarah Sturm  — I was pretty thrilled to learn that Unbound made some adjustments to the long standing format of the race for the safety of the riders. I know these decisions are not easy from a promoter's standpoint, but just because it's always been one way doesn't mean we can't adapt and grow. I can honestly say I am more excited to compete at Unbound now that we have a separate start, and aero bars aren't allowed. We already put so much on the line at these events, it's nice to know that our safety as racers isn't just another part of the experience.
Aero bars no more
Sturm – Some of the worst crashes I saw were because of aero bars. I made the choice to not use them, but that didn't protect me from others' choices. From extremely experienced pro tour road racers to category racers, it was clear that experience had nothing to do with staying upright with those things. The only down side is that now people won't know what to make fun of each other for!
Stetina – I'm all for it. The reason that what were originally called comfort bars in gravel was to help people achieve this big efforts. But the sport has progressed so much, in the front it's not about finishing so much but a competitive edge and game of percentage points. In mass start it's inherently unsafe and it becomes an arms race. You might have guys spending thousands on high-end product. I want a fair fight as much as anyone.
After the pros tried to self-regulate last year and get a discussion going and it didn't pan out it became evident that the organizer needed to step in. I applaud Life Time for the decision.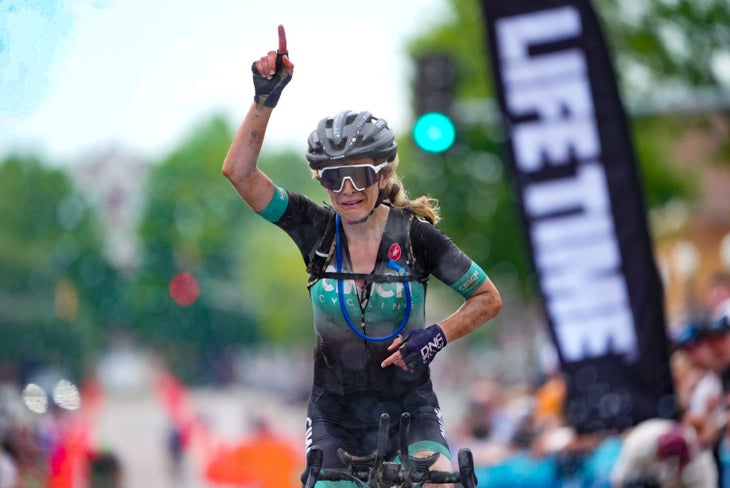 De Crescenzo — Honestly I don't even like riding in them because they're so uncomfortable. But when they're allowed and other people are using them, you're gonna use them. Plenty of races don't allow them, so I feel like it'll make for a much more comfortable 200 miles. It will help even the playing field, it'll be safer, and more comfortable. Leveling the field is really important. 
Roberge — I'm happy with the aero bars stuff. It will help diminish the confusion. As a rider, I was all for the aero bars if they were legal because they are a big advantage. But I was always on the side of, it's for sure safer it we don't have them. For me, aero bars are good because of my time trial background. But I think it makes sense not to have aero bars in such a big group, it creates dangerous situations.
For aero bars, it's an easy rule to make. I'm good with making rules until it really separates the pros from the amateurs. If you want to add rules for everyone and it adds safety, I'm for it, but if you wanna add rules that separate the race in two, it could be a slippery slope.
Finsterwald — Aero bars, gone… that's great.
Alexey Vermeulen — I don't think they ever belonged on the dirt, but I understand why they were used. Unbound used to be considered an ultra distance race and as the competition has grown it has become a long road race. The way the course is raced now, aero bars are dangerous and it was the right move for Life Time to step up and make a ruling.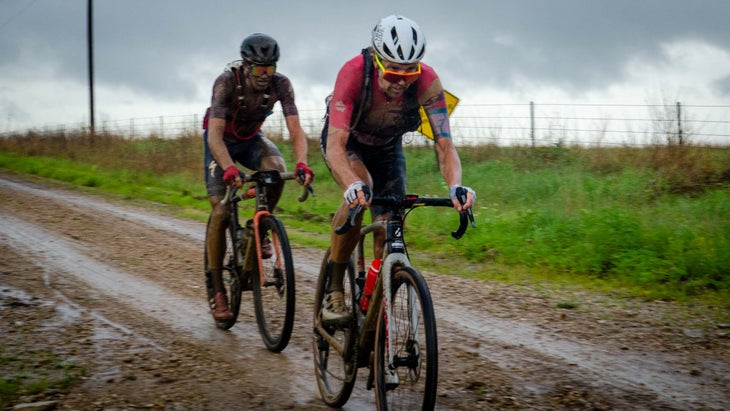 McElveen — With many friends and acquaintances in the non-elite category each year, I was happy to see aero bars stay available in the other categories.
Max – I haven't used them, didn't want to use them, and now this is one less decision I'll have to make.