Gospel of Gravel: Land Run 100 and other gravel races take hold
Land Run 100 is one of many events helping grow gravel cycling's popularity, one hug at a time.
Heading out the door? Read this article on the new Outside+ app available now on iOS devices for members! Download the app.
Most years, the riders come home caked with red clay mud. Occasionally, they're covered in fine dust and salty sweat. No matter the course conditions over the 100-odd miles of rolling terrain, everyone finishes Land Run 100 the same way. They turn the right-hand corner onto West 7th street in Stillwater, Oklahoma, past the big redbrick church. They roll through a modest crowd of friends, finishers, and onlookers. And most importantly, they receive a big, earnest hug from race founder Bobby Wintle, who stays at the finish line long into the night.
By his estimation, Wintle hugged all 1,082 finishers at the 2018 edition of his race, the same thing he's done since 2013. Everyone from winner Mat Stephens to Roby Peters, who finished last, over 10 hours behind, received an embrace.
"It was a completely natural response to me being so stoked," Wintle says. "I feel like that's where I'm getting all the energy from, all the stoke."
Wintle's personal affection for his racers may seem like an oddity. Yet it's just one of the many details that sets Land Run 100 apart from the hundreds of bicycle races that dot the country. Alongside Dirty Kanza 200, Crusher in the Tushar, and other events held on dirt and gravel roads, Land Run 100 is helping reshape the landscape of participatory cycling in the United States.
These races have created a seismic shift on their own, outside the umbrella of USA Cycling's sanctioning powers. Gone are the traditional racing categories and the multi-lap courses. In their place are challenging routes over mixed terrain that cater to the bike industry's latest technology and racers' appetites for events that blend adventure with competition.
These races have given birth to passionate riding communities in areas that are decidedly off the beaten path. Spurred on by a handful of visionaries like Wintle, America's best new bicycle races are embracing everyone with the gospel of gravel.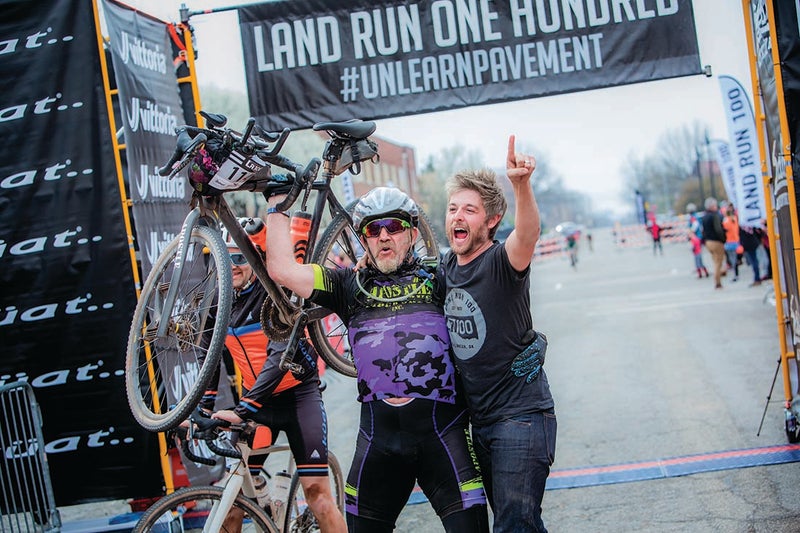 TO KNOW BOBBY WINTLE is to be hugged by the man. Every year Wintle stands in the middle of downtown Stillwater and hugs every finisher, no matter how sweaty, muddy, or downtrodden. The 32-year-old Kansan exudes enthusiastic warmth. He's the type of person who can bounce around a crowded room but somehow make everyone he speaks with feel engaged and heard. Can small guys give bear hugs? Wintle certainly can.
Perhaps it's that charisma that helps Wintle convince riders to sacrifice their bodies and bikes in the adventure that is Land Run 100.
Wintle caught the gravel bug when he lived in Emporia, Kansas, home of the Dirty Kanza 200. In 2008 he and his wife Crystal first saw the race when a friend participated.
"Really, I was a massive fan. I was just blown away. I hadn't ridden a century yet, let alone two centuries on gravel," he says. "This was the coolest thing I'd seen in my life."
At the time Wintle worked at Emporia's local Trek shop, High Gear Cyclery. By the fall of that year, he realized he wanted to open up his own shop, but he did not want to step on High Gear's business.
He reached out to the Trek Bikes territory manager Wade McGuire for advice. Based on Trek's demographic research, McGuire suggested Wintle set up shop in Stillwater. In just 14 hours, the proposal was approved and Wintle became a Trek dealer.
In 2011 the Wintles opened their shop, District Bicycles, after a flurry of life changes. They had their first child, Emory, and renovated the Emporia house that they eventually sold. Bobby worked short-term at Verizon selling cell phone plans.
After the shop opened, Bobby finally raced the Dirty Kanza in 2012. He felt inspired to launch his own gravel event.
[pullquote attrib="Bobby Wintle on why he started hugging every Land Run finisher"]"It was a completely natural response to me being so stoked. Everybody was talking about it the week after, and I was like, 'Well they deserve it!'"[/pullquote]
Stillwater had all of the elements for a gravel race. The region is surrounded by red dirt roads that stretch to the horizon. One evening, Bobby went for a drive with one-year-old Emory, hoping the long car ride might lull his crying daughter to sleep. The red dirt roads captured his imagination for a race. Could these roads serve as the racecourse for his event?
"When I saw the roads with Emory I was like, 'Holy shit, this is on like Donkey Kong!'" Wintle says.
For Land Run's first year, 2013, Wintle attracted 121 riders. At the finish line, Wintle began hugging his finishers — by the race's end, he had hugged them all.
"Everybody was talking about it the week after, and I was like, 'Well they deserve it!'" Wintle says. "And now it's a damn thing and people are hashtagging about it. It's wild, man."
In 2014 Wintle added another element to his race's friendly reputation — a prize for the last-place finisher. Banjo Brothers, a pack manufacturer based in Minneapolis, donated a backpack for the prize. "We've always had an affinity for the slow person," Wintle says.
For the 2015 edition, Wintle decided his race needed a beer sponsor. Wintle reached out to a local brewer, Iron Monk, which shared his desire to revitalize downtown Stillwater. Unfortunately, the brewer lacked enough kegs for the special Land Run beer. Such a hurdle would have derailed other race promoters. Not Wintle. He cut a check for $6,000 to buy the kegs, and then put down an additional $3,000 when he learned they needed more.
"We could tell that Bobby had something good going," says Jerod Millirons, co-founder of Iron Monk. "We could tell he was onto something, and we wanted to be a part of it."
These days, the Land Run's official beer release party helps drive enthusiasm for the race. Race week is Iron Monk's busiest of the entire year.
Wintle's personal touch sets the Land Run apart in other ways as well. His pre-race briefing isn't the usual dry, cautionary speech riders are accustomed to sitting through. Instead, there is music. Wintle formerly sang in a band that played, by his own description, "screamo" music. In 2017 he added music to the pre-race briefing. He played drums and sang "Danger Zone" with a friend.
For the 2018 briefing, Wintle pulled out his guitar and sang John Denver's "Country Roads" — he changed the lyrics from "West Virginia" to "Oklahoma." No one seemed to mind the mentions of mountains in this relatively flat locale.
Wintle also delivers an inspirational pre-race speech that sounds like one from a gospel revival. He implores riders to go bury their troubles — be they related to a job, relationship, or personal trauma — in the red dirt along the 100-mile trek.
"The guys from Salsa called it a sermon," says Michael van den Ham, the second-place finisher in 2018. "There's almost a message beforehand where they're telling all the participants how thankful they are that everyone can be there and experience this."
Wintle's speech stems from his experience at the 2012 Dirty Kanza, where organizers delivered a similar impassioned speech. That year's race benefited the Pablove Foundation, a group that fights childhood cancer.
The hugs, special beer, and prizes reward Land Run participants; the inspirational speeches create an emotional connection that, in some cases, transforms into a powerful bond. It's a special combination that keeps riders coming back to the race. According to organizers, nearly a quarter of all Land Run participants return for a second attempt.
"They encourage people to find the better version of themselves with an event like Land Run," says Mike Reimer, a marketing manager at Salsa Cycles. "Everyone is capable of far more than they ever realize. Yeah, we're going to challenge you, but you'll thank us in the end."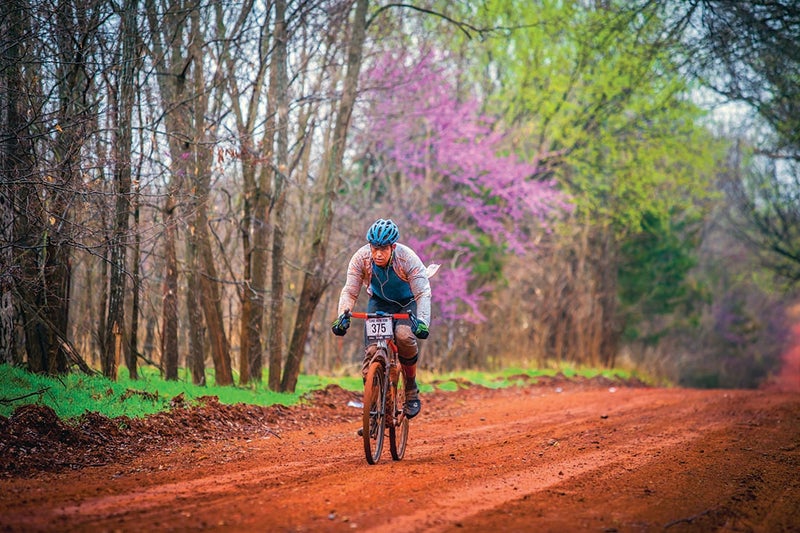 GRAVEL RACING HAS QUICKLY become a darling of the U.S. bike industry, which in recent years has needed a success story. Although the market research company NPD Group says cyclocross or gravel bikes account for only two percent of all bicycle sales, the number of gravel events has steadily grown.
The website RidingGravel.com lists about 490 events for 2018, up from the high 300s in 2016. Meanwhile, the statistics around traditional road racing continue to dwindle. Since 2012, event participation in USA Cycling sanctioned events has declined, from a high of almost 725,000 to below 570,000 in 2017.
While there's no definitive metric to chart gravel's success against mainstream road events, anecdotal evidence suggests a sea change.
"Gravel's found that sweet spot in between the seriousness of road and laid-back nature of mountain biking," says Yuri Hauswald, Gu's community development manager and a Dirty Kanza 200 winner. "When I discovered gravel it was all about the community. There was something that was just so welcoming. And for me, it was a new discipline in a new region, new friends."
Why have gravel events grown? There's no simple answer, of course. Broader dynamics within American cycling have undoubtedly helped. It's been nearly two decades since the "Lance effect" of the early 2000s funneled thousands of new cyclists into the sport. A certain percentage of these riders have undoubtedly grown weary of the same road races and office park criteriums.
Others point to road safety, and the perceived uptick in cycling fatalities involving distracted drivers. With fewer cars on gravel roads, some riders feel the new format is safer.
[pullquote attrib="Mike Reimer, Salsa Cycles"]"They encourage people to find the better version of themselves with an event like Land Run."[/pullquote]
And then there are the philosophical differences between a gravel event and a road race. At a gravel race, to simply finish is to enjoy oneself.
"It's more like, 'How was your day?' not like, 'Where did you finish?'" says Hauswald. "While it is very competitive, most of us seem to be very in tune with why we do it, which is the pure experience of a new route, pushing your physical limits, having your own best experience."
This fundamental difference is reflected in the mood of the events. Grinduro, held in Quincy, a remote town in California's Sierra Nevada, is just as much of a weekend party as it is a race. Sure, riders tie numbers onto their bikes, but with on-site camping, a multi-act concert, and regular shuttle rides arranged for the area's mountain bike trails, there's plenty to do outside of the race.
Events like Land Run use this inclusive vibe to spread the event's energy beyond the participants. Family and friends show up to enjoy the music and festival-like atmosphere.
"Riding with people who aren't cyclists or athletes — they remind me why we're having fun," says Andrea Cohen, who has completed five Land Runs and five editions of the 330-mile Trans-Iowa race. "I've met so many people through gravel."
Some of these events take that mission even further. Both Dirty Kanza 200 and Land Run 100 host regular group rides throughout the year along the racecourse. The idea is to attract new riders to gravel prior to the event.
During high season, District Bicycles hosts more than five gravel rides per week with options for slow riders, fast riders, women, and more. The organizers behind Dirty Kanza also host regular group rides, as well as a mellow full-moon ride called Lunar Kanza that attracts 300-400 people with live music, food, and beer to supplement the gravel.
There is one component that all gravel events share — a long, punishing course that presents a challenge to simply finish, let alone win.
"It's almost like the Ironman of bike racing," says van den Ham. "They set time goals but it's not relative to winning the race."
At a criterium or road race, usually only the winner finishes feeling happy — other participants carry some level of frustration, disappointment, or anger because they missed the breakaway, sprinted too soon, or even crashed. That's not the case at a gravel race. The finish line at a gravel event is a far more joyous place, regardless of whether or not the promoter is enthusiastically hugging each person that crosses the line.
"Maybe it's less about racing — but it's a race, only one person comes first — but in the end, it becomes a personal challenge," Reimer says. "Yeah you might be competing against the guy or gal next to you, but actually you might be rooting for each other, helping each other, encouraging each other. The real challenge is that you want to complete the mission."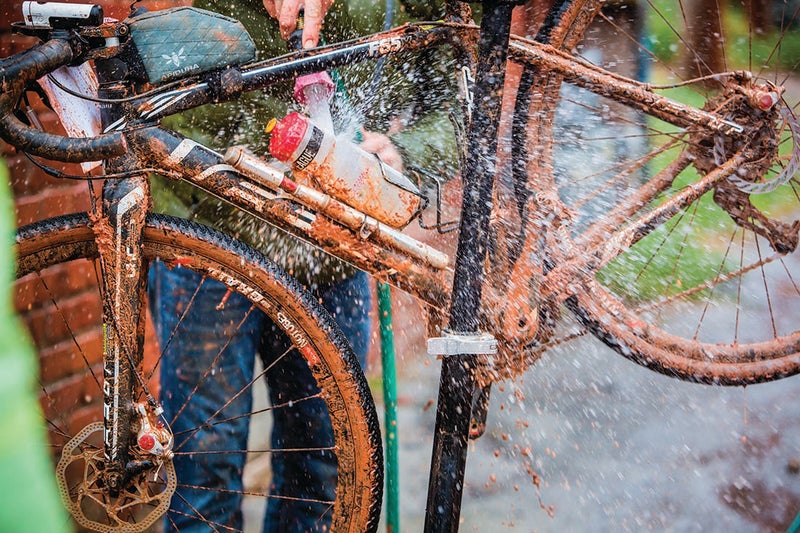 THE MIDWEST HAS BECOME the hotbed for gravel racing, with some of the most popular events dotting the rolling plains. Gravel Worlds, Almanzo 100, Trans-Iowa, and Barry-Roubaix — to name just a few — are important fixtures on the calendar. Some of these events trace their origins back to Dirty Kanza 200, which held its first edition in 2006. That year, just 34 riders left Emporia to ride out into the Flint Hills. Today, the registration has swelled, with a lottery system determining the 2,350 entrants.
Tom Mohn, co-owner of Dirty Kanza, said the momentum around the race picked up in the third year when organizers moved the finish line to downtown Emporia. With that move, the finish area turned into a party.
"I felt we started seeing a change in people's attitudes, and the cycling scene started growing," Mohn says. "We put it right in the spotlight — here it is for everyone to see."
This positive relationship with the community has become integral to Dirty Kanza's health. Businesses support the race, and locals come out to cheer on the competitors. There's a gravel-specific bike shop in downtown that is the de facto hub of the event. Mohn estimates that the party at the end of Dirty Kanza now attracts close to 8,000 people. Many are from the Emporia community.
Some gravel races have become cornerstone events in small towns that are decidedly off-the-beaten-path.
With 3,200 racers and 2,000 spectators estimated at the 2016 race, Barry-Roubaix is the largest gravel race in the U.S. The host town of Hastings (population 7,400) has welcomed the influx of riders to its rural, sandy roads in western Michigan. The town, just east of Grand Rapids, even installed permanent road signs to direct cyclo-tourists around the race route, similar to what is found in Belgium.
[pullquote attrib="Michael van den Ham, Canadian national cyclocross champion"]"It's almost like the Ironman of bike racing. They set time goals but it's not relative to winning the race."[/pullquote]
Small towns often embrace a new event that brings an influx of visitors, even if it takes a few years. Locals in Beaver, Utah, were skeptical when retired pro racer Burke Swindlehurst pitched his race, Crusher in the Tushar, to them in 2010. The 70-mile course included 10,000 feet of climbing.
"Most people around here thought I was crazy," Swindlehurst says. "'There's no way people will ride their bikes over that mountain for that distance.' They kind of looked at me like, 'You're out of your mind.'"
Swindlehurst chose the location for its punishing terrain. During his pro career he trained in the mountains and dreamed up an event that utilized the rugged dirt roads and challenging climbs.
The first Crusher launched in 2011 with 187 racers. Almost instantly, the locals became enthusiastic fans, and many signed up to volunteer for the next year's event.
"I don't think they're used to seeing people out pushing themselves to that extent," Swindlehurst says. "I think it's been an inspiration to people in the community."
Unlike Land Run or Dirty Kanza, Crusher will likely remain small, due to Swindlehurst's own preferences and the limitations of Beaver. The town has barely enough hotel rooms for 600 riders and their companions.
"I personally want to keep it a more grassroots feel and have it be more driven by the riders," he says. "Have the riders decide what the experience should be."
[pullquote attrib="Bobby Wintle"]"I'm passionate about people, riding my bike super-hard, music, relationships … just celebration. I'm not focusing on just one of them, I'm focusing on all of them."[/pullquote]
JUST AS WINTLE BEGAN his pre-race briefing, he stopped abruptly with an important announcement. Two participants in Land Run's 50-kilometer running race approached the finish. With his usual enthusiasm, Wintle jumped off the stage and trotted over to the race's black-and-white finish gantry and began to jump up and down. He exhorted the crowd to welcome home the finishers. As they crossed the line, he greeted them with a hug.
Like clockwork, Wintle popped back onto the stage. The briefing continued with Cohen reading part of her essay about gravel cycling, a poem read by singer Ben Weaver, and of course, "Country Roads." Then, Wintle lit into his pre-race speech, one he'd written at 1:30 a.m. weeks ago, when inspiration struck as he was trying to sleep.
Almost every aspect of Land Run's success springs from that eager devotion to do right by the family of bike riders that gather here or at any number of other events all year. Whether or not every gravel race organizer is singing John Denver or doling out muddy hugs, all of the good ones care deeply, and it shows.
"I'm expressing who I am fully through this event," Wintle says. "I'm passionate about people, riding my bike super-hard, music, relationships … just celebration. I'm not focusing on just one of them, I'm focusing on all of them."