Kate Courtney, Christopher Blevins, cool initiatives, and good causes
Expect nothing but fireworks and fun from the first Grasshopper Adventure Series event of the season.
Heading out the door? Read this article on the new Outside+ app available now on iOS devices for members! Download the app.
IYKYK.
I know, I should be fired from journalism for even thinking of printing that. But — we're talking about the Grasshopper Adventure Series, which is most definitely a 'if you know, you know' type of thing.
The beloved NorCal bike series kicks off its 26th year this weekend with the Low Gap 'hopper, a traditional season opener. The distance and vert (44 miles, 5,665 feet) are manageable for late January, but given the event's storied history — and the start list of hitters who are scheduled to show up — Low Gap will look more like a mid-season tussle than a pre-season warmup.
Read also: Kate Courtney, Luke Lamperti take Grasshopper Adventure Series season-opener wins
The mixed pavement and dirt course begins with a twenty minute paved climb that Geoff Kabush calls "a savage wake-up to the season." Then, says Pete Stetina, "you gotta make a selection and find a group and because once you turn onto the dirt all hell breaks loose."
Last year's men's race came down to a sprint between winner Luke Lamperti, Brennan Wertz, and Alex Wild; Wertz says he hopes "we can create a smaller selection earlier on and avoid the race coming down to a sprint this time."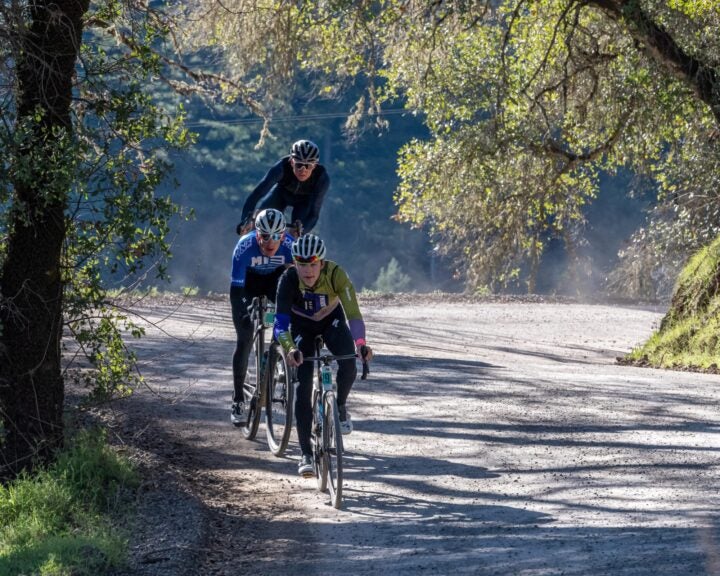 Anyone who's raced a 'hopper will tell you that it's not just what happens on course that makes the events so special — the whole day is a vibe. Most participants hail from the greater San Francisco Bay area, so the events can seem like a monthly get-together with friends before people spread out for the summer.
Maude Farrell says she and Kate Courtney (second and first place at last year's Low Gap 'hopper) were talking about this very thing recently.
"I was talking with Kate about the Grasshoppers and reflecting on how having something in our own 'backyard' is the best," Farrell said. "'Cause either you do well and celebrate with your friends or you don't and you celebrate with your friends. It's hard to beat a Grasshopper parking lot party."
Cool stuff + good causes, too
Miguel Crawford, the founder of the Grasshopper Adventure Series, is a legendary route-builder. He's also made sure that all of the 'hoppers have a cause greater than padding his wallet (jk, they never did — Crawford has been pulling double duty as a Spanish teacher and race promoter for decades).
This year's Low Gap will benefit the NorCal MTB League, the Ukiah High School Interact Club, and the West County Composite MTB Team.
The West County team and Interact club are the feedzone sponsors, and they'll each receive a $500 donation for their work. There will be a clothing and gear drive for the NorCal League, and the Ukiah Brewery is donating five percent of Friday's rider meals and beer sales to the league, as well. Crawford also plans to donate five percent of the event's profits to NorCal's trail stewardship and GRiT programming.
Watch: The Gift of Gravel
In addition to the event beneficiaries, cool things will be happening within the bike race, too.
One is that 10 riders of color, who've never attended a Grasshopper Adventure Series event before, will be racing Low Gap on Saturday. This has been made possible by Crawford and local rider Nehemiah Brown through his 'Gift of Gravel' scholarship. Brown has been going to 'hoppers for years, and his goal in 2023 is to help give other Bay Area cyclists of color opportunities to ride and race gravel, as well.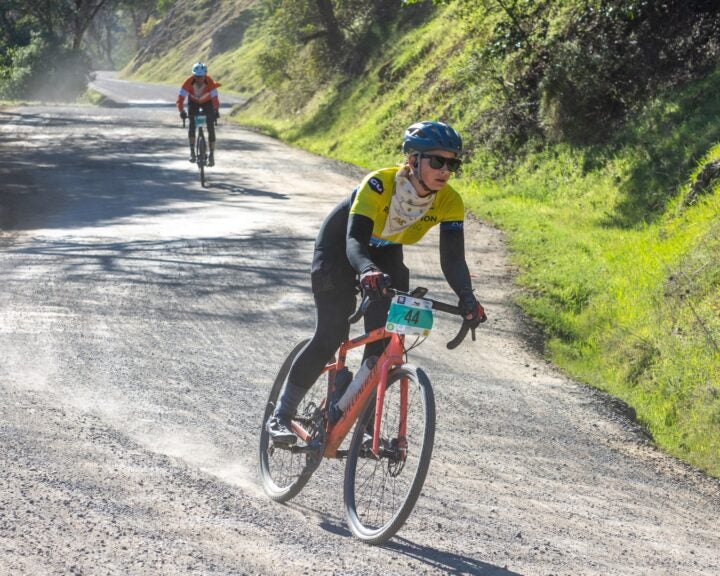 Another 10 riders will also be attending their first 'hopper on Saturday through the efforts of local racer and advocate Helena Gilbert-Snyder.
Gilbert-Snyder, who's a financial analyst for Specialized and also coaches two Northern California NICA teams, has recruited four other women to ride as mentors for a group of U19 girls.
Gilbert-Snyder says that she came up with the idea after noticing that "women, especially those in the high school range, are not racing road/gravel/endurance type events that the same way men and young men are. I know that there are very capable young women out there," she says, "but they have a lot of hesitations: 'I'll feel alone,' 'I'll be the last one,' 'I'm not in shape/I'm too slow,' 'What if people make fun of me?' and 'I'm just scared.'
She hopes that having the girls ride with mentors (like elite riders Nikki Peterson and Caroline Dezendorf) throughout the entire race might alleviate some of those hesitations in the future.
Follow along here for a recap of the racing and thoughts from the U19 girls, who will no doubt be saying 'IYKYK' after Saturday's race.