Meet the Team Sky of gravel cycling
Team Panaracer/Stan's No Tubes employs road cycling tactics at gravel events. Not everyone is happy about it.
Heading out the door? Read this article on the new Outside+ app available now on iOS devices for members! Download the app.
EMPORIA, Kansas (VN) — Gravel cycling's version of Team Sky is comprised of a librarian, two cycling coaches, the owner of a used car parts business, and a guy who runs a smartphone application for Bible verses.
Over the past two seasons, Team Panaracer/Stan's No Tubes has upended gravel cycling's once mellow racing attitude by employing cutthroat road racing tactics and using performance-based gear choices that are focused squarely on victory. Panaracer riders will compete in Saturday's Dirty Kanza clad in matching aerodynamic skinsuits and helmets, and aboard gravel bicycles outfitted with clip-on aero bars. While most gravel racers use mountain bike pedals in order to shed mud, Panaracer uses road pedals to improve the power transfer into the bicycle.
And during the races, the team rides like a road team. Domestique riders set a fast tempo to whittle down the peloton and then take turns attacking those who remain. The team's star rider, Mat Stephens, then surges ahead for the victory.
In 2017 Panaracer's tactics helped put Stephens into the final group of three at the Dirty Kanza. In the final 10km, Stephens attacked to take the win.
"Everything we do is about being the most optimum and fastest," said team founder and rider Bob Cummings. "I have people come up and say, 'Hey, you guys are an inspiration.'"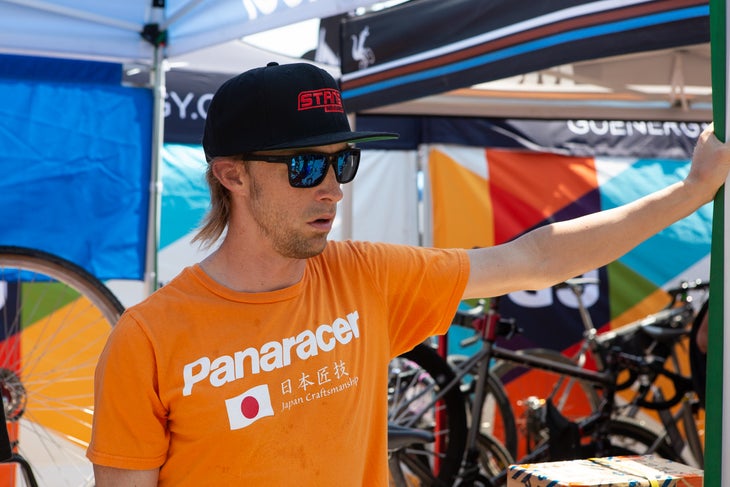 Not everyone is so pleased with Panaracer's performance-centric tactics. A common gripe amongst veteran gravel racers at the 2018 Dirty Kanza expo has been the recent introduction of road racing-style tactics to the event. Several riders have voiced concern that the aggressive racing spoils the adventure-centric spirit of the race, and prioritizes victory ahead of the experience of the event. The Dirty Kanza pays no prize money, and the overwhelming majority of riders are amateurs. So why put so much energy and attention toward winning a grassroots race that awards a commemorative belt buckle to its champion?
"You can't share a belt buckle," said Ted King, who won the 2016 event after a 100-mile breakaway. "You may have two domestiques, but where is their cache in winning?"
It's doubtful that the race will enact rules to thwart Panaracer's tactics or gear choices. Dirty Kanza founder Jim Cummins said that he has never been asked to modify the Dirty Kanza rulebook to impact the front end of the race.
"There are individuals and teams that come to Dirty Kanza with a slightly different objective—they come here in skinsuits and aero helmets and that is fine," Cummins said. "We don't' have a problem with that at all because what they're doing is within the rules."
The lack of prize money has no bearing on the team's desire to win, Cummings said. Panaracer does not pay its riders; all seven members hold down day jobs. Stephens coaches cyclists in Texas, and domestique Robert Bell operates a mobile application for the evangelical community, Life.Church. Cummings operates an auto parts business; the website says it specializes in "foreign auto dismantling." The team's five elite riders all hold Category 1 road racing licenses from USA Cycling.
Thus far, Panaracer's tactics and, yes, marginal gains-centric attitude has brought a plethora of victories. Stephens took wins at Oklahoma's Land Run 100, Michigan's Barry-Roubaix, Colorado's Old Man Winter Rally, and the Texas Chainring Massacre, among other events.
During the May 5 La Grind stage race in Emporia Panaracer dominated the race. Stephens won the opening stage, and then the team rode at the head of the field for much of the second stage. It's tempo whittled down the group until only a small number of riders remained. Stephens attacked and won the second stage and the overall.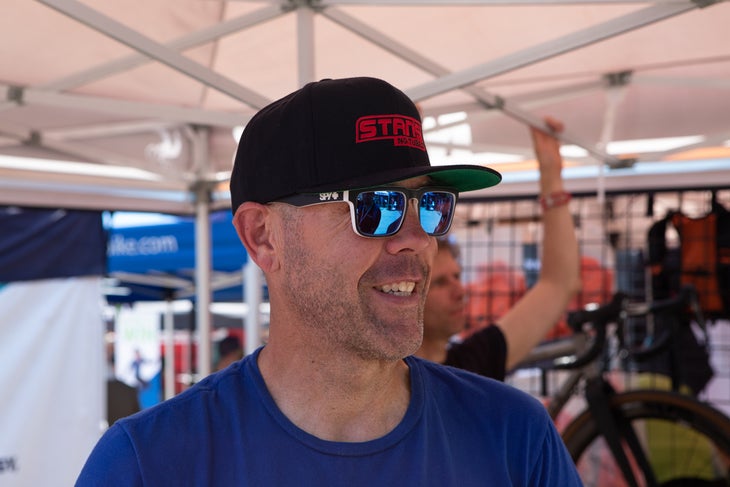 "We did the Team Sky thing and put our team on the front and rode a really hard tempo in the aero bars," Bell said. "I know that some people are going to hate the team tactics and the aero bars but it's not against the rules. If we're not going to do it, then someone else will."
The team even has a special strategy for feed stations. Ultra-distance gravel events such as the Dirty Kanza include checkpoints and feeding stations, where riders can dismount their bicycles and refuel hydration packs, water bottles, and food stores. Panaracer riders often ride through the checkpoints without stopping, instead having team crew members hand across musette bags.
"We practice pit stops in my driveway like it's Formula 1," Cummings said. "You get in, get out, like it's a NASCAR pit stop."
Panaracer's ability to control Saturday's Dirty Kanza could come down to conditions on the road. Temperatures are predicted to soar into the 90's, and weather reports predict a stiff headwind on the 100-mile route back into Emporia. The conditions could force the strongest riders to stay together, rather than split up and ride alone. Such conditions could very well favor the team.
And should Panaracer defend its title, the victory could mark the end of gravel cycling's era of personal adventure, and the beginning of its era of tactics and team strength. That's not a bad thing, Stephens said.
"Gravel is becoming a bigger deal and so yeah, you see things like road tactics creeping in," Stephens said. "You can't stop it. It's going to be part of [gravel] racing from now on."