The Nitty-gritty: Racing the Canyon Belgian Waffle Ride
The Belgian Waffle Ride serves up a tough 133-mile course with fast pavement, loose gravel, rocky trails, and plenty of waffles.
Heading out the door? Read this article on the new Outside+ app available now on iOS devices for members! Download the app.
There were times when it felt like a gran fondo. Other parts felt like a cross-country mountain bike race. The Canyon Belgian Waffle Ride runs the gamut, with practically everything in between. I can't verify the claim that it is "the most unique cycling race in the country," but it is damn close.
The basics
Unlike some gravel races that repeat the same course, Belgian Waffle Ride (BWR) changes its route from year to year. It is always held in San Marcos, California. It is always heinously long with lots of climbing. In fact, this year's 133-mile route was a bit shorter than in years past. This seventh edition attracted around 1,200 riders.
Apart from the length and 10,000-odd feet of climbing, one thing remains the same: that unusual mix of road, dirt, and trails. About half of the route is pavement, a quarter is dirt and gravel road, and the last quarter is on trails that range from wide and smooth to rocky to sandy. A road bike with disc brakes and wide tires is perhaps the best weapon for those racers hoping to win — despite all the rough dirt, there are lots of long paved stretches.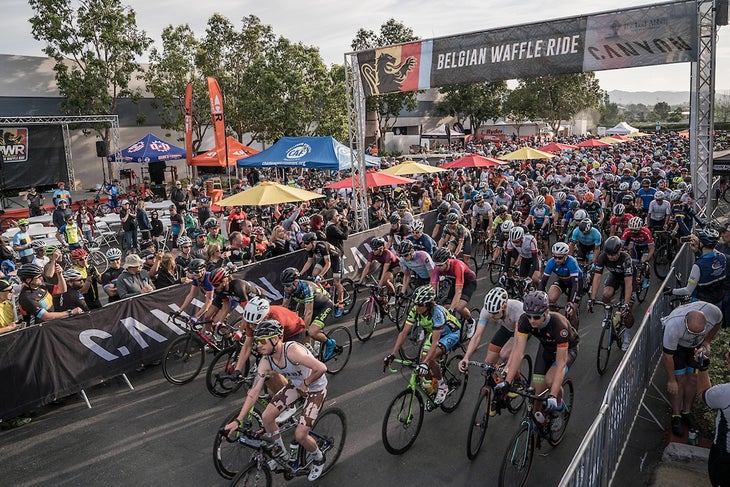 The rollout
The race kicks off with a bit of Califonia flair as the National Anthem played with an electric guitar. The group is a bit tense but no worse than the average gran fondo start. BWR splits the full-distance Waffle ride into two waves. The first wave is fast, perhaps a bit hectic at times, but not to the point of being scary. The craziest part comes after 10 miles: You do a 180-degree turn, blast through a little water crossing, and then it is onto the singletrack trail with everyone fighting for position. Things split up and regrouped a few times in the first half of the ride with trails interspersed by long road sections. I finally gave up the ghost on the 1,400-foot dirt climb up Black Canyon, about 50 miles in.
Moment of regret
Race organizer Michael Marckx puts together a sadistic route, what with the long dirt climb up and over Black Canyon (twice!) and the bumpy, rocky trails that punish you at mile 100.
However, the worst of it felt like the trip up Double Peak, the final climb of the day. I knew something was wrong when I saw some other riders — well ahead of me — coming down the one-mile, eight-percent paved climb, in the opposite direction. Then, the moment of regret kicked in when I saw a man on an Elliptigo, just ahead, and I realized it would be a big effort to catch him. Well, I did. And to be fair, he was riding (Elliptigo-ing?) the shorter, 68-mile "Wafer" route.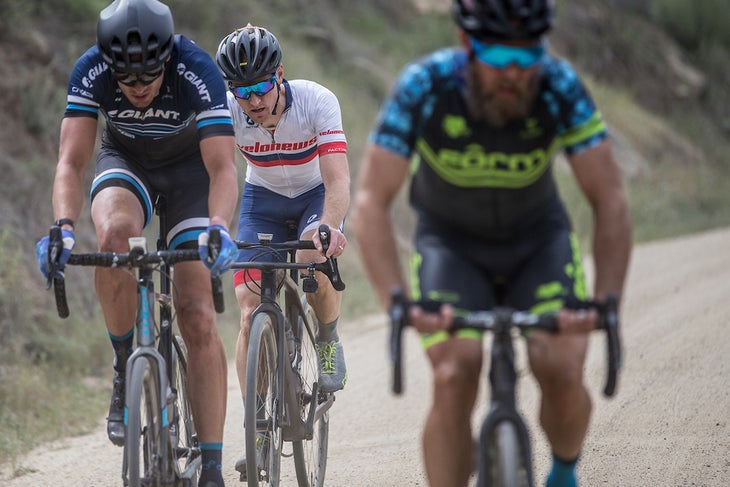 Faster than me
At the pointy end of the race, Brian McCullough (Elevate-KHS) beat ex-pro Ted King after a select group went clear on the first climb up the gravel Black Canyon climb, about 50 miles in. Ulises Castillo finished third. Larissa Connors defended her title by a wide margin in the women's race, with Laura King second, and Alison Tetrick third.
The gear
BWR is a classic "wrong tool for the job" race. There is enough fast pavement that a road bike is great for efficiency, but you'll regret the harsh ride and weak brakes on the trails and the fast dirt descent off Black Canyon. Along those lines, slick 28mm road tires are okay if you have the handling skills to control them, but fast-rolling 32mm 'cross or gravel tires afford more control. Given the amount of road on this course, the windy conditions, and the fact that it is quicker to ride in a group (if you can), a mountain bike isn't ideal.
I rode Canyon's new Grail gravel bike. Canyon sponsors BWR and brought a few of us journalists out for a day of suffering. The Grail was pretty well-suited for this race, given that it's a bit more road-oriented than some gravel bikes. It's very light (1,040g frame) and the geometry is a bit more lively than some of the more low-slung, relaxed gravel bikes. Check out my first ride review for more >>
Instead of the typical 40mm Schwalbe G-One tires that come on this bike, I opted for 32mm IRC Serac CX Sand tires. Set up tubeless at 50psi, these file treads rolled fast enough but were a big advantage on the loose descents and occasional mini-sand pits that cropped up on the SoCal course. Plus, I ran the model with X-Guard casing for additional flat prevention. A lot of the flat tires people get at BWR seem to be pinch flats, so no matter what tread pattern you opt to ride, tubeless is a big advantage.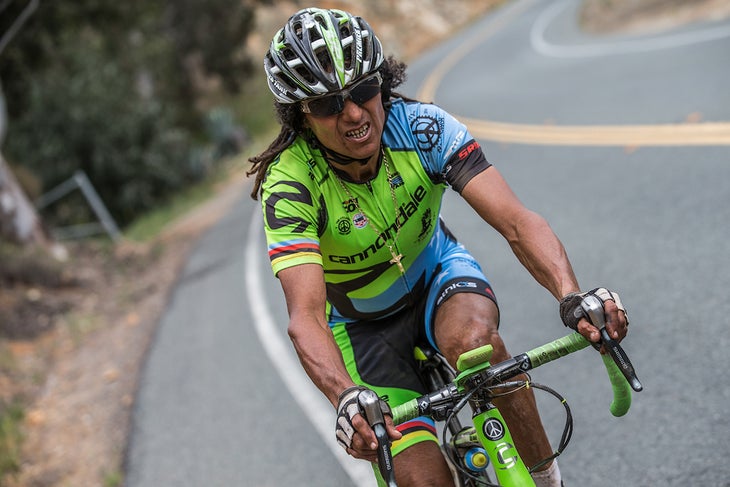 Foggy recollections
Nearly eight hours on the bike turns your brain into a bowl of cottage cheese, but a few memories stand out:
True to its name, there are waffles for breakfast. Not Eggos — real, Belgian waffles. And they're important enough to delay the start by 30 minutes just to make sure everyone gets fed.
During that fast roll-out on the road, I found myself behind a small man with enormous dreadlocks. It was Tinker Juarez! The mountain biking legend had no trouble with the trails and tough climbs, but he was getting some scary speed-wobble when the pack was spun out at 50mph. Be careful, Tinker!
Speaking of cycling legends, six-time Tour de France green jersey winner Erik Zabel was in California to ride some gravel. The affable German did the shorter Wafer route and finished despite three flat tires along the way.
Every good bike race has some weird oasis feed zone that reminds you to smile when you're alone, 110 miles in and facing awful headwinds. BWR had just that, and it was well-stocked with delicious bacon. Although maybe it should have been at the top of the climb instead of the start?
The trouble with those waffles is that they had them at the finish too, and the chocolate sauce was sitting right next to the barbecue sauce. Before I knew it, I'd invented a new delicacy for my post-race feed: chocolate-covered pulled pork. And you know what, it actually tasted pretty good. Sounds like I have a fresh concept for a food truck.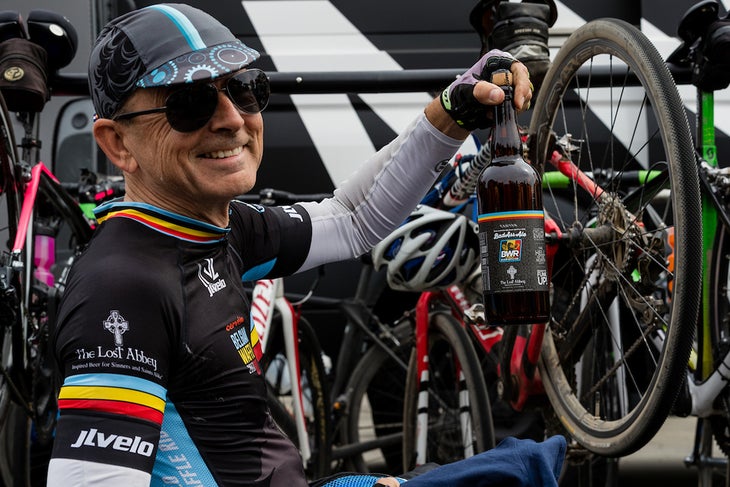 The party
BWR finishes at one of SoCal's best craft breweries, Lost Abbey. With great beer, barbecue from Gear Grinder Grill (the guys who do another SoCal gravel event, Rock Cobbler), and waffles — more waffles, the day ends on a tasty note. The ride is so long and taxing, though, it might be a stretch to call the after-party a full-on party. People relaxed, there were awards for the overall winners, as well as prizes for seven other categories. It felt like a better, more amped-up version of the usual post-bike-race festivities, but not quite as wild as some gravel after-parties, such as Grinduro's multi-act concert.
If you are more familiar with road rides and gran fondos than mountain bike or gravel races, BWR is a nice way to branch out and challenge yourself on a nasty course with some surprising terrain. Just prepare yourself for a long day, pack an extra tube (or three), and don't forget to stop for the bacon.