Unbound Gravel rolls out major changes for 2023 edition
The men's and women's elite fields will start 10 minutes ahead of all other racers, and they're not allowed to use aero bars.
Heading out the door? Read this article on the new Outside+ app available now on iOS devices for members! Download the app.
Change is coming to Emporia, Kansas in 2023.
For the first time since 2006, Unbound Gravel is adopting changes to its mass-start format, separating the elite and amateur fields at the start line of the 200-mile race. Additionally, to be considered for the elite categories, riders will be thoroughly vetted by Unbound event staff.
And, aero bars will be prohibited for elite men and women who make the cut.
Life Time's president of events and media Kimo Seymour told VeloNews that the changes came about for a variety of reasons, but that increased rider safety was foremost.
"We needed to try something," he said. "We needed to adapt. It'd be easy for us put our head in the sand and ignore this and not make any changes. But this has become the biggest gravel race in North America or maybe the world, and the reality is, it's gotten really competitive and we've been a part of that.
"We figured we need to do some things to start making it safer. We don't want more rules, but we're open to rules that will help make things safer."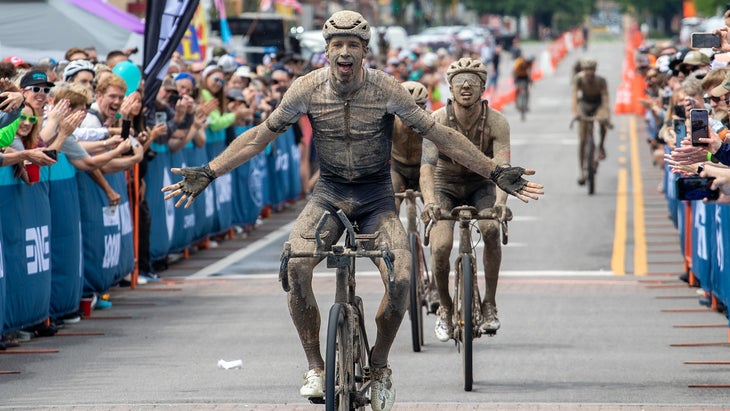 In all of its 16 editions, Unbound has used a mass-start format for each of its race distances (mass starts are characteristic of most gravel races). However, the Unbound of today is a far cry from its first grassroots edition in 2006; now, nearly 4,000 participants line up to ride 25-350 miles of Flint Hills gravel each year.
As Unbound has grown, so has gravel. The discipline now claims its own league of professional riders, and thus the competitive side of the sport has faced some growing pains in recent years.
Notably, some riders have called for increased safety measures on course.
Separating pros from amateurs at the start line — which is often chaotic and very fast — is one way to address the concerns, Seymour said.
This year, elite men will begin the 200-mile race first, followed by elite women two minutes later. All other participants will start 10 minutes after the pro men (and eight minutes after the pro women) leave the start line.
All of Unbound's other race distances will retain a mass start format.
Seymour said that last year, he and the Unbound event staff received two important pieces of feedback that factored into the decision to separate the elite and amateur fields.
One was the Life Time Grand Prix mid-season athlete survey. Another was a phone call with Lea Davison after this piece ran in VeloNews.
While concern about the lack of safety measures came up frequently, so did a request to give more consideration to the elite women's race.
Seymour said the latter was a major consideration when deciding on the new start format.
"We want to be able to watch what happens in the front of the women's race and it's hard when all of the pros are mixed together. To able to get cars, media, and video on the front of that race, it's impossible if they start with the pro men."
While the team also considered starting all elite men and women together, Seymour said that ultimately they felt a staggered start would "give women their chance to shine."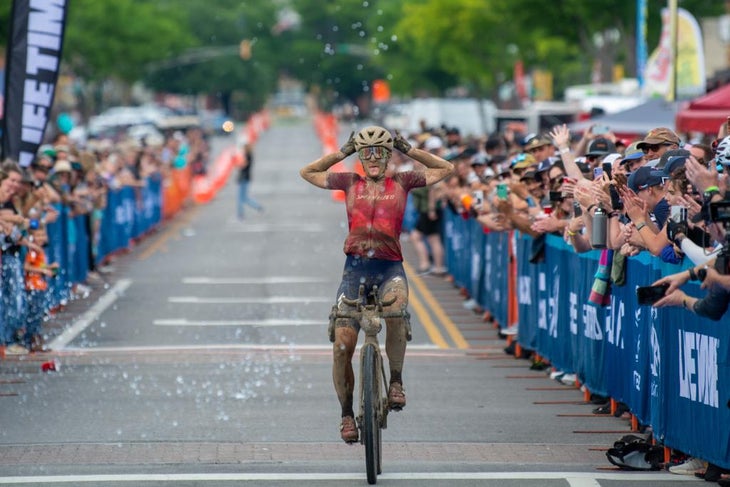 Another major change for the 2023 event is that aero bars will only be allowed for non-elite riders. Long a topic of debate among gravel racers and a rule that varies from event to event, Seymour said that it was easy to make the call to prohibit aero bars for elites but not for the rest of the participants.
"Elite riders might be the least unsafe using aero bars, but they don't need them. The reason we decided not to rule out aero bars for everyone is that 98 percent of riders are out there to finish. If that's a tool they need to finish before the cutoff, then great, we don't want to take that away from everyone else because we're tying to police what happens in the elite field."
Seymour said that it was important that changes made at the front of the race not affect the experience of the majority.
"Part of the message is: we wanted to preserve the race experience and ethos for the 3,800 out of 4,000 who aren't the elite field."
While the Unbound race organizers don't believe that the start and aero bar changes will lead to any noticeable difference in the overall event experience, they do hope that the efforts to increase safety is felt by all.
To that end, all racers of all distances should notice more on-course marshals this year. Seymour said that a lack of consistent safety marshaling was another oft-cited complaint in the Life Time Grand Prix survey.
This year, Unbound will put course marshals at every intersection with paved road.
"At most [Life Time] events we have them, but at Unbound we did not and comments came back that it made the race feel unsafe," Seymour said. "People don't police themselves, they hope for the best blowing through an intersection with a paved road, so we are adding marshals at all of those intersections." 
The changes at the 2023 edition of Unbound Gravel will serve not only as an experiment at the Kansas event, but for off-road events across Life Time's portfolio. Depending on the results of the staggered start in the 200-mile event, the same format may be implemented in the 100-mile distance next year.
Seymour said that rider satisfaction and safety after Unbound could also prompt changes at other gravel events like Big Sugar and The Rad, as well.
As for aero bars — they may be on the way out at all Life Time off-road events. Already forbidden at races like the Crusher in the Tushar, Seymour confirmed that no aero bars will be allowed for any athlete at the Leadville Trail 100 MTB race this summer.