Hincapie makes BMC plans for 2011
George Hincapie, a veteran of 15 Tours de France, cooperates with Landis investigation, believes Evans can win Tour
Heading out the door? Read this article on the new Outside+ app available now on iOS devices for members! Download the app.
On the eve of his crash and abandonment of the Larry H. Miller Tour of Utah, George Hincapie told VeloNews that he plans to be back in 2011 with BMC Racing and would like to make a run at a record-tying 16th Tour de France in July. The veteran and current U.S. national road champion said that his family is calling him toward retirement and next season will likely be his last.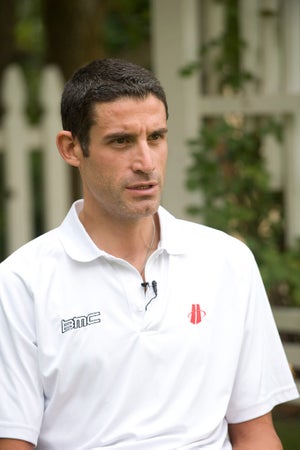 "I know that when I started I hoped I'd do 10 years and here I am 17 years later and still kicking. It's been a fun ride so far," said Hincapie. "I think I still have one more year in me and then I'll probably hang it up after that."
The BMC team rode one day protecting the maillot jaune of Cadel Evans at this year's Tour before team doctors revealed that the Aussie had suffered a fractured elbow in the previous stage. Hincapie was confident that the world champion is capable of winning the grand tour if he returns his attention to the race. "If Cadel gets back to focusing on the Tour only, he can be first, second or third in the Tour de France, no problem, and he has a great team behind him to do that."
Hincapie would not rule out a return for the 2012 season. He said that his kids, five-year-old Julia Paris and two-year-old Enzo, are the driving factor behind his looming retirement and not his 37-year-old legs or the federal investigation into doping in his former U.S. Postal Service team. "That'll be the biggest factor when I hang it up in a year or two, not my physical condition, but the fact that I want to be with my family more," he said.
The veteran said that he would work with the ongoing federal inquiry into doping by the Postal team of the late 1990's and early 2000's. "I will cooperate with whatever it's necessary for me to do, but I don't think it's fair to comment on that right now," said Hincapie.
When asked whether he had provided grand jury testimony in the case, Hincapie again would not comment and chastised the efforts to bring the sport to its knees. "Like I said, I just don't want to comment on that," he said. "I prefer to focus on the future of the sport and everything the sport does to make a clean sport. Like I said, this stuff about dragging the sport down, I have no patience for it, nor do I want to spend time talking about it."
The former Gent-Wevelgem and Kuurne-Brussels-Kuurne winner did show his frustration at cycling's place in the limelight for doping offenses, even as the sport has made efforts to rid itself of drugs in the last few years.
"It's absolutely frustrating to see how other sports just slide by and positive tests don't mean anything. It's just a little blurb in the newspaper, where in cycling when something comes out, it's always huge news," he said. "I think cycling's one of the hardest sports in the world and I think that most of the cyclists nowadays are doing what they can to make a good example to be a clean sport."
"I think people can really use cycling as an example for clean sport," said Hincapie, who rode for two years with Bob Stapleton's High Road program, which has positioned itself as a leader in the fight against doping in cycling. "There is nobody in the world right now that wants cycling to be clean more than me. I'm out there everyday putting my heart and soul into it and I know a lot of riders that are doing the same thing."