History says Anthony's Utah win may punch his Europe ticket
Jesse Anthony's stage win in Ogden, Utah, Wednesday was big. But just how big?
Heading out the door? Read this article on the new Outside+ app available now on iOS devices for members! Download the app.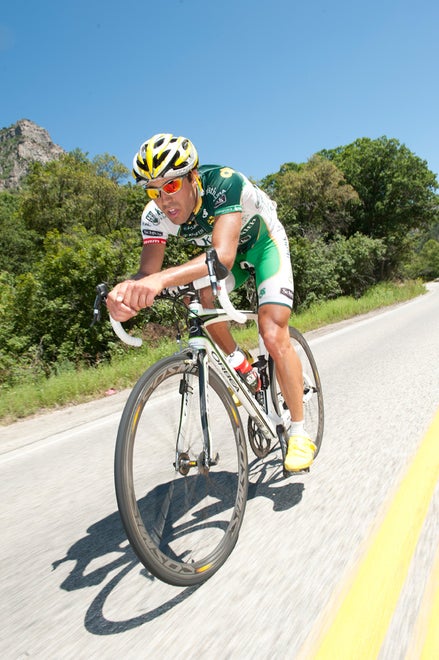 Jesse Anthony's stage win in Ogden, Utah, Wednesday was big. But just how big?
Anthony (Kelly Benefit Strategies-OptumHealth) broke an almost two-year drought for third-tier teams at the big American stage races when he topped a five-man sprint in northern Utah. If history is any indication, Anthony's win should set him up for a solid look at Europe for 2012, making the win, well, really big.
A long draught, but plenty for the sprinters
It's been since September 13, 2009 that a rider from Continental, or third division, team has won a stage in a major tour in the U.S. The top tier teams have bullied — or overpowered, depending on whom you talk to — the smaller squads into small, poorly represented breakaways in the big American races the last couple of years. The tension reached a head at May's Tour of California with a number of U.S.-based riders confronting their big-name counterparts verbally on the road.
No Continental riders won a stage in the 2010 or 2011 Tours of California; the last Continental stage win occurred when Canadian Martin Gilbert (Planet Energy)  took a surprise bunch sprint on the final day of the 2009 Tour of Missouri. Earlier that year, Francisco Mancebo (Rock Racing) won a bizarre opening stage at the Tour of California in Santa Rosa in which radio communication was nearly non-existent and the weather conditions atrocious.
Conti wins in major U.S. tours
(since 2000)
Tour of Utah
2011 stage 1 – Jesse Anthony (Kelly Benefit Strategies-OptumHealth)
Tour of California
2009 stage 1 – Francisco Mancebo (Rock Racing)
2008 stage 4 – Dominique Rollin (Toyota-United)
2007 stage 7 – Ivan Dominguez (Toyota-United)
2006 stage 1, 4 – J.J. Haedo (Toyota-United)
Tour of Missouri
2009 stage 7 – Martin Gilbert (Planet Energy)
2008 stage 5 – Boy Van Poppel (Rabobank Continental)
2007 stage 1, 6 – Ivan Dominguez (Toyota-United)
Tour of Georgia
2008 stage 1 – Ivan Dominguez (Toyota-United)
2008 stage 5 – Richard England (Bissell)
2007 stage 2 – Ivan Stevic (Toyota-United)
2006 stage 6 – J.J. Haedo (Toyota-United)
2005 stage 6 – Gord Fraser (Health Net-Maxxis)
2004 stage 1, 7 – Gord Fraser (Health Net-Maxxis)
2004 stage 5 – Jason McCartney (Health Net-Maxxis)
2004 stage 6 – Cesar Grajales (Jittery Joe's)
2003 stage 5 – David Clinger (Prime Alliance)
While surprising, Gilbert's win was not that out of the ordinary for Conti' riders a few years ago. Mancebo's sports director this year at Realcyclist.com, Gord Fraser, was among the riders to tally numerous sprint wins on the big stage races in the mid-2000s. Ivan Dominguez won stages in California, Georgia and Missouri for Toyota-United and J.J. Haedo (Toyota), Boy Van Poppel (Rabobank Continental) and Richard England (Bissell) were also winners from the bunch.
Wins lead to European careers
While Fraser's wins came near the end of his long career, which included three years with Motorola and a week at the Tour de France in 1997, Dominguez and more notably Haedo went on to join top caliber teams. For the most part, the Toyota sprinters' wins came in races rated at the UCI's 2.HC level, the top ranking below the World Tour. The Tour of Utah is this year rated a step down, at 2.1, which directly impacts the quality of the field and length of the race.
Van Poppel's 2008 Missouri win, atop the steep Capitol Hill circuit in Jefferson City, was the last 2.1-level win for a Conti rider. After graduating from the Rabobank development program, the Dutchman this year joined U.S. Pro Continental squad UnitedHealthcare.
A brash win like Anthony's stands out, though, and with a field packed with top Americans and solid international riders, the UCI designation isn't entirely relevant.
Colombian Lance beater
Perhaps the most storied — or at least most bandied about — of the domestic wins in the major U.S. tours in the last decade was César Grajales' triumph over Lance Armstrong at Brasstown Bald in Georgia in 2004. Then a young Colombian riding for the Jittery Joe's regional squad, Grajales jumped away from the elite GC contenders on the final, hors categorie climb to take 17 seconds to the line over Armstrong and Jens Voigt, among others.
The win came out of nowhere. The Colombian, now with Mancebo and Fraser at Realcyclist.com, had finished second at the Redlands Classic a month earlier, but the Southern California national calendar opener was a long way from Georgia. At the time Georgia was a smaller race (it didn't move on-par with Utah as far as sanctioning until 2005) and the win didn't net Grajales the accolades of the other solo winners on the list. Since 2004 he's struggled with a run of team collapses, including a bizarre on-again-off-again relationship with Rock Racing and a failed year with the Bahati Foundation.
Looking east for Anthony
Anthony, on the other hand, is on the upswing. Like the other attackers on this list, Wednesday's win was the biggest of his career at the moment. The 26-year-old has turned his focus in 2011 toward the road and after contending for the KOM jersey with Spidertech's Pat McCarty in California and winning the overall at June's Nature Valley Grand Prix, Anthony showed in Ogden that he is due the rewards of his hard work.
And who did Anthony beat with a cagey, long sprint in downtown Ogden? RadioShack's Levi Leipheimer and Jani Brajkovic are grand tour podium contenders, while Gobernacion de Antioguia's Oscar Sevilla is a former — albeit prior to a doping suspension — best young rider at the Tour de France. Then there's Gobernacion Colombian Sergio Luis Henao, who beat all comers in the prologue and wears the race leader's jersey.
Anthony made good on an opportunity that doesn't often come at the elite level.
"I'm an aggressive rider," he said after standing atop the podium. "I like to roll the dice; 99 times out of 100 it's not going to pay off. I couldn't be happier. Call it stupid, but it worked out. I don't claim to be smart, but I try hard."
Anyone calling his ride on Wednesday "stupid" wasn't watching closely. To the contrary, it was brilliant. He stayed quiet in the peloton until the early break began ceding serious ground and he struck out on his own. Without race radio Anthony took advantage of the extended catch of the disorganized group of former leaders after blowing through the group to await his eventual mates. When Leipheimer and crew came forward, Anthony latched onto the GC favorites and eventually outfoxed them with a long sprint. KBS director Jonas Carney couldn't have drawn it up better.
Carney's Kelly Benefit Strategies squad has a history of blessing its riders' departures to top tier squads. Most recently Canadian David Veilleux signed a contract with Thomas Voeckler's Europcar squad late in 2010. It's a shame for a program that invests in young talent to lose top riders, but that is what the Continental designation is built for and Carney knows Anthony is looking toward Europe.
"It's just amazing," Anthony said Wednesday. "It's a huge relief. Now it allows us to aim higher and see just what we can do."
Anthony and his teammates will see what they can do in Utah for the rest of the week and if recent history is any indication, the quiet, uniquely funny, Christian kid from Massachusetts may soon be seeing what he can do as a full-time member of the European peloton.