Horner: The only rider who can drop me is Contador
SAN JOSE, Calif. (VN) – Chris Horner wasn't at the pre-race press conference for the Amgen Tour of California last Friday, but his teammates Levi Leipheimer and Ben King were. Nearly a week on from the race launch, RadioShack's new overall leader was the only rider at the microphone atop…
Heading out the door? Read this article on the new Outside+ app available now on iOS devices for members! Download the app.
SAN JOSE, Calif. (VN) – Chris Horner wasn't at the pre-race press conference for the Amgen Tour of California last Friday, but his teammates Levi Leipheimer and Ben King were. Nearly a week on from the race launch, RadioShack's new overall leader was the only rider at the microphone atop Sierra Grade Wednesday afternoon.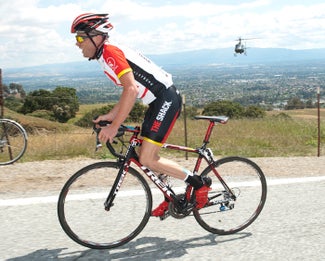 "I think in my career I've been underappreciated," said Horner after a demonstrative win on the Amgen Tour's first-ever mountaintop finish. "Certainly when I arrived here at the Tour of California I found it quite insulting not to be invited to the press conference."
Horner most recently finished second overall to teammate Andreas Klöden in his title defense at the Tour of the Basque Country last month. The part-time San Diego resident was the top American, in 10th overall, at last year's Tour de France. At 39, Horner, one of the elite super domestiques for Cadel Evans and Lance Armstrong in the past, has come into his own as a team leader over the last 18 months. He said Wednesday that Giro d'Italia leader Alberto Contador was the only rider in the world capable of beating him.
"Certainly when you have teammates such as Alberto Contador or Lance Armstrong, you can't have five RadioShack riders or Astana riders sitting up here at the same time," said Horner. "But at the same time it's pretty simple to see that in the last four years my form has been with the best in the world and with the exception of Alberto Contador I don't think there's anyone that can drop me."
Horner turned professional in 1995 with NutraFig and made his first move to Europe with Francaise de Jeux two years later. Finding a poor fit with Marc Madiot's French-speaking squad, Horner transferred to Mercury in 2000. When Mercury-Viatel fell apart after missing an invitation to the Tour de France the next year, he returned to full-time racing in the States, where he dominated through 2004. Since returning to Europe with Saunier Duval and Lotto before joining Johan Bruyneel at Astana and RadioShack, Horner has been one of the most effective supporting riders in the high mountains.
"Throughout my 16 or 17 years as a professional I think I've been underrated many, many times," said Horner. "I've done a lot of domestique work and I can see where the press would have lost me in the limelight."
Despite stage wins at the Tour de Suisse in 2005 and Tour de Romandie in 2006, Horner played a secondary role to Evans and later Contador and Armstrong. After a tough 2009 that saw him break bones on multiple occasions, Horner rode to his first-ever stage race win in Europe in the Basque tour last April.
The cliché about fine wine is apropos for Horner, as his ceiling may be higher now than ever. When Armstrong's Tour de France hopes fell away on the tarmac in the Alps last July, Horner took the opportunity to register RadioShack's top GC result, cracking the top-10 for the first time in his career.
When VeloNews pointed to Leipheimer but not Horner as a favorite for the Amgen Tour last week, the new golden jersey wearer responded with an email saying he would "drop all of (the) favorites."
After doing just that on the tough climb above San Jose, Horner said, "I've come here in the best fitness of my life."
"I think I've put together the best five weeks ever in my career of training and diet and rest. My poor dog has not been walked enough; my girlfriend has had to deal with a grumpy man at home often because I've been hungry a lot. It's been a hard five weeks and it was an easy five K to the summit."
The consummate professional, Horner said he didn't ride on anger, but does enjoy giving his legs the last word.
"I'm not really an angry man," he said. "Of course I like bringing it up and throwing a little salt in the wound, but anybody that really knows me knows I'm not really angry and I don't hold a grudge."