Inside Cycling with John Wilcockson: Man of the week Sagan — a Merckx in the making?
The manner in which Slovak-sensation Peter Sagan scored four victories in Sardinia this past week points to a career that's headed to the sport's very highest levels. Maybe he'll even go as far as the sport's biggest ever winner, Eddy Merckx.
Heading out the door? Read this article on the new Outside+ app available now on iOS devices for members! Download the app.
Editor's note: Every Monday through the 2011 road season, VeloNews Editor-at-Large John Wilcockson is writing about key features of the week's racing. This third installment focuses on a star of the future who won four times this past week.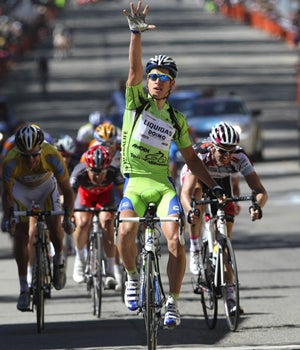 The top classics riders won't all be together until Milan-San Remo, which this year will be held on its traditional date of March 19, St. Joseph's Day, so it's still too early to predict who's going to make the headlines this spring (and summer). But the manner in which Slovak-sensation Peter Sagan scored four victories in Sardinia this past week points to a career that's headed to the sport's very highest levels. Maybe he'll even go as far as the sport's biggest ever winner, Eddy Merckx.
Only 21 and a virtual unknown before he burst onto the scene a year ago with two stage wins at Paris-Nice, Sagan showed in the Giro di Sardegna that he's maturing quickly in all aspects of his life as a pro cyclist. The same can be said for his Italian team, Liquigas-Cannondale, which last year wasn't quite sure how to accommodate Sagan's multiple talents and ended up over-racing him to the point of burnout.
Hopefully, Liguigas team management won't get carried away with his February successes and put pressure on him to win every race he starts — even if he looks capable of doing something like that. After watching Sagan closely, his team director Mario Scirea, a longtime gregario for sprint superstar Mario Cipollini, said the young Slovak "is confirming his enormous potential. Last year it was a surprise, but not anymore … (he has) immense class and a wicked competitive streak that's out of this world."
Those qualities were on plain view this past week when he won three stages and the overall title in the Tour of Sardinia, the first stage race victory of his young career.
This was the third edition of the revived Giro di Sardegna, which until 2009 had been held just twice in 25 years. Before that, it was a regular early-season event that was won four times by Merckx in the late-1960s and '70s prior to his contesting Milan-San Remo — the super-classic that Merckx won a record seven times.
The island of Sardinia is mountainous and even the "flat" stages of last week's race had plenty of climbing. But it seems that Sagan isn't fazed by any type of terrain, even if he prefers courses that have uphill finishes — like those stages he won at the 2010 Amgen Tour of California in Bakersfield and Big Bear Lake.
Sagan's strong start
Stage 1 in Sardinia had a sea-level finish but the pace on a stiff little climb in the last 5km was enough to shed most of the sprinters as the front group shrank to just 30 riders. Sagan never left the leading positions on that hill, first following Team Katusha's Danilo Di Luca then his own teammate Eros Capecchi — who is back with Liquigas where he started his career in 2005 before a three-year stint with Saunier-Duval.
On the mainly downhill, twisting run-in through light rain to Porto Cervo, two other Liquigas riders, Daniel Oss and team leader Vincenzo Nibali, led the charge for Sagan until he zoomed ahead through a final chicane to score an easy win ahead of BMC's Alessandro Ballan.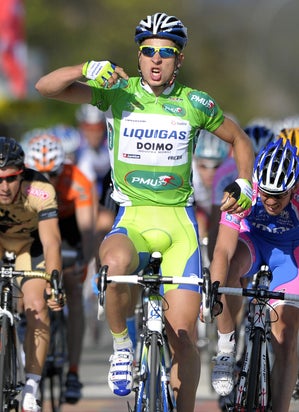 On taking his first victory bouquet since that Big Bear stage win nine months ago, Sagan could breathe easier. It was also his first win on Italian soil, a major landmark for a rider who has made his home there and looks like spending a large part of his career on an Italian team.
Sagan has made huge progress with the media since his stage wins in California, and his second place at last fall's Grand Prix de Montréal. Where he was once shy and almost monosyllabic with his answers, he is now open and smiling when he faces the television cameras.
He told RAI in Porto Cervo, "I see today's victory as the first step on the road to important races like Paris-Nice (which starts this coming weekend) and the classics."
Twenty-four hours later, stage 2 finished above the remote mountain town of Nuoro, atop the 15km-long climb to Monte Ortobene, at an elevation of 3,024 feet (922 meters). This is where in 2010 then-Liquigas rider Roman Kreuziger took the win ahead of Team RadioShack's Chris Horner, a result that settled the final classification, so there was much expectation for this year's stage.
When Sagan went into the final 2km of the Ortobene climb comfortably following Capecchi's wheel, his overall lead looked safe. But then Liquigas made its one false step of the week.
Capecchi, who had just been in a five-man attack with the Team Androni pair of José Serpa and Emanuele Sella, made a big surge 500 meters from the line. He was clearly going for the win, but his acceleration did two things: it gave Lampre's Michele Scarponi (with team leader Cunego on his wheel) a rider to jump after, and it deprived Sagan of his pace-maker.
As a result, Cunego catapulted off Scarponi's wheel to take the stage win (with Serpa, the dangerous Colombian, in his draft), while Sella took the third-place time bonus from Sagan — who thus lost his race leadership to Cunego. The faulty tactics could have caused a worse outcome for Sagan and the Liquigas team, which later admitted it had "lucked out."
Stronger team tactics
Liquigas left nothing to chance on the following stage, which finished in the narrow streets of the hillside town of Lanusei, after a gradual 15km climb from the coast. This is where Sagan's team turned on the power to stop any of his opponents from attacking, with Valerio Agnoli setting a tremendous pace followed by Nibali and then Capecchi.
2011 wins for UCI ProTeams
(in UCI .1 races and higher through Feb 28)
Peter Sagan's four wins, plus Ivan Basso's victory in the Lugano GP, pushed Liquigas up from 11th to fourth place in the ProTeam win standings. Rabobank moved to the top with two stage wins for Oscar Freire at the Ruta del Sol and a brilliant victory by Sebastian Langeveld in the Omloop van Het Nieuwsblad.
1. Rabobank 10 (five riders)
2. HTC-Highroad 9 (six riders)
3. Garmin-Cervélo 9 (five riders)
4. Liquigas-Cannondale 7 (three riders)
5. Lampre-ISD 5 (three riders)
6. Movistar 4 (three riders)
Sky 4 (three riders)
8. Team RadioShack 3 (three riders)
9. Vacansoleil-DCM 3 (one rider)
10. AG2R-La Mondiale 2 (two riders)
Omega Pharma-Lotto 2 (two riders)
12. Quick Step 1 (one rider)
Katusha 1 (one rider)
Geox-TMC 1 (one rider)
(BMC Racing, Leopard-Trek and Saxo Bank-SunGaard are the only ProTeams yet to register a victory.)
"Eros moved over when we were 200 meters out and I just stood up and went," said a delighted Sagan, who showed tremendous strength and speed in his late burst to leave Serpa and Cunego in his wake and take back the leader's jersey. "I'm determined to finish this race on top of the podium."
The Liquigas team got things right again on stage 4, when most of the sprinters reached the finish with the peloton. Despite that, Oss again made a superb lead-out, and in a fast, flat sprint Sagan handily disposed of three men who'd already scored 2011 sprint wins — Manuel Belletti (Colnago), Roberto Ferrari (Androni) and Ben Swift (Sky) — along with grand tour stage winners Alessandro Petacchi and Danilo Napolitano.
For Sagan to win a third stage in four days was sensational, especially as the first came in a small group after a downhill, the second at the top of a long climb and the third in a flat, mass field sprint. To win the Tour of Sardinia, however, he now had to hang tough on the final stage that would finish on the steepest climb of the week at the hilltop town of Gesturi.
The danger would come from Lampre's Cunego or Androni's Serpa, who were respectively 14 and 16 seconds behind Sagan on GC. Both teams knew they would have to try to crack the young Slovak, who had yet to win a stage race, let alone one finishing on a severe climb.
The expected pressure came from Cunego's men, who made a massive acceleration inside the 5km-to-go marker to shatter the peloton. Initially, Sagan had three Liquigas riders keeping him clamped to the Lampre train; but after Scarponi redoubled the climbing speed, and only Serpa jumped got across to him, Liquigas was forced to chase.
Nibali made a big effort before dropping back, which left just Capecchi to pull for the race leader, while Cunego sat on Sagan's wheel ready to pounce. In front, Serpa, who's having a great sixth season with the manager Gianni Savio's team, was working well with Scarponi, knowing that gaining a few seconds plus a time bonus for first or second could win him the race overall.
In the final kilometer, Scarponi accelerated again to drop Serpa, while an exhausted Capecchi sat up to leave Sagan to fight to the finish against Cunego. It was a tremendous finale for an early-season race, with the riders coming across the line one by one: Scarponi was first, Serpa second at three seconds, Cunego fourth five seconds later and Sagan another three seconds back in fourth.
When the time were added up, Sagan was the winner by just three seconds over Serpa and seven seconds over Cunego. It was a tremendous result for an exhausted Sagan, who said, "I'm lucky enough to have an extremely strong team that guides me and always provides support; there's no way I'd have achieved these results without them."
Progressing like Merckx
Sagan is indeed fortunate to be on a team that boasts the current champions of the Giro d'Italia (Ivan Basso) and Vuelta a España (Nibali), under the skilful management of Roberto Amadio, a former world team time trial champion. There's no real pressure on Sagan, so he has time to find out what sort of racing he is best suited to: classics, stage races or grand tours. Or all three — like Merckx!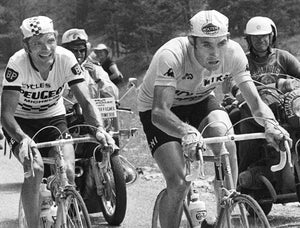 There are already similarities between the incomparable Merckx and the super-talented Sagan. Merckx won a world championship as an amateur (road race at age 19), and so did Sagan (junior cross-country at 17). As for racing physique, Merckx was 6 feet and 165 pounds (lighter at the grand tours), while Sagan is 6 feet and half an inch and weighs just over 160 pounds.
Both riders turned pro at 19 (Sagan was just a week short of his 20th birthday at last year's Tour Down Under) and neither completed their first major classic (Merckx abandoned in the 1965 Flèche Wallonne, Sagan dropped out of the 2010 Paris-Roubaix). Merckx enjoyed a steady build-up in pro racing, focusing on one-day races and short stage races until making his grand tour debut in his third season just short of his 22nd birthday (he won two stages and came in ninth overall).
If Sagan follows a similar course, he'll likely ride the Giro or Vuelta in 2012 under the guidance of Basso or Nibali. But there's no need to rush. When Sagan was asked last week what type of rider he was, he shrugged his shoulders and said, "I feel good in races (with) short climbs. I don't have enough endurance yet on the long climbs; I'll have to work on that."
When pushed, Sagan added, "I haven't done a grand tour yet so I still don't know my limits. I do well in the short stage races, and also in (one-day) races (so) why don't I just try and win both?"
That's what he's going to attempt in the next couple of weeks. His first major goal is the eight-day Paris-Nice, starting next Sunday, followed by his first Milan-San Remo. Merckx won at his first attempt by out-sprinting a small breakaway group in the streets of San Remo. Could Sagan do the same on March 19?