Inside Cycling with John Wilcockson: Vinokourov's unpopular victory
After the Kazakh dropped the Russian in the last 100 meters of the last climb and cruised the final 400 meters to the line, the crowd let out an unseemly chorus of boos. That's probably never happened before at a monumental classic.
Heading out the door? Read this article on the new Outside+ app available now on iOS devices for members! Download the app.
Twitter.com/vaughters: Phil Liggett: "so, Jonathan, how is it these guys can come back from suspension and still ride so well?" JV: "Ummmmm…. Uhhhh…."
– Garmin-Transitions team manager Jonathan Vaughters quoted himself  shortly after Alexander Vinokourov won Sunday's Liège-Bastogne-Liège.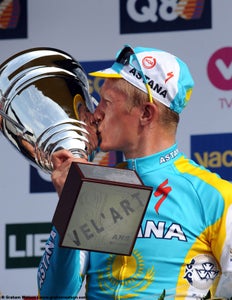 Before Alexander Vinokourov tested positive for blood doping at the 2007 Tour de France he was "Vino," the peloton's most aggressive rider, the one the fans loved to watch. And loved to cheer. He was particularly popular in France, because that's where he started as a pro cyclist after an amateur career that was established at a state-run sports school in his native Kazakhstan when it was still part of the Soviet Union.
In that school, he spent every day on the bike as early as 13 years old. That's where he learned that training hard for long hours was the only way he knew to be a successful athlete. In his formative years with the modest French team, Casino, run by Vincent Lavenu (who now manages the ProTour's AG2R-La Mondiale team), Vinokourov won the toughest stage race in France after the Tour, the Dauphiné, a victory that set him on his way to stardom.
He joined the high-salaried team of Deutsche Telekom, helping Jan Ullrich in his annual Tour challenge, and he moved to the tax-free community of Monte Carlo and began raising a young family. He became a hero in his native land after taking Kazakhstan's first-ever Olympic cycling medal, the silver, behind his trade teammate, Ullrich, in the 2000 Sydney Games road race.
Vinokourov went on to win some big events: the Deutschland Tour (2001), Paris-Nice (2002 and '03), the Amstel Gold Race and Tour of Switzerland (both in 2003), and Liège-Bastogne-Liège (2005).
Now he has returned to Team Astana from a two-year doping ban to win at Liège again. It wasn't a popular win. On a warm, still, sunny afternoon that resembled July in the beautiful wooded hills of the Ardennes, the locals had roared with expectation when it looked like their Philippe Gilbert would catch Vinokourov and his breakaway companion Alexandr Kolobnev of Katusha. The Omega-Lotto team leader closed to within 20 seconds of the two breakaways with 4km still to race; then, after the Kazakh dropped the Russian in the last 100 meters of the last climb and cruised the final 400 meters to the line, the crowd let out an unseemly chorus of boos.
That's probably never happened before at a monumental classic, though it did happen at the 2007 Tour when yellow jersey Michael Rasmussen out-climbed Alberto Contador and Cadel Evans on the Col d'Aubisque summit stage finish. Under suspicion of deliberately missing pre-Tour doping controls, the spindly Dane was, a few hours later, dismissed by his Rabobank team manager Theo De Rooij, and sent home.
Rasmussen claims he was booed because of Vinokourov, who was excluded from the Tour the previous day for his own misdemeanors. Both men have now served their suspensions, but Rasmussen, racing with an obscure Italian team, is a shadow of his former self — if someone that thin can cast a shadow. But Vinokourov is back in the peloton stronger than before.
How come? That's what someone asked in the winner's post-race press conference on Sunday. Vinokourov answered in the only way he knows how. "I never stopped training," he said about his two-year suspension. "And in January, to prepare for this season, I was doing seven-hour rides in the mountains, with 5,000 meters (16,000 feet) of climbing."
Vinokourov has never admitted to cheating, but in saying Sunday, "I wanted to prove that I can win without doping," he was really making such an admission. His comeback began at the end of last year, when as a team-less rider, he won three time trials, and then played important roles in the world road championship (eighth) and the Tour of Lombardy (seventh).
But his latest streak of form — winning at Lìège only two days after he took the mountainous, four-day Giro del Trentino — came as a result of an intense period of altitude training on the massive Mount Teide on the Spanish island of Tenerife. One French sportswriter asked Vinokourov whether he went to Tenerife to be with the infamous Operación Puerto blood-doping doctor Eufemiano Fuentes (who lives there) or Italian trainer Michele Ferrari.
"No, I don't train with Ferrari anymore. Nor with anyone else, come to that. I have plenty of experience and I train alone most of the time," he said.
Vinokourov was training in Tenerife for the upcoming Giro d'Italia, where he wants to compete with the likes of world champ Cadel Evans. Was the 36-year-old Kazakh stronger than the 33-year-old Aussie at Liège?
Not really. Evans told VeloNews that he was strong, but the tactics at the end of a tough race lasting 22 minutes short of seven hours worked against him. "It was attack and come back, attack and come back, attack and come back," the BMC Racing leader said. "I think there were two Astana (Contador and Vinokourov), two Katusha (Kolobnev and Joaquin Rodriguez), two Saxo Bank (the Schleck brothers) … and, I think, two Caisse d'Épargne (Valverde and Luis León Sanchez). I can't follow them all. So I was quite happy to sneak across on my own, and not take anyone with me, and catch Gilbert and Valverde, and take fifth."
Evans had hoped to have Dutch teammate Karsten Kroon at his side, but he crashed and sustained facial fractures at the Flèche Wallonne in the pileup with 70km to go (not as I wrote the other day). He also regretted that his Italian teammate Mauro Santambrogio was missing, temporarily suspended by his BMC team for being on a list of athletes that may or may not be guilty in an ongoing drugs investigation, back when he was a member of the Lampre team. With better team help, yes, Evans might well have beaten Vinokourov.
Whatever the outcome it was an exciting finale, even though the result didn't please the punters. When the media kept grilling him Sunday about his 2007 sins, Vinokourov, a normally bland, sometimes boring interviewee, started to boil over. "I don't want to talk about doping again," he seethed. "I served my two years didn't I?!"
He did. And who are we to judge someone who did cheat in a vain attempt to win the 2005 Tour de France (after placing third in 2003) but now claims he's clean? Didn't Garmin's David Millar do something similar? And Liquigas's Ivan Basso, another of the upcoming Giro contenders? Would the fans have booed either of them? Perhaps, but not likely.
Vinokourov believes that his latest success is revenge on the media for the way in which they crucified him three years ago at the Tour. But it will take more than this one big win to re-establish himself. He'll have to prove more clearly than anyone else that he is no longer "a man in black," trying to elude the anti-doping authorities.
His biological passport is going to be more closely studied than anyone else's in the coming months, and perhaps years. If it's proven that he isn't cheating, and that his renewed success is due to his old-fashioned formula of "class, experience and training," then the cheers may return. But don't bet on it.