Inside Sepp Kuss's dominant victory at the Tour of Utah
We take a closer look at the training and preparation of neo-pro Sepp Kuss before his stunning victory in Utah.
Heading out the door? Read this article on the new Outside+ app available now on iOS devices for members! Download the app.
On stage 2 of the Larry H. Miller Tour of Utah, Sepp Kuss made a monstrous, audacious solo attack over Mount Nebo. He rode up to and through the day's breakaway. He turned himself inside out into a stiff headwind on the upper, rolling terrain atop the highest peak in the Wasatch Range. Finally, he bombed down to Payson, Utah, to take an emphatic stage win and the overall lead by 29 seconds over his LottoNL-Jumbo teammate Neilson Powless.
With several demanding stages to come in the weeklong race, any cycling textbook would suggest Kuss simply play defense, sit on the wheels of his nearest rivals, and allow his WorldTour team to control the race. If he did that, a big professional win would surely be his.
Scratch that. Sepp Kuss doesn't know how to follow wheels. He doesn't care what the textbook says. He doesn't want to patiently play defense.
In the most dominant fashion, Kuss ripped the race apart, stage after stage. In stage 5, on the final climb to Snowbird, he decided with 8 kilometers left to race that he couldn't hang around anymore. Later guys! He rode away from everyone, including a trio of EF Education First-Drapac riders and Ben Hermans of Israel Cycling Academy. And he had a big, beaming smile on his face all the way to the summit.
After the stage win, with a 1:21 lead over Hermans in the overall, Kuss could breathe easy, relax, and soak it all in. Or not.
In the final stage, Kuss hit the base of the much-feared Empire Pass climb. EF Education First's Nate Brown was several minutes up the road, though not in contention for the overall win. Mitchelton-Scott's Jack Haig, sitting fifth overall, launched an attack that put Kuss on the ropes — for a moment. Eventually, Kuss couldn't stop himself. He again rode up to and through the remnants of the day's break. Two kilometers from the summit, Kuss passed Brown; at the summit, he had a 42-second lead on the field. After a tricky descent down the rain-slicked streets into Park City, Kuss claimed his third stage win and the title of Tour of Utah champion with the most dominant performance in the race's history.
Three years ago, Kuss raced for the University of Colorado cycling team in one of his first road races in Denver's City Park. During the race, a teammate rode up beside him to recommend he ride in the drops through the course's technical corners. In August, Kuss crushed a world-class field at the Tour of Utah. The progression has been phenomenal.
How'd he do it? A performance of that caliber deserves a closer look.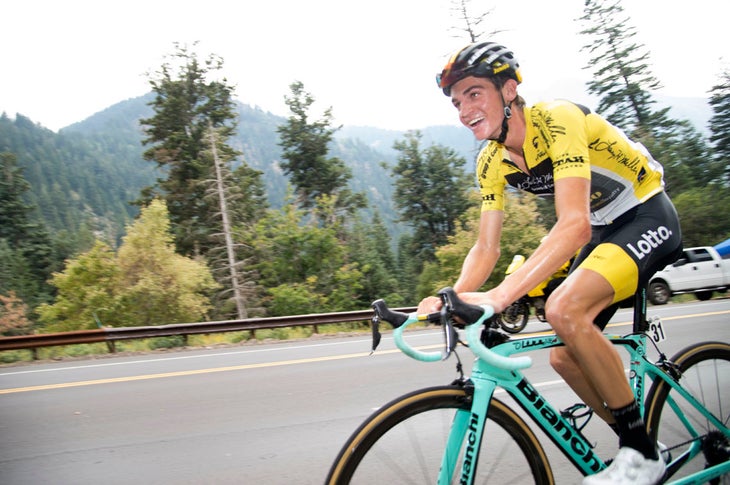 Neo-pro novelties
After racing for the Pro Continental Rally Cycling team for a year and a half, Kuss signed with LottoNL-Jumbo for the 2018 season. In January, he sat down with team staff to discuss his season plan. "Probably 95 percent of the races I did this year I knew about leading into the season, which is pretty nice," Kuss said.
For both the Amgen Tour of California and the Tour of Utah, Kuss and fellow American Powless were earmarked for co-leadership duties from the beginning of the year. The team's confidence in the young pair, 23 and 21 at the time respectively, was evident.
"That's part of the team's development philosophy," Kuss said. "For a young guy coming onto the Jumbo team, you have a lot more opportunities to already be higher up than you would at a Team Sky or something. I see it as a strength of the team because they're able to put young riders in those situations pretty early on, which gives you some good experience and confidence."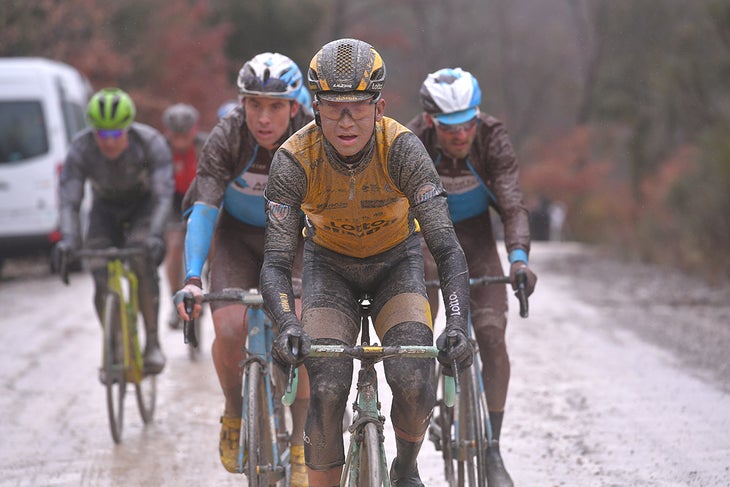 In his first WorldTour season, Kuss faced a trial-by-fire scenario several times. It was his first year competing in many of the biggest European races, including the Volta a la Comunitat Valenciana, Volta ao Algarve, Strade Bianche, and Vuelta al Pais Vasco. To say his spring was difficult would be an understatement. Kuss admits he struggled, mentally and physically, feeling as if he never could get his head or legs where they needed to be. Nevertheless, the mellow Kuss kept plugging away, doing the things his team suggested he do. He reasoned that whenever you start with a new program or are in a new coaching environment, it takes time to have the confidence to say how you're feeling or give constructive criticism. He didn't want to rock the boat; he was also curious and willing to try their way.
Finally, after the Criterium du Dauphiné, where Kuss feels he rode fairly well, he sat down with the team to discuss where he was at and where he wanted to go.
"I said, 'This is kind of the direction I want to go with training the next few months — maybe we can try to incorporate some of these things, let's not do X and Y anymore, let's try something different based on what has worked and what hasn't in the spring,'" Kuss remembered telling his coaches. "Everyone is different, so one style of training is not necessarily right for everybody. I think it's a healthy coaching relationship when you can say what works and what doesn't."
After the Dauphiné, the team selected Kuss for the Vuelta, so they told him they were already hoping he'd put in a bit more volume than normal, which further influenced his training.
Back to basics
In July, Kuss returned to the U.S., first to train in Boulder before returning to his hometown of Durango. A quick glimpse at his Strava profile tells you what big miles mean to a pro. The number of KOMs he gobbled up belie the fact that he was reducing intensity.
He was back on familiar terrain, and able to return to the training that had worked for him in the past, with some subtle but significant modifications. Comparing the lead-ins to the past two Tours of Utah, Kuss included much more intensity and lower volume in 2017. (He finished ninth riding for Rally Cycling.) Three or four consecutive days of "good intensity" were followed by less rest between training blocks. By comparison, in 2018 he did two- to three-day blocks with longer hours and 50 percent less intensity.
"Some of that intensity in those volume blocks was also just on my own, freestyle, whatever," Kuss said. "And a lot of riding at altitude for extended periods of time, which also helps when you're just riding along."
The reason we aren't able to be more specific about the training load is that Kuss isn't able to. Kuss, who doesn't have a personal coach outside of his WorldTour team, is essentially self-coached, and always has been. Those new-fangled data points such as Training Stress Score (TSS)? "I don't really look at those graphs," he said. "I don't totally believe in all those numbers. But certainly, looking back, all the weeks in training as a whole were much harder than the race in Utah."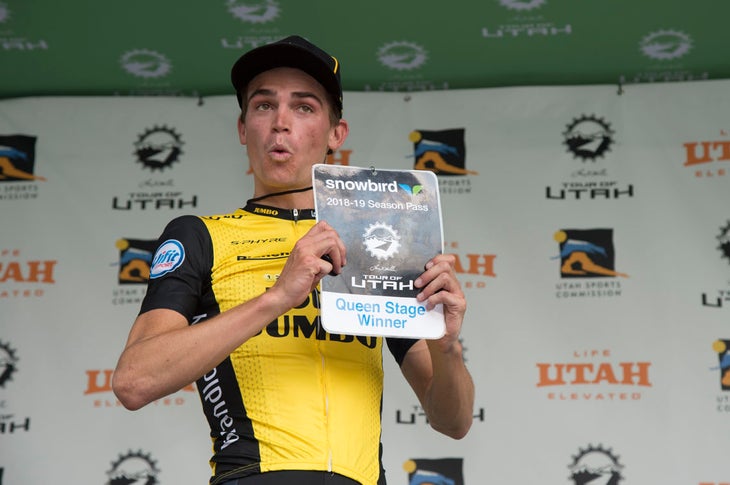 To be clear, in the race a lot of time is spent just sitting in the peloton, thus the smaller overall load. However, peak power numbers were much higher in the race than what Kuss did in training.
While Kuss built toward a solid performance at Utah — a race he "knew he could do well at" — he also had to consider what would help him prepare to make a grand tour debut in his first year on the WorldTour. It was a complex and daunting balancing act. The two objectives made for a perfect source of inspiration.
"The whole motivation for my training was the bigger picture, looking at the Vuelta — it was a big, big opportunity to do that and knowing that I would have the chance was a huge motivation to go out there and train and make sure I did everything right," Kuss said.
Nothing to lose
Finally, with all the big miles behind him, Kuss launched himself at the Tour of Utah. From that attack on stage 2 to his final surges on Empire Pass, he dominated the race. Amid all the fun he looked to be having — when's the last time you saw someone beaming as they throttled their way up a climb like Snowbird? — it also seemed like Kuss was getting away with some tactical errors, making moves that were ill-advised given the circumstances. Had there been stiffer competition, would those moves have backfired?
A young Kuss said he wasn't really concerned with that.
"I felt really good, and when you have that certain level of confidence and condition, you have nothing to lose," he said.
He claims everything he did was under his limit, and he never felt like he was going to blow. He does concede, however, that if the race were at sea level or there were more WorldTour teams, maybe it would have played out differently.
As for his attitude on Snowbird, his refreshing answer is as satisfying as his smile was on the day.
"That's just cycling, you know. Maybe once in a season, once every two seasons, you have those moments when you don't feel the chain, as the saying goes," Kuss said. "When you're in that moment you just feel invincible… invincible isn't the right word. But you feel, 'This is why I train. This is why I make all the sacrifices.' At the end of the day, it's fun. It's fun to race your bike, especially when you feel good."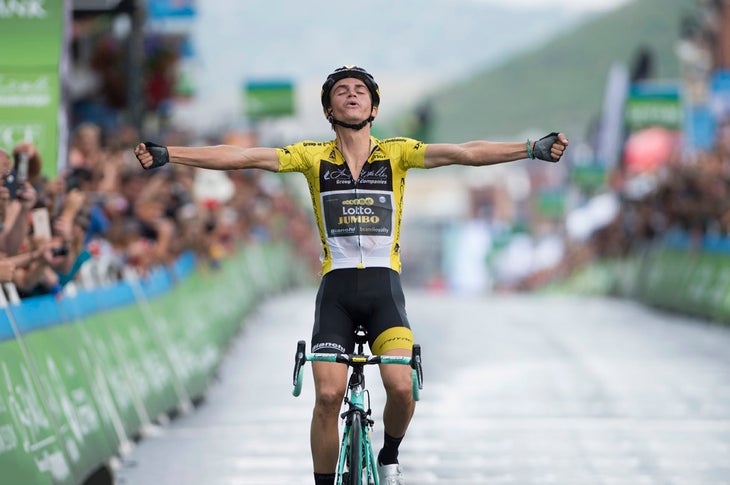 The next step
On the heels of such a dominant victory, inevitably comes both confidence for the rider and higher expectations from fans and team alike. Kuss is aware of both the negatives and positives, and the greater significance of his win.
At the beginning of the year, when things weren't going well, when the races were so hard he felt like he was digging himself into a hole, it presented a heavy challenge for a 22-year-old kid living in Europe.
"To come around and show the team that I can actually ride a bike was a good feeling," he said. "They've seen how bad I can be, but also what my potential is… that it's worth their time to invest in me and develop me and give me quality races."
That's a huge benefit, and relief, for a first-year pro. It may even bode well for his trajectory in the sport, although Kuss is the first to remind anyone that he has a chasm to close before he should be considered a grand-tour talent. But when he's getting dropped in the third week of the Vuelta, and people say, 'Well, you're such a good climber, why can't you hang on?' that's the downside of expectation. As he puts it, maybe he's just tired; maybe he's just not good enough. Just because he did it in Utah doesn't mean he can climb away from Chris Froome.
"I can handle the expectation, because to me it doesn't matter what people expect or what mold they want you to fit in, but it's easier for me if I fly under the radar, nice and steady," he said.