Interbike 2011: Off-beat off-road
Salsa, Surly and Jamis all showed new bikes that are catering to the so-called "fringe" market in offroad bicycles. Fringe may be a bit of a misnomer, but what else do you call winter bikes with 3.7" tires, new offroad touring (or bikepacking) bikes and 650b hardtails? Well, I call…
Heading out the door? Read this article on the new Outside+ app available now on iOS devices for members! Download the app.
Salsa, Surly and Jamis all showed new bikes that are catering to the so-called "fringe" market in offroad bicycles. Fringe may be a bit of a misnomer, but what else do you call winter bikes with 3.7" tires, new offroad touring (or bikepacking) bikes and 650b hardtails? Well, I call them "cool." Afterall, variety is the spice of life.
Salsa expands
The big news at Salsa is expansion. The chili-logoed, QBP house brand now offers a variety of complete bike build for several of its models. With more frames than ever, Salsa is pushing hard to increase the number of Salsas you see out on the trail.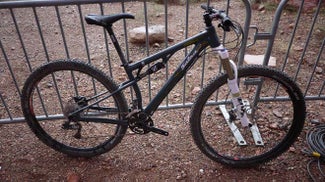 New for 2012 is the Horse Thief. The 120-millimeter travel 29er is yet another high-value offering from Salsa. Designed as a hardcore trail bike, the Horse Thief's aluminum frame features a 142x12mm rear thru axle, a tapered head tube and ICSG tabs on the threaded bottom bracket. Salsa also decided not to put a water bottle boss inside the main triangle so that aftermarket coil shocks with external damping will fit.
Salsa's Jason Boucher also added that some riders have elected for a 140-millimeter fork and the results are positive. Frames will sell for $1,400 and the complete bike with SRAM X9/Elixir/Fox 34 120-millimeter fork build is $2,950.
The Spearfish, Salsa's successful 4-inch travel 29er dualie, now has two frame options. The Spearfish 1 has a fetching black anodized frame that helps save some weight and also receives a 142x12mm rear thru axle, a Pressfit 30 bb and a tapered head tube. A frame will cost $1,400 and a complete bike with a sensible SRAM/Fox/DT Swiss build runs $3500.
The Spearfish 2 is also updated with a new a Pressfit 30 bb, a tapered head tube and a new orange paintjob. Salsa will offer both frames as complete bikes as well as a Spearfish 3 that uses the Spearfish 2 frame with a green paintjob and a budget-minded build.
The Mukluk aluminum "fatbike" is Salsa's only remaining 26" bike, but with 3.7" wide tires, they certainly aren't small wheels. Three builds are on offer using two frames, last year's aluminum and a new titanium version. The Mukluk Ti gets Salsa's Alternator dropouts to make a single speed build easy and also allows adjustment of wheelbase and tire clearance.
Instead of off-setting the rear triangle as other fatbike builders do, Salsa decided on a 170mm symmetrical rear spacing to clear the wide tires. A 100mm bottom bracket definitely makes for a big Q-factor, but then with the fun these sort of bikes provide, who cares?! Another small note is that the Mukluk can be built up using 29er wheels and a 29er front suspension fork for use during warmer months, as many Salsa customers in Alaska have done. If snow or sand riding pique your interest, or you just want a wild, fun mountain bike, the Mukluk is a blast.
The titanium frame with a steel fork will cost $2,100. The Mukluk aluminum frame with steel fork is $600. Three complete bikes are offered with prices starting at $1,600.
The Mamasita is now an all aluminum frame, doing away with the carbon stays on previous versions. The addition of a Pressfit 30 bottom bracket and a tapered head tube are also updates. Salsa's hardtail racer frame sells for $500 and the complete bike is $2,100.
Surly tweaks
With update to the Karate Monkey (no cantilever posts and a lighter, more compliant fork) Surly introduced the Ogre. The Ogre will carry on the flag of versatility that the Karate Monkey flew for so long. It features both cantilever and disk brake mounts, a full complement of braze-ons including Rohloff tabs and Trailer Nuts. Offroad tourers and bikepackers will like the stable handling.
Framesets will run $500 and a complete bike with Microshift's cool thumbie shifters will cost $1,500.
Jamis likes 27.5"
Jamis has invested in the 650b wheel size with two hardtails for 2012, one aimed at trail riders, the other at the racer set.
The Dragon is built using Reynolds 853 and slacker trail-style geometry. American Classic wheels, a Shimano SLX 3×10 group and a White Brothers Loop fork with 120 millimeters of travel helps make this bike a good value at $2,600.
The Nemesis has a more aggressive geometry built into its 7005 aluminum frame. The tapered head tube and Pressfit 30 bottom bracket are modern features. An X Fusion Velvet fork delivers 100 millimeters of travel and keeps costs low. With SRAM X7 parts and Alex wheels, the Nemesis sells for $1,600.