Justin Williams leads a revolution in cycling sponsorship
After years of setbacks, Justin Williams has created his own racing program without a professional road team.
Heading out the door? Read this article on the new Outside+ app available now on iOS devices for members! Download the app.
It's a rainy afternoon in New York and Justin Williams needs another coffee to fuel his long day of bicycle racing. In a few hours, Williams will finish in second place at the fixed-gear Red Hook Criterium in a soggy sprint along Brooklyn's waterfront.
Following the post-race party, Williams will then board a red-eye to Southern California, where he will finish second at the Dana Point Grand Prix, one of the country's longest-running road criteriums.
After a few hours of sleep, Williams will then climb aboard his bicycle to ride alongside his Endo Concept racing team, a development squad that Williams founded for young black and Hispanic riders from inner-city Los Angeles.
Thirty-six hours, two airports, two podiums, 3,000 miles, and plenty of caffeine.
"It's going to be a crazy day," Williams says, sipping an espresso. "It's like, this is what it takes right now for me. It's a hustle."
That hustle is what makes Justin Williams a rare self-made success story within the fickle world of American bicycle racing. Rather than commit himself to one team and one discipline, Williams instead competes in whichever races bring him the most exposure and the most amount of fun. He mentors young riders on his team and broadcasts his various comings and goings to his 17,000 followers on Instagram. Williams, in turn, helps his personal sponsors Specialized, apparel manufacturer Assos, and protein drink Muscle Monster reach his fans.
"I can do whatever I want on the road racing side, so long as I hit the Red Hook Crits and a few other fixie events," Williams says. "I think people figured out my character, saw what I do beyond racing, and wanted to be involved with me."
The model requires constant drive, which is why Williams is guzzling coffee on this chilly spring afternoon. Yet it's what also allows him to continue his career as a professional cyclist. Williams is pursuing this unorthodox life after a decade of frustration in the American professional road cycling scene, which saw him bounce from team to team. After his most recent team, Cylance Cycling, dissolved its men's squad at the end of 2017, Williams had had enough.
A year after that setback, Williams is thriving as a one-man brand, a rare lone wolf in a sport traditionally dominated by team sponsorships. He's succeeded largely due to his entrepreneurial attitude and desire to bring people into his circle. The model has brought Williams enough financial security to race full-time without the side gig that most elite American riders must maintain.
With every podium finish and airline flight, Williams is redefining what it means to be a professional cyclist in 2018.
And he's not alone.
From phenom to cast-off
Williams grew up in central Los Angeles, the son of immigrants from Belize. His father had a passion for racing bicycles, and Justin took up the sport as a teenager. He thrived in Southern California's robust criterium scene. At age 17, Williams inked his first professional contract to race for the Rock Racing squad and rode for the team for three seasons. He also regularly joined the U.S. national team in Europe. By the age of 20, he owned four national titles. A spot on Axel Merckx's development team, Bontrager-Livestrong, was a sign that Williams could be headed for the international peloton.
It never panned out. Williams felt like an outcast as the only black rider in the upper-class, predominantly white U.S. peloton. It was worse in Europe, where the sport's social hierarchy and complete lack of diversity made him stand out even more.
"The Americans are trying to be like Europeans, and the Europeans are so stuck in their ways. I couldn't relate," Williams says. "I felt alone a lot. I had been in cycling my whole life and I had nobody to relate to. I'm from this different culture and nobody could really get it."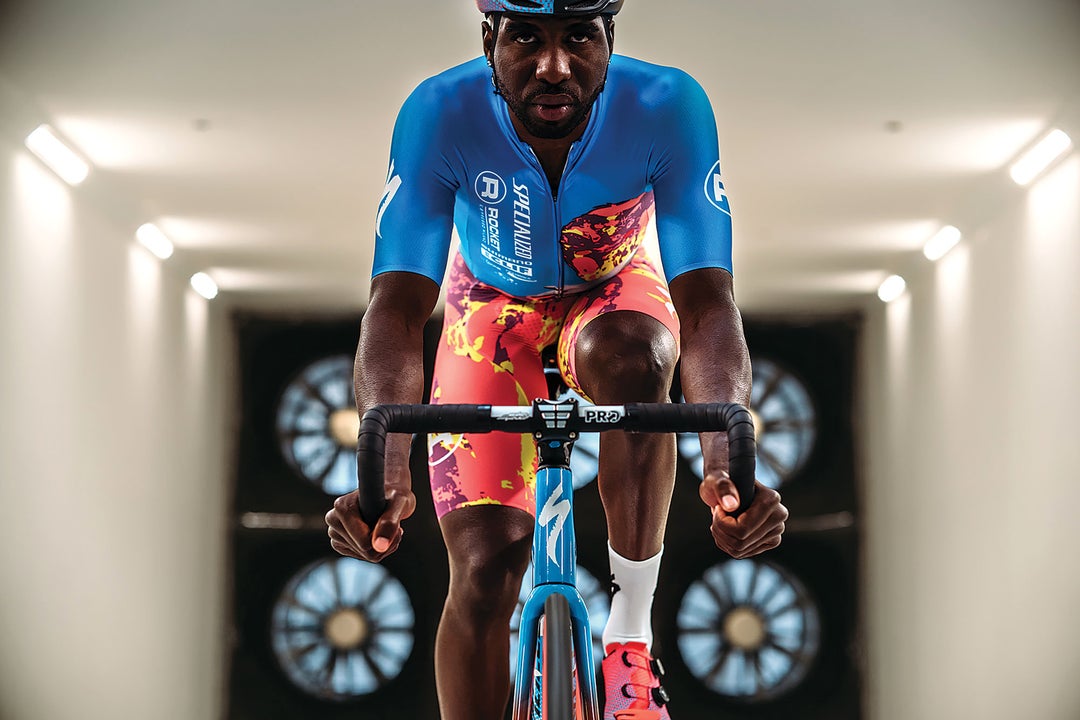 Instead, Williams returned to race in the U.S., where he bounced around for several years, competing for regional pro squad KHS before jumping to the upstart Astellas pro team for two seasons and then racing two additional years with Cylance. Again, Williams felt constant friction and often quarreled with teammates and managers and balked at their direction.
"Management expects you to be a robot," Williams says. "I didn't fit. Management was like 'Dude, what the [hell] are you doing?'"
Disenchanted with pro cycling, Williams tried to pursue a life away from the sport. He enrolled in classes at the local Moorpark College and took a job at a boutique clothing store. Cycling kept pulling him back. In 2015, Williams attended a ride organized by the Wolfpack Hustle, an organized group ride that is popular within the city's fixed-gear racing scene. Williams saw throngs of African-American and Hispanic kids riding fixed-gear track bicycles around the streets of Los Angeles. He was inspired.
"It was people I could relate to. It was people from my neighborhood in Central L.A. — the scene was so attractive to me," Williams says. "These are the types of kids I went to high school with."
Williams had an idea: create a racing team for these kids. None of them had access to coaching, sponsors, or gear. Williams contacted local custom kit maker Bobby Endo, put together a small budget, reached out to various sponsors, and contacted riders. He had the racing credibility and reputation to launch his own squad. Thus, in 2016, he launched the team, called Endo CNCPT, with a cadre of Category 2 and 3 riders. The racing program included fixed-gear criteriums across Los Angeles, as well as local amateur road events.
Williams and his younger brother Cory mentored the young riders. They organized skills camps and shot videos, called "Methods to Winning," that explained the nuances of racing.
CNCPT quickly expanded beyond racing, and Williams focused heavily on creating images and video for social media to broadcast the team's unique look and attitude. Videos of the riders clad in matching CNCPT kits and hats flooded the internet, showcasing their different lifestyle and take on the sport. The images blended the hip style of inner-city L.A. with the performance-driven culture of road cycling. Brands reached out to the team for promotion.
In late 2017, Williams found himself without a professional contract again after Cylance dissolved its men's program. The news was disappointing, if not surprising. Williams sent his resume to every Continental team listed on the UCI website. He struggled to find the motivation to continue. He wondered if a different model could work for his racing ambitions.
"'What if I put together my own team?' I had this vision of what I wanted to do," Williams says. "I wasn't in a space to let other people tell me what I could do. I didn't want to compromise."
Sponsorship talks with Cylance's bike sponsor, Cannondale, eventually fizzled, and Williams inked a personal deal with Specialized instead. The deal required him to race the Red Hook races, and to then ride a Specialized bike at his road events.
Early in 2018, Williams and his brother also reached out to the Southern California-based energy drink manufacturer Monster Energy. They met with Greg Sellers, the brand manager for Monster's recovery drink, Muscle Monster, and its hydration drink, Monster Hydro. A 20-year veteran of cycling sponsorships, Sellers had looked for a way to bring the Monster brand to road cycling — it already sponsored riders in gravity mountain biking. In the Williams brothers, Sellers saw a way in.
"Here is this guy that has a great story in cycling and he's doing something completely unique, doing the fixed-gear stuff and the criterium racing," Sellers says. "He's authentic and nimble. He's carving out a niche for himself. I wanted us to be part of it."
Cory Williams's spot on the KHS-Elevate professional team prevented him from inking an individual deal, but Justin's privateer setup meant he had no obligation to other brands. In March he began appearing at races with the green Monster logo on his helmet. The portfolio of personal sponsors paid Williams enough to race full-time.
Williams beams as he discusses the deal with Monster. He says he did not start the CNCPT team or launch his performance camps with the long-term plan of personal sponsorship. Still, when a major brand took note of his various off-the-bicycle ventures, he felt rewarded.
"It felt like I had been doing all of this stuff for so long and nobody had ever taken notice, and then all of a sudden these pieces are coming together in front of me," Williams says. "It felt awesome."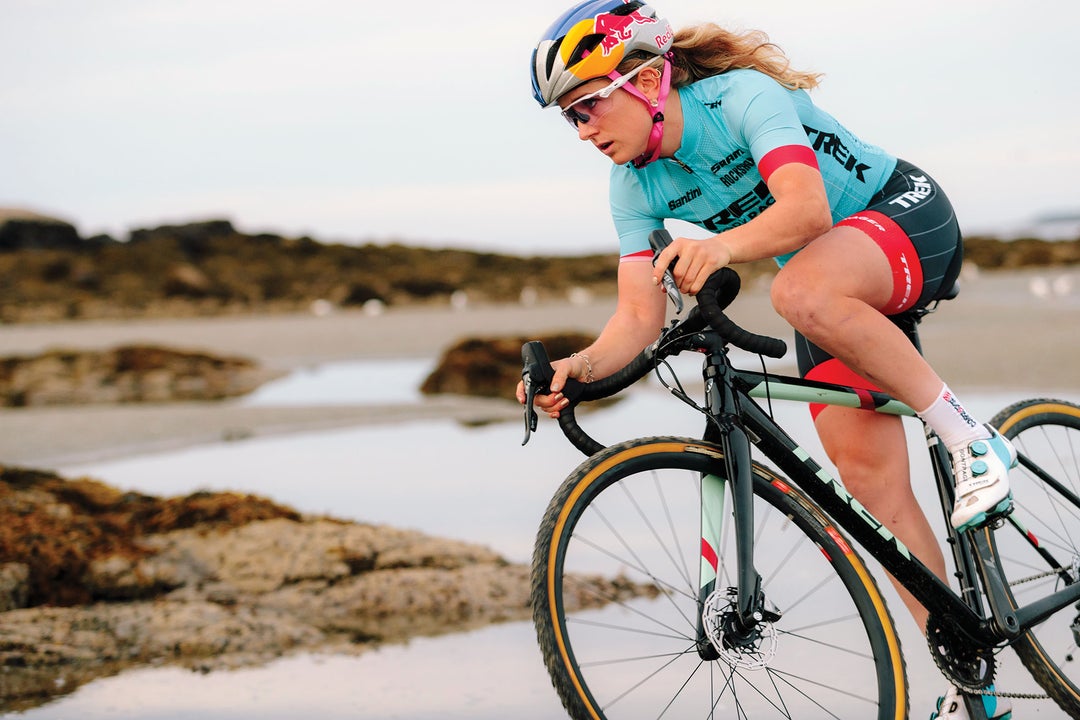 New model for a changing sport
Williams's individual racing program comes amid a sea change in American cycling. Across the sport, more cyclists have found ways to create individual racing programs after bucking road racing's traditional model. After longtime road racer Alison Tetrick won the Dirty Kanza 200 gravel race in 2017, she created a gravel-centric racing program in 2018 with sponsors Specialized, Lezyne, and 100% sunglasses, among other brands. Tetrick has now switched from road racing to gravel cycling full-time, in part due to the racing freedom the new model allows.
Colin Strickland, a Cat. 1 road racer in Austin, created his personal racing program around fixed-gear races, gravel events, and the U.S. road crit scene. Strickland won three out of four rounds of the Red Hook fixed-gear racing series in 2016. After those victories, Strickland chose to pursue this nontraditional racing program despite encouraging results in road races.
In late 2017, Strickland launched his own racing team, called Meteor X Giordana, with bike sponsor Pinarello. Then in 2018, he inked a personal deal with Red Bull.
"I could see that U.S. road racing was on the decline just from a marketing perspective," Strickland says. "You're just some name on a results page on some race that happens every year. Unless you do something that's cool and worth remembering, you're replaced by the guy who wins that race the next year."
A decade ago, individual sponsorships in road racing were rare. Riders relied on team marketing and media relations to reach their fans. Dynamics within pro cycling have shifted. The rise of social media has given a platform to riders like Strickland, Tetrick, and Williams to reach fans directly. Also, the growth of new racing formats, such as fixed-gear racing and gravel, has provided a new place for riders to shine.
Nontraditional cycling brands are now seeking individual deals within the sport. For years, Red Bull kept its distance from road cycling due to the sport's connection with doping. The decision kept important dollars from flowing into cycling. With an estimated brand value of $10.4 billion, Red Bull has the dollars to fund all of pro road cycling, if company executives wanted. Instead, the brand stayed away.
"There was already such a stigma to the [energy drink] category that our strategy is to stay away from sports that carry a lot of baggage," says Jenner Richard, a marketing manager at Red Bull.
Rather than fund a road team, Red Bull has instead operated around the edges of the sport. A decade ago, Red Bull's North American marketing managers inked its first major deal with cyclocross racer Tim Johnson. At the time, Johnson was the reigning U.S. national cyclocross champion and a well-known professional road racer. More importantly, Johnson had also created a short documentary film, called "The 9 Ball Diaries," which took fans behind the scenes at his cyclocross races. The film, matched with Johnson's ambitious efforts to create a following, was as valuable as his actual racing results.
And the fact that Johnson's racing program was individual, and not tied to a large team, made the deal easier to navigate.
"The fact that I didn't have a full team contract to compete against was a huge win for me," Johnson says. "I understood that this was all about getting people stoked on cyclocross. It was part of a business."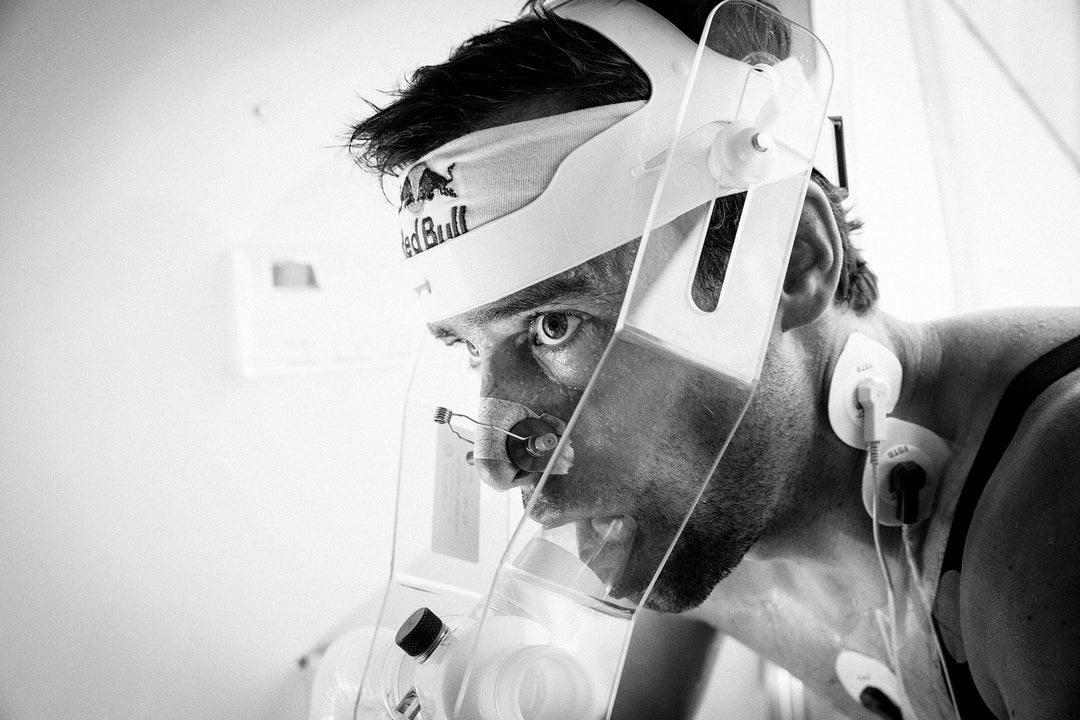 Red Bull continues with this strategy today. The brand looks for cyclists who are atop their respective sports and have the results to boost their credibility. Perhaps more important, however, is an athlete's personal brand and willingness to engage with his or her fans. Red Bull wants athletes who know how to promote themselves via traditional media, social media, or a combination of the two. Traditional road cycling doesn't always allow riders to promote themselves in such an individual way.
"You're looking for a 360-degree individual who is already owning and operating their own brand — we're not in the business of building a new team from scratch," Richard says. "We want people who operate within their sphere. They don't need other teammates. They are marketing themselves and not just feeding off of the brand."
Most recently, Red Bull inked a deal with American cyclocross racer Ellen Noble. Noble is unquestionably fast, however she is not yet the outright fastest American woman in cyclocross. But Noble has created a platform for herself around female empowerment, and in 2017 she promoted the slogan "Bunnyhop the patriarchy" on social media alongside videos of her bunny hopping 'cross barriers. While the effort may have seemed minor at the time, it helped Noble secure her Red Bull deal.
"She has a cause, a purpose, and she's driving messaging for what she thinks is right," Richard says. "We're a giant marketing muscle. We can help amplify her message."
An individual deal with Red Bull brings with it major assets to strengthen one's existing brand. It also brings in the type of endorsement cash that can change a cyclist's lifestyle. Sources familiar with Red Bull's personal endorsements pegged these individual deals in the low- to mid-five figure range, with incentive bonuses built in for results and even magazine covers and other prominent media. It's not going to make an athlete rich. But for riders in niche sports like cyclocross or gravel racing, that cash goes a long way. Noble called her deal "an honor."
"So much of what I'm doing in the sport, aside from racing, is about sending a positive message and getting to interact with people," Noble says. "So if I can have a brand that can extend my reach and help me interact and engage with more people, that's crazy valuable. I think it can change the trajectory of an athlete's career."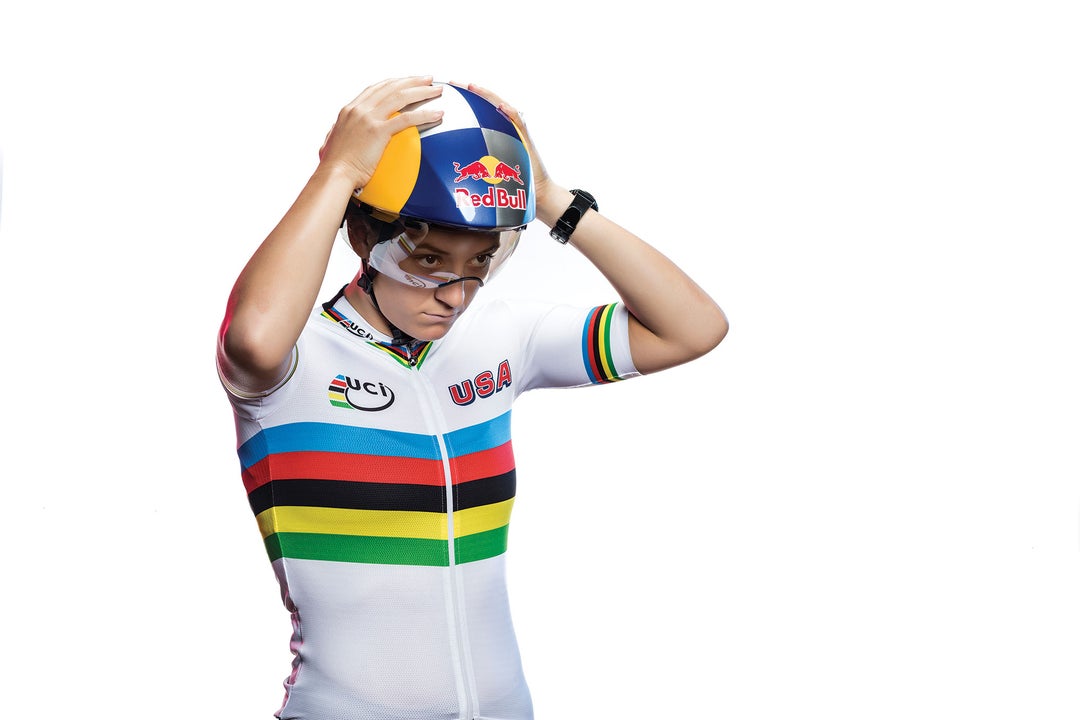 Chloé Dygert Owen, the rising star of American track racing, said her Red Bull deal has allowed her to pursue her sport without the need for extra income off the bike.
"I'm lucky. I'm able to make a living off of it and have a stable financial life with [a Red Bull sponsorship]," says Dygert Owen, who inked a Red Bull deal in 2017. "This isn't just a fun activity, it's a job. And if you're only making a few grand a year, that's not enough."
Johnson says his deal doubled his annual salary from his road racing team. The relationship gave him other perks as well. He was invited to regular Red Bull events across the globe where he met other sponsored athletes. He also gained access to Red Bull's network of doctors and trainers. That access helped Johnson during his road racing career when he crashed at a road race and injured his ankle.
Johnson says team doctors sent him home with an ace bandage and painkillers. When the pain did not subside, Johnson reached out to his Red Bull network for help. A company representative booked him a same-day MRI, which revealed that Johnson had suffered a broken ankle. He underwent surgery the same day. When the $7,000 hospital bill arrived, Red Bull paid.
"I could have been sitting on the couch just waiting for my ankle to heal, and maybe it would have been messed up for life," Johnson says. "Instead, I had someone to call. That was the difference that a marketing company has when they're truly behind the athletes they support."
Going personal
Three months after Williams's transcontinental racing day, he recorded another impressive back-to-back series of results. In a hectic sprint to the line, Williams claimed the U.S. amateur road national title in Hagerstown, Maryland. Two days later, Williams took the win in the amateur criterium race.
Critics may point out that Williams beat a field of Category 1 riders just one year removed from his professional racing career. Yet unlike many of the other riders in the field, Williams competed without teammates. Nobody pulled him to the front of the field, and nobody told him where to be in the sprint. Like a lone wolf, Williams freelanced his way to the front of the field and launched his sprint on his own terms.
"I'm at an age where if I'm going to do something, I want to do it my way," Williams says. "I've done it other people's ways for so long, I'd rather do it on my own."
And perhaps beating a group of Category 1 riders is the only accolade Williams needs to accomplish in his new role in cycling. Williams is 29 now. It's doubtful that he will ever compete in the Tour de France, a dream he once had. But he's able to race full-time as a professional and inspire hundreds, perhaps thousands, of young cyclists, many of whom are African American, or the children of immigrants.
Justin Williams is doing it, on his own terms.