Kasia Niewiadoma's balancing act
At 23, Kasia Niewiadoma is cycling's rising star, a gifted climber. Can she overcome the sport's inherent pressures and challenges?
Heading out the door? Read this article on the new Outside+ app available now on iOS devices for members! Download the app.
Kasia Niewiadoma arrives for her interview at this café in downtown Boulder, Colorado, aboard a red and black vintage racing bicycle emblazoned with the words "Davis Phinney/Morgul Bismark" on the down tube. These days, Poland's best cyclist has close ties to American cycling royalty.
"It's Taylor's dad's bike — it's how I've been getting around town," Niewiadoma says. "I like it; I think it looks cool."
Boulder has become a second home for Niewiadoma in 2018. Her boyfriend, Taylor Phinney, grew up here and owns a house near downtown; the two also share a place in Girona, Spain. Several times a year they visit Boulder to see the Phinney family and train along Colorado's Front Range.
This particular Boulder trip has a more specific purpose for Niewiadoma. She wants to clear her mind after a tumultuous 2018 spring campaign that brought her to one of the highest points of her young career, and then to one of the lowest.
In March, Niewiadoma won her first career round of the UCI Women's WorldTour in dominant fashion, riding away from an elite group of the best cyclists in the world at Italy's Trofeo Alfredo Binda. Niewiadoma's supreme fitness in mid-March had consequences a month later. Soon after her victory, she became ill and felt her body tire from the heavy early-season miles.
Rather than rest, Niewiadoma continued to smash herself in training. Fatigue set in. When Canyon-SRAM tackled the hilly Ardennes races — Niewiadoma was one of the team's co-leaders for the events — she was without her traditional punch. Rather than compete for victory at La Flèche Wallonne and Liège-Bastogne-Liège, Niewiadoma chased the wheels of lesser riders. The dismal performances brought on negative thoughts, and by late April, Niewiadoma needed a refuge.
Boulder was the answer.
"Boulder is a place where I can clear my mind. I don't know anybody here, which is cool," Niewiadoma says. "The other day I rode for four hours in the mountains, just thinking about nothing. It's the best medicine I've gotten."
At 23, Niewiadoma represents the future of women's professional cycling — she's the only rider under the age of 25 inside the Women's WorldTour's top-10 standings. Since her breakout season in 2014, Niewiadoma has been regularly compared to Marianne Vos and other greats. She is blessed with a dogged work ethic and otherworldly talent, and when the road points uphill, Niewiadoma is among the fastest female cyclists on the planet. And Niewiadoma races with an improvisational style that relies on her aggressive attacks.
Her early successes have brought pressure, both from outside forces and from within. Winning makes Niewiadoma happy — it also brings joy to those in her orbit, and to Polish cycling fans. Fear of losing has, at times, caused her to make mistakes.
Niewiadoma's best results spring from her unplanned attacks. Yet victory at the WorldTour level often relies on calculated strategy.
Niewiadoma's progress in cycling may hinge on her ability to manage the tensions caused by these two paradoxes, as well as the emotional ebb and flow that is endemic to the sport.
"I know I should want to win for myself. I also know that happiness on my own doesn't taste that good — I want to please my family, my team, my friends, everyone that I care about," Niewiadoma says. "People used to tell me that it's not so easy to deal with that kind of pressure. Now I have hit the wall a few times and I understand what that taste is."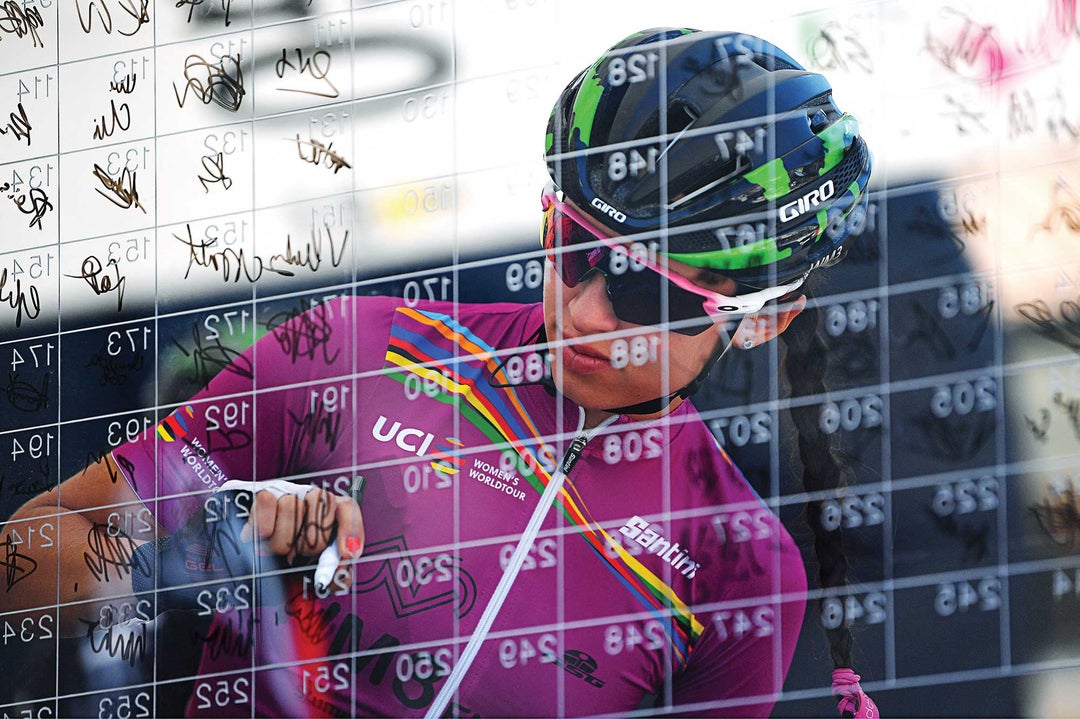 HER FULL NAME IS Katarzyna, but most people simply call her Kasia (pronounced Kasha). Since her professional debut in 2014, Niewiadoma has forged a reputation as perhaps the most aggressive rider in the women's peloton. Win or lose, Niewiadoma's attacks inject a spark of excitement into the races. Think Tim Wellens, only with a ponytail.
Barry Austin, Canyon-SRAM's performance director, points to her 2018 WorldTour victory at Trofeo Alfredo Binda as a textbook example of her riding style. Niewiadoma survived until there was just a lead group of favorites, and then rode that group off of her wheel on a steep climb just eight kilometers from the finish. Rather than ride into the finish, Niewiadoma put in more surges in the finale to build up her winning margin — 23 seconds.
"She was attacking so much it looked like she was attacking herself — she just went more and more, again and again," Austin says. "You can teach someone to slow down but you can't bring that type of riding out of everybody. She has that fire, that spirit."
Niewiadoma's attacking style won her the European U23 title in 2016, the OVO Energy Women's Tour in 2017, and helped her finish in second place at Strade Bianche in both 2016 and 2017. The moves have also created opportunities for her rivals. Niewiadoma's aggression during the 2017 Ardennes races often opened the door for Anna van der Breggen to surge to her historic sweep of those races.
During La Flèche Wallonne, for example, Niewiadoma surged away from the peloton on the penultimate climb. The move dragged out Boels-Dolmans teammates van der Breggen and Lizzie Deignan, and the two took turns attacking Niewiadoma until van der Breggen ultimately rode free.
Do Niewiadoma's attacks make her vulnerable? Perhaps, but that's still her preferred racing style. The right time for her to go is whenever she decides to go.
"I love to approach a race without knowing what this race will bring me — I want to follow my gut feelings," she says. "Maybe because of that attitude I do not win so many races, but it gives me pleasure."
The attacking style has earned Niewiadoma the respect of her peers. It has also won her fans in Poland and brought expectations onto her shoulders. Poland has a long history of producing champion cyclists, dating back to the country's Communist-era Olympic sports program. Poland's contemporary riders have also attained high accolades: Maja Wloszczowska owns two Olympic silver medals in mountain biking; Michal Kwiatkowski is perhaps the most versatile rider for Team Sky.
Niewiadoma says Polish media lumped expectations for victory on her shoulders in the leadup to the 2016 Olympics in Rio, where the steep ascent up the Vista Chinesa climb catered to her strengths. Niewiadoma had already scored impressive results at the Giro Rosa that year.
"They put the medal around my neck before the race even started," Niewiadoma says. "Once someone says you're going to win an Olympic medal, then everyone repeats the same stuff. And then the words are repeated in your mind, and you're thinking, 'I've got to do that. I cannot disappoint them.'"
Niewiadoma traveled to southern Spain for a month to prepare for the race, using the long, soaring climbs to Sierra Nevada as the perfect training ground. She blocked out friends and focused her efforts on preparations for the race. It was her first Olympics, and she wanted to prove herself.
In the end, Niewiadoma believes she placed too much pressure on herself. When race day came, she was mentally exhausted. She missed the final move up Vista Chinesa and came across in sixth place, just 20 seconds behind van der Breggen. Not a bad result, but far from her expectations.
"When somebody tells me that this race is for me, I get smaller immediately. I hate that," Niewiadoma says. "My mind is going crazy. It's like I want to prove them wrong."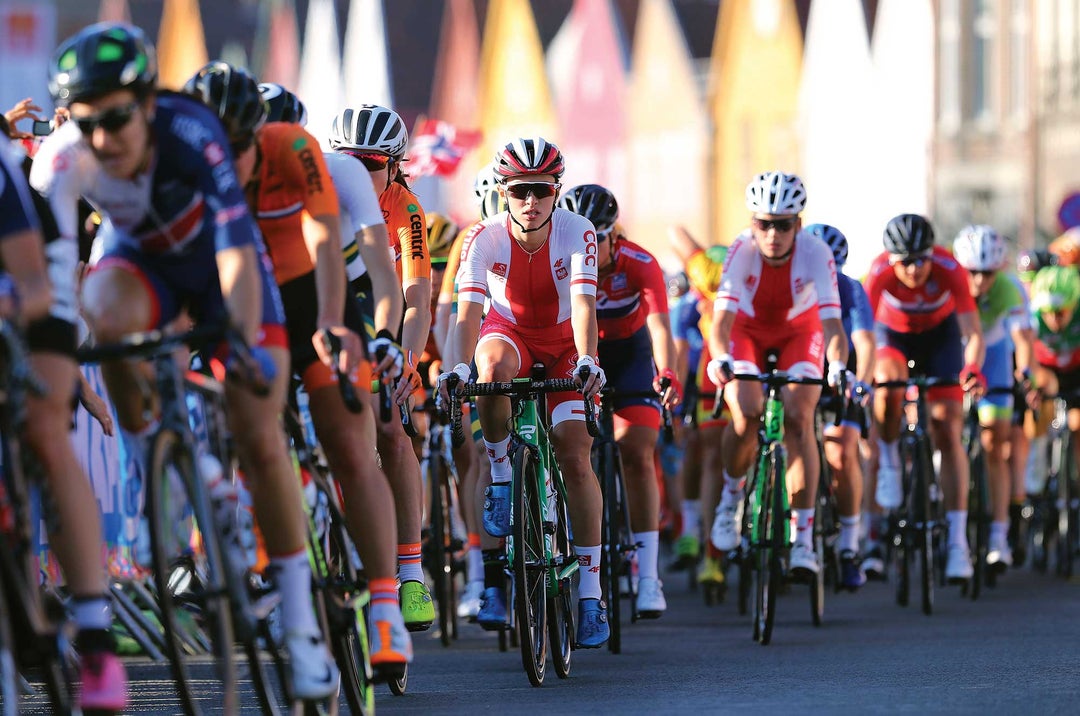 HOW DOES A YOUNG talent like Niewiadoma overcome the mental hurdles standing in her way? Like all things in pro sports, there is no simple solution. Rather than seek out one answer, Niewiadoma has instead pursued a pathway of personal growth and change.
At the end of 2017, Niewiadoma left the only professional team she had ever known, Dutch squad WM3 Energie (previously Rabobank-Liv), and signed a three-year deal with Canyon-SRAM. Niewiadoma enjoyed racing for the Dutch outfit, but says that after four years, she desired a change in scenery. Canyon-SRAM's team attitude, which she describes as "laid-back," felt like home.
"There is a balance on this team," she says. "There is time for training and then there is time to go for coffee and be human."
Niewiadoma also sought out role models to follow in women's cycling. During her first three years in the pro ranks, she rode alongside van der Breggen, who is five years her senior. The two often roomed together at races, and Niewiadoma looked to the Dutch rider for advice. Van der Breggen attended nursing school in the off-season during her early career.
In van der Breggen, Niewiadoma saw a talented cyclist who had created a balance between her racing life, and her life at home. Niewiadoma says that balance allowed van der Breggen to manage the pressure and expectations that came from results.
"We never talked about cycling, it was always about other things," Niewiadoma says. "You see so many cyclists who fully focus on eating and cycling and sleeping. Anna showed me you can be a valuable person with balance to your life."
Canyon-SRAM's management has actively worked to remove any pressure from Niewiadoma in 2018. Even in those races that cater to her superstar talents, Niewiadoma has shared leadership status with the team's other stars, Pauline Ferrand-Prévot and Hannah Barnes. She is free to make her own decisions on the road, rather than adhere to a strict set of team tactics.
Austin says the team's long-term investment corresponds with management's understanding that she will make mistakes, and simply learn from those failures.
"We discovered that [Niewiadoma] puts a lot of pressure on herself. We put her in an environment where she is free to race even if it doesn't always work," Austin says. "She comes back angry and disappointed and she works through some phases and comes back with a new plan."
Then there are factors away from the bicycle that impact her attitude and maturation.
THE BUFFET LINE IS a strange place to find love. Niewiadoma first met Phinney while serving herself breakfast during the 2016 UCI World Championships in Qatar. The Polish and American teams shared the same host hotel, and she recognized him from the Olympic village. The two shared a few conversations over meals.
"We were racing the next day, so it was hard to find a time to hang out," she says. "I felt a spark."
They kept in touch and reconnected when she moved to Girona later that year. Training and racing schedules were similar, and they were able to spend their first year together relatively unhampered by the pull of cycling. Within a few months, they were inseparable. They pedaled recovery rides together on the road and mountain bike; they also saw each other at the classics.
In Niewiadoma, Phinney found a fresh perspective on the sport that's dominated his adult life. Her aggressive approach to racing and training stands in stark contrast to the controlled attitudes in the men's WorldTour peloton. She lacks an ego, despite her accolades. And even in the depths of her disappointments, Niewiadoma tries to be positive.
"Most pro cyclists are constantly whining about something and bringing negative energy into your space," Phinney says. "Kasia doesn't let herself negatively impact me or anyone around her."
In Niewiadoma, Phinney also saw the transformative power of his sport. Phinney was born to Olympic cyclists Davis Phinney and Connie Carpenter, and he traveled to pro races as an infant. Niewiadoma, by contrast, grew up in rural Poland, an hour south of Krakow. Her family owns a roofing business, which employs her father, mother, and two siblings. Niewiadoma's father is an amateur cyclist and took her on rides as a teenager for fun.
"She gave me a much deeper appreciation for what cycling can do for an individual — cycling has been her ticket to being able to open her mind and travel, and live in Spain," Phinney says. "Seeing where she comes from puts cycling in a new perspective. I have taken a lot of my freedom and opportunities for granted."
In Phinney, Niewiadoma saw a new outlook on managing her life with cycling. Phinney endured years of frustration following his crash and broken leg in 2014 — he took a sabbatical from cycling and took up various hobbies, including painting. Niewiadoma says she now dabbles with the paintbrush on occasion — she does not yet have Phinney's passion for painting. She makes time for her family and friends away from cycling.
Will that fresh perspective help Niewiadoma overcome the bitterness of defeat or help her deal with the pressure to win? Perhaps. Like everyone, Niewiadoma is a work in progress. She will still face cycling's infinite challenges at 33, even if she overcomes the ones facing her at 23. The dilemma she currently faces is to find a balance with cycling. In Phinney, Niewiadoma has found an important piece of the puzzle.
"With Taylor, I have started to live my life differently," she says. "To take time and enjoy life when you can because the pleasure is even bigger."