Lance Down Under: Are Armstrong's seven-figure appearance fees worth every dollar?
Editor's note: Since he embarked on an ambitious return to cycling at the 2009 Tour Down Under, opinions on Lance Armstrong's undisclosed appearance fees have ranged from "staggering" and "embarrassing" to an "opportunity to showcase South Australia to a global audience." Anthony Tan reports on the impact of cycling's…
Heading out the door? Read this article on the new Outside+ app available now on iOS devices for members! Download the app.
Editor's note: Since he embarked on an ambitious return to cycling at the 2009 Tour Down Under, opinions on Lance Armstrong's undisclosed appearance fees have ranged from "staggering" and "embarrassing" to an "opportunity to showcase South Australia to a global audience." Anthony Tan reports on the impact of cycling's leading figure in Australia and the sustainability of the TDU event post-Lance. Note that the Australian dollar is trading at 99 cents U.S., so for simplicity Australian currency figures in this article have not been converted.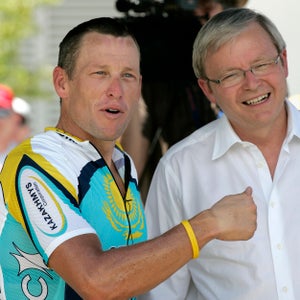 Golfing sensation turned scallywag Tiger Woods was paid $1.5 million to play in the Australian Masters golf tournament in November 2009, although Woods' fee was minuscule compared to his loss of sponsors, income and ability to win at will after his spate of sexual indiscretions were made public.
Last December, chat show queen Oprah Winfrey's visit to Australia cost taxpayers somewhere between $3-5 million. The economic benefit of her visit was said to be $71 million, with Brand Finance Australia saying the 'Oprah Effect' will see tourism revenue increase by several hundred million dollars over the next three years. To be aired sometime this year — her 25th and last series — 'Oprah's Ultimate Australian Adventure' show, where she brought 300 disciples Down Under for a week-long party, will be broadcast to 215 syndicated networks in the USA and to 140 networks around the world according to Tourism Australia. The 'Big O's' weekly TV audience is a reported 180 million-strong; 40 million are American.
A few weeks later at arguably the best fireworks celebration in the world on New Year's Eve, Sydney's 12-minute-long pyrotechnic extravaganza cost taxpayers $5 million. Sydney Lord Mayor Clover Moore quoted an estimate of $156 millon in economic activity generated by the fireworks, watched by 1.5 million people around Sydney Harbour and a record 1.1 billion around the world.
Upon his competitive return to cycling at the 2009 Tour Down Under, Lance Armstrong — who is set to ride his final professional race outside the U.S. at the 2011 event in South Australia — was reported on numerous occasions to have been paid somewhere between one and two million dollars.
In 2009 Armstrong said initial rumors of a $2m appearance fee were "outrageous."
But asked repeatedly by Crikey.com.au why the actual sum — which the seven-time Tour winner confirmed to the New York Times he was treating as income, not monies towards charity as a media officer for the State Premier Mike Rann said it was for — remains undisclosed to the public, the web site was told by a spokesperson for the then-State Tourism Minister, Jane Lomax-Smith: "Any payments associated with teams or cyclists taking part in the Tour Down Under are commercial-in-confidence. This has been the case since the inception of the race 11 years ago."
The Armstrong factor
According to figures from the South Australian tourism department (see table), economic impact jumped from $17.3 million to $39 million between 2008 to 2009, with visitor attendance going from 548,000 to 760,500 over the same period.
"The 2009 Tour Down Under has broken almost every record for a sporting event held in South Australia," Premier Rann said. "Lance's decision to make his cycling comeback at the Tour Down Under was an incredible boost for the event and gave us the opportunity to showcase South Australia to a global audience."
Unsurprisingly, Lance enjoyed the event and pocket money so much he returned in 2010. The event did continue to grow — economic impact from $39 million to $41.5 million, spectator numbers from 760,500-770,500 — although the growth was marginal rather than exponential. And, according to information sourced by VeloNews, a key indicator fell by almost half: the value of editorial media coverage, which skyrocketed from $43 million to $226 million from 2008-09 — a 425 percent increase — fell to $124m in 2010, a drop of 45 percent (the latter figure unreported in the original press release).
| | | | | |
| --- | --- | --- | --- | --- |
| Tour Down Under by numbers | 2007 | 2008 | 2009 | 2010 |
| Total attendance (crowd figures) | 357k | 548k | 761k | 771k |
| Event specific visitors | 10,500 | 15,100 | 36,200 | 39,700 |
| Economic impact | $11.5m | $17.3m | $39m | $41.5m |
| Media coverage | $31m | $43m | $226m | $124m |
| Television broadcast (hours) | 71.2 | 84.5 | 200 | 262 |
| Accredited media | 140 | 212 | 416 | 391 |
| Community Challenge fun ride | 2,696 | 3,404 | 7,127 | 8,099 |
Again his appearance fee last year remained hidden from public eyes but according to budget papers from the South Australian government, obtained by the Adelaide Advertiser newspaper in October, a discrepancy of $1.995 million between the budgeted total for tourism expenditure ($15.055 million) and estimated final expenditure ($17.05 million) was outstanding in the 2009-10 financial year.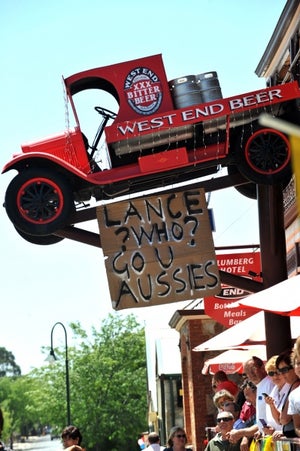 Former Minister Lomax-Smith — who has since been replaced by John Rau as SA Tourism Minister — also appeared to change her tune as to why Armstrong's fee was not disclosed, telling The Australian newspaper, "There are many people who'd like to steal our major events and our sports and arts activities. We don't want to help those people who we know are sniffing around by giving them an idea of how they're managed."
In budget estimates questioning last December, Minister Rau said the near $2 million discrepancy could be attributed to Armstrong's appearance fee.
Income, not charity
Opposition sports minister Terry Stephens told Crikey.com.au: "… it is not Mike Rann personally that is paying Armstrong — it is the people of South Australia. "Now that Armstrong has decided that Mike Rann is a terrific Premier I think that he should make his commercial agreements public."
In January last year Armstrong endorsed Premier Rann's re-election on his Twitter page, followed by 2.7 million people, where he tweeted, "Rann is my man;" Rann was re-elected in March.
Independent politician David Winderlich added: "I don't see any reason why they shouldn't disclose how much they are spending on sportsmen like Lance Armstrong — unless of course they are ashamed of it" — and labeled Armstrong's endorsement of Rann "backdoor" political advertising.
Minister Stephens says that's exactly the reason, calling the amount "staggering:" "At a time where they are cutting through the public service like an axe, they are obviously embarrassed about Lance Armstrong's fee," he told Adelaidenow.com.au.
But what of Armstrong's contributions to overcoming cancer in South Australia? Surely that offsets the fee, you might say.
So far it's been in name only; the state's new $27 million-dollar Flinders Centre for Innovation in Cancer will incorporate the LiveStrong Cancer Research Centre, originally scheduled to open in August but now expected to be operational in February 2012. The LiveStrong charity has made monetary donations to other Australian states but has strangely overlooked the region he's most familiar and adored in. (One of Armstrong's requirements for racing the TDU, however, was financial support from the SA government to cancer research; at last year's race, Premier Rann said his government gave a $7.5 million commitment to the LiveStrong Centre, along with $5.2 million annually in operating costs.)
Whatever the reason for not telling us, it's irrefutable the Santos Tour Down Under is a well-managed and run event. It's also undeniable the 'Lance factor' contributed to its profound growth in 2009 though perhaps not as much last year (from 2009-10, visitation increased just 1.3 percent and economic impact up 6.4 percent) and possibly less again in 2011, where he's likely to be paid the same fee again.
What's a million bucks between friends, anyway?
For the future of the TDU and cycling in general, Lance's lessened impact is not such a bad sign.
Cycling must — and will — go on without Armstrong, and aside from the Tour de France, which will always be held in the highest regard and be the most prestigious to win, race organizers, if their events are to not just survive but thrive, must find ways of retaining or building their audiences achieved during the Era of Lance. Inviting the world's best teams to compete and being part of the World Tour is one such method.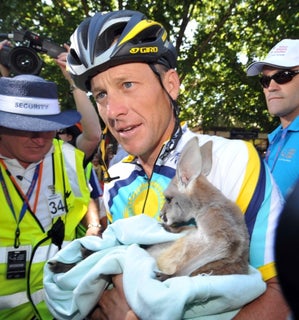 WorldTour status means longevity – to the detriment of Continental teams
TDU organizer and Oceania Cycling Federation president, Mike Turtur, says there's good reason why he chose to accept ProTour event (now called WorldTour) status four years ago.
Over the years, Turtur has being accused of promoting the interests of his event ahead of the growth of domestic teams and Australian cycling, stymieing the ability of local squads to continue given their inability to participate in the country's premier event, thus losing interest from local sponsors. His detractors argue that the Amgen Tour of California (AToC), a hors catégorie (HC) event which can invite ProTeam, Pro Continental and Continental teams, is how the TDU should operate.
"I can show you figures from the year that we were a hors-class (sic) race to the year we were ProTour — the visitation, the economic benefit, the participation level in every aspect of the race went up by at least 40 percent. That's business," he told this writer in November, responding to criticisms from Michael Drapac, the eponymous owner of Australian Continental cycling team, Drapac-Porsche, that he has only his interests at heart.
One of Mr. Drapac's gripes is that the TDU is "the only cycling event in the world calendar that, even before it was ProTour, has never had a privately funded (local) team participate in it." He also said events like the AToC "protect the resident teams and the event is integrated into the national calendar in some way," asking: "What is the consequence of an event which exploits the popularity of the sport to the detriment of the better interests of the riders?"
Drapac also believes the TDU's stance indirectly encourages riders to pursue an all-or-nothing bid to go to Europe in the hope of turning professional, rather than have the option of studying secondary or higher education or taking a trade apprenticeship while continuing to race, preparing them for life after cycling.
For the record, TDU spectator attendance went from 357,000 to 548,000 (a 53.5 percent increase) and economic impact from $11.5 million to 17.3 million (50.4 percent) between 2007 (pre-ProTour) and 2008, according to SA government figures.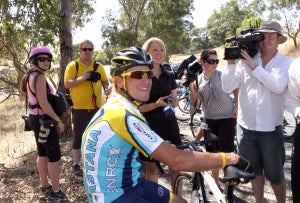 The AToC, which has always been a HC-ranked event, saw its spectator numbers rise from 1.3-1.6 million people between the same period (+23.1 percent); and in 2009 and 2010 it was 2 million, according to information on the race's web site. Armstrong raced only in the 2010 event, where he crashed out in the fifth of eight legs.
"Whether he (Mr. Drapac) accepts that or not, unfortunately that's the way it is. Now, if we turn around and say, 'We don't want a successful race; we want to cater for the handful of Australian teams that operate in Australia', then the race would last one year. The race would die because visitation wouldn't be there, economic benefit wouldn't be there … all the aspects that this race requires to reach, in terms of maintaining funding (from the SA government), would cease."
Tour of California faces "a real dilemma," says TDU boss
As for the Tour of California, five editions young compared to the TDU which is in its 13th year, Turtur says the race has "a real dilemma on their hands."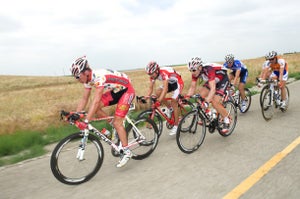 "They have massive participation by local registered teams that have been part of that race since its inception. If you look at our race, we did not have that situation since we first started in '99, and we continued on throughout the years not having participation by Australian-registered teams because during those years, in my opinion, none of the Australian-registered teams were offering this race any interest, in terms of promotion or bringing extra people to the race. And secondly — more importantly — in my view, they weren't at the level required to participate at this race. Everyone knows during that period, from '99 to the present day, the Australian teams were barely in the development stage. It's got to another level now, but still, nowhere near the American level.
"So what the Tour of California now have to consider," Turtur said, "is if they go WorldTour, then they are going to deny the greater majority of American teams that participate in their race, and have done since year one — whereas we never had that."
If the level of cycling in Australia reached a level to that of the U.S., would he consider revoking his WorldTour license to be able to invite locally-registered Continental and Pro Continental teams? (Since the TDU became a ProTour event in 2008 only one Pro Continental team —BMC Racing — has been invited, which was last year, when Cadel Evans was world champion.) "That would be absolutely suicidal. We will kill our race overnight," said Turtur.
"I mean, it's just too silly for words to consider. We would never give up our status — we worked too hard to achieve it. And I'm saying from a business point of view, from a tourism point of view … all other considerations outside of cycling — and let's face it, the only reason this event became what it was, was because of the funding and the package and the proposal we put to government to sell it as a tourism event. The continued success will only be if we maintain the race at the highest possible competition level, and at the moment that's WorldTour. We've got our spot; we've got to protect that with everything we've got.
"This is a government-owned event, and at the moment, the government has about a 50-50 split with (other) sponsorship (money) with the cost of putting the race on. And they're happy to continue it on that scenario, as long as the visitation and economic benefit numbers continue to be at the level they are now. They have a formula they use: for every dollar they put in, they (must) get a minimum of eight dollars' return. At the moment we're exceeding that. And as soon as those numbers drop off, we're in trouble. Simple as that."
Other ProTour events not in the black
Turtur has a point. It's well known that if your event's not owned or affiliated with Tour de France organizers ASO, or RCS or Unipublic, organizers of the Giro d'Italia and Vuelta a España, and you don't have government support, it is going to be a struggle.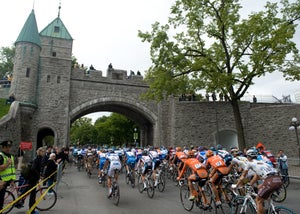 Serge Arsenault, organizer of the two ProTour events in Canada last September, expected to lose around one million Canadian dollars on a budget of $4.6 million. A TV host-cum-entrepreneur who owns French cable channel Évasion, Arsenault's plan for his two one-day races in Québec and Montréal is to eventually bring the teams in as partners, to share in both the costs and revenue from that all-important money-spinner: television broadcasting rights. It's a concept that sits unevenly with ASO, which jealously guards its races — and TV revenues.
Turtur said the reported $41.5 million in economic benefit to the State of South Australia the Tour Down Under generated last year was far in excess of the minimum one-for-eight dollars return: "… the government, for what they put in to the race, are over the moon with the return they're getting. Absolutely delighted."
Premier Rann, who was introduced to Twitter by Armstrong, is up for re-election in 2013.
Armstrong, more than likely, will have his back again and, more than likely, will tweet so too. And while he may still be powerful — although physically-speaking, less so than his heyday — his countenance is unlikely to be as efficacious as Oprah's endorsement of Barack Obama to the White House in 2008.
---

Editor's note: Realizing life in advertising was nothing like Mad Men and buoyed by the Olympic Games in his Australian hometown of Sydney, Anthony Tan turned his back on a lucrative copywriting career in 2000 to pursue something more cerebral. Combining wordsmithing with his experiences as an A-Grade club racer and a season racing in Europe, a career as a cycling scribe beckoned. … More than 10 Grand Tours and countless classics later, it's where he still is today. He has been a contributor to VeloNews since 2006.