Long road back to silver for Tom Zirbel
GREENVILLE, South Carolina (VN) – It's been a long way back to silver at the national time trial championships for Tom Zirbel. The Jamis-Sutter Home rider knows it and struggled to keep his composure under a wave of emotion at the post-race press conference after he finished second to David…
Heading out the door? Read this article on the new Outside+ app available now on iOS devices for members! Download the app.
GREENVILLE, South Carolina (VN) – It's been a long way back to silver at the national time trial championships for Tom Zirbel. The Jamis-Sutter Home rider knows it and struggled to keep his composure under a wave of emotion at the post-race press conference after he finished second to David Zabriskie (Garmin-Cervélo) Saturday.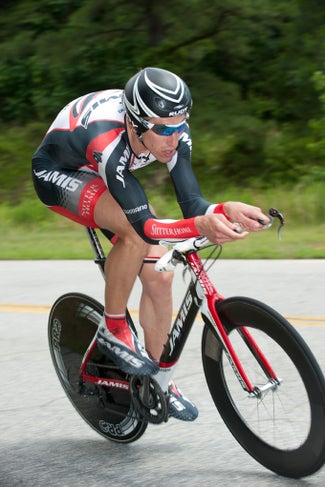 It was after his second consecutive silver medal-winning ride, at the 2009 USA Cycling Professional National Championships, that Zirbel produced a positive doping control for the steroid DHEA. News of the result came weeks after Zirbel, then 30 years old, finished fourth in the TT at the world championships and signed a contract to join Garmin on the ProTour. When his "B" sample returned positive, Zirbel's contract was gone and his results, the best of his career, were erased.
On Saturday, he got one of them back and Garmin boss Jonathan Vaughters said his door may be open.
"I'm kind of choking up a little bit," said Zirbel after the podium ceremony. "It's very emotional."
Controversial Control
Zirbel's case was controversial. An in-competition test conducted eight days before nationals at the Tour of Utah came back negative, as did an out-of-competition test conducted the morning after Zirbel returned home from Greenville. An additional blood test conducted after worlds also returned negative. Zirbel said he was unsure of the cause of the positive test, but maintained his innocence and received unflagging support from his colleagues in the peloton, many fans and industry figures. Rumors flew in the industry around supplement contamination, but Zirbel, a former chemistry graduate student at the University of Colorado, stopped short of an expensive test that he'd hoped to run with the assistance of the U.S. Anti Doping Agency.
He said after learning of the positive test that, "the U.S. pro TT was a major objective of mine this season, but I would never compromise my integrity for any bike race."
Zirbel later cooperated with USADA in two separate cases that friends brought to his attention during a two-year sanction. In March, that cooperation led USADA to reduce Zirbel's ban by six months, allowing him to race immediately. A recommendation from mutual friend João Correia landed Zirbel a contract with Seba Alexandre at Jamis two weeks later.
"João told me, 'I think he'll be a good fit for the team and the guys you have,'" Alexandre told VeloNews. "It was a challenge for us to get equipment on time, clothing on time. We were counting down everyday to get things together for this race. I added him to the [Amgen Tour of] California roster because I knew he needed that race to do well here."
Putting wheels to the road
With limited training and just one stage race, the SRAM Tour of the Gila, Zirbel said that he had "no business" in the peloton at the Amgen Tour. "So I knew I would have to do nothing this week and hope openers went well yesterday," he said.
It was in California that Zirbel faced another setback, one that motivated him further for his return to Greenville. After a fast opening eight kilometers in the Solvang time trial, Zirbel's seatpost slipped, rendering him powerless on the pedals. He had to pull over to correct the issue and sat up for the remaining 16km.
The incident lit more fire in Zirbel for Saturday's 20.7-mile time trial.
"I just needed half an hour to myself after the race to just put it behind me. I know these things happen," he said of the incident in Solvang. "It's just the frustration and determination to get a good result is what I can take away."
It was also in California that Vaughters reached out to his former new hire. Driving the Garmin team car, he could tell Zirbel hadn't been in the pack for a while, but also saw how fit he was when he pulled his hulking frame to the top of Mount Baldy just 3:23 slower than Levi Leipheimer and ahead of Ryder Hesjedal, Linus Gerdemann and Peter Velits.
Back to G'ville
Fifteen minutes before his start in Greenville Zirbel and Alexandre were quiet, focused. Mechanic Hugo Pratissoli adjusted a spare bike while Zirbel pulled on his skinsuit.
"It's definitely a very emotional day for me," said Zirbel. "Before the race I was very focused and doing my job."
Zirbel kept his eyes trained downward and pulled on his aero helmet and sunglasses. He mounted his triple-checked Jamis Xenith T2, gave a few fans a polite, close-lipped smile, and rolled to the start.
He continued doing his job when he rolled off the start ramp at 12:19 p.m. Chasing former Bissell teammate Andy Jacques-Maynes and former would-be Garmin mate Danny Pate (HTC-Highroad), Zirbel came through with the fastest time of the day and, just like in 2009, Zabriskie was the only rider to top him. When he'd had time to digest the moment, Zirbel remained visibly overwhelmed by the emotion of his return.
"I just have a greater appreciation for how quickly it can go away. I'll even use the term snatched away from you," he said. "It's even more important to me now to appreciate the moment."
Alexandre said his new rider would look back from a distance on Saturday with satisfaction. "If you think about how he's going after almost two years without racing, he's done Gila and Tour of California, it's his third race in two years and is not a bad feeling," he said. "He's going to be proud of himself I believe, looking back on how he suffered and what he went through. I'm happy, very happy."
Vaughters: DHEA not PED, Garmin door ajar
Vaughters watched from afar Saturday as his TT ace Zabriskie won his sixth national title. He told VeloNews that he wasn't that surprised by Zirbel's ride and that there may be a door open for him at Garmin for 2012.
"I think at the end of the day, if you're staying fit at a top level and he obviously did that then, if you start a few races, that top end's going to come back fast. And it did," Vaughters told VeloNews. "You're not getting dragged around from race to race and forced into fitness whether you like it or not. You really have to come at your own volition."
When Zirbel's "B" sample returned positive for DHEA in the spring of 2010, Vaughters was forced to cancel his new time trial man's contract. The team's strict anti-doping policy makes a return by Zirbel a move Vaughters would have to clear with his top sponsors, but the staunch clean cycling advocate said Saturday that, while he couldn't comment definitively on whether Zirbel did or did not knowingly ingest DHEA, it is highly unlikely that he would use the product as a performance enhancer.
"From the scientific standpoint, is DHEA performance enhancing? From what I've read, that seems very questionable. There's actually more scientific evidence pointing toward it not being performance enhancing, with the exception of a much older athlete. In younger men, DHEA, from the studies I've seen, has not seen any performance enhancing ability," said Vaughters. "It goes back to why you would want to take it. I can't come up with any good reason. Logic would lead back to the fact that it was accidentally ingested, but again, I don't know."
Vaughters is more sure about Zirbel's capability as a clean rider. The most vocal critic amongst ProTeam managers of doping in the peloton said, "There is no doubt in my mind that he has the physical ability to be a very top level cyclist without the consumption of that or any other banned substance.
"There are some hurdles, without a doubt, but I'm going to give Tom very fair consideration; I'm going to look at him objectively and we'll see where it ends up."
While that doesn't automatically bring back his shot at the WorldTour, Vaughters' support, amongst countless others', no doubt dulls the pain of Zirbel's last 16 months. It's been a long road, much longer than the 20.7-mile ICAR course, much longer than the 560 miles of the Amgen Tour, back for Tom Zirbel to silver.
On Saturday, Zirbel showed that he'd made the trip.