2010 MTB Worlds: Flueckiger Collects U23 Gold
The Swiss continued their recent hammerlock on the international cross-country scene by sweeping the U23 men's race on Friday at the mountain bike world championships.
Heading out the door? Read this article on the new Outside+ app available now on iOS devices for members! Download the app.
By Singletrack.com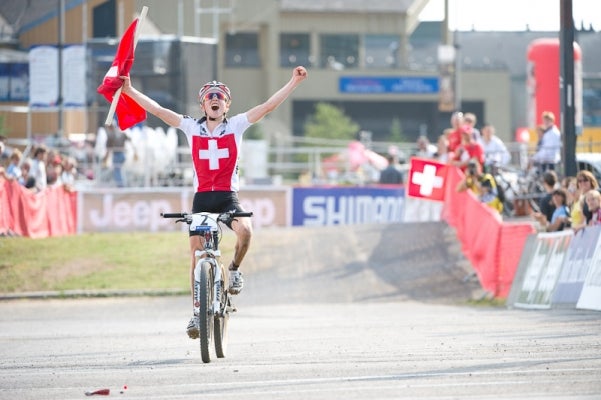 The Swiss continued their recent hammerlock on the international cross-country scene by sweeping the U23 men's race on Friday at the mountain bike world championships.
Mathias Flueckiger was as far back as 16th on lap one, and with a front puncture on lap 2, the 21 year old Swiss rider eventually returned to the head of the race without over exerting himself, winning the World Championships by 30 seconds.
"I'm very happy," Flueckiger said after Friday's event. "Today was a great race for me. I had a good start to the season and now I made a good finish as well. It's amazing to win here at Mont-Sainte-Anne."
On the podium with Flueckiger were two of his compatriots — Thomas Litscher and Patrik Litscher.
Sixty-eight U23 men toed the line for the 30.6-kilometer race.  The top finisher for the U.S. contingent was Robbie Squire (Sandy, Utah/Garmin-Felt-Holowesko) in 31st-place.
"I was feeling good warming up. All the right signs were there, but as soon as the gun went off, things came apart," Squire said about his race. "It was not the way you want to race at the world championships. The course was really great. It's probably one of my favorite courses I get to race all year. I've been looking forward to it but I just couldn't put it together…"
Following Squire over the line were fellow U.S. riders Stephen Ettinger (Cashmere, Wash./Arlberg Sports) in 34th, Mitch Hoke (Colorado Springs, Colo./Tokyo Joe's) in 40th, Jack Hinkens (Edenprairie, Minn./Trek-Co-op) in 45th, and Russell Finsterwald (Colorado Springs, Colo./Subaru-Trek)in 52nd.
Men's Junior
After doing battle with 76 of the best junior riders in the world over a total distance of 26 kilometers, Seth Kemp (Campobella, SC) rode to 18th-place in the junior men's cross-country event.
Dutch rider Michiel Van Der Heijden rode by himself for the entire race to earn the world title while Frenchman Julien Trarieux rode to the silver medal and German Julian Schleb grabbed the bronze.
"It started off really fast and I looked up ahead of me on one of the climbs and everyone was already like 40 seconds out in front of me," Kemp said about his start.
Realizing that he shouldn't start out as hard as he could, the South Carolina rider strategically slowed his pace in the beginning.
"I was going pretty hard, so I slowed down a little bit and just started picking people off one by one. It worked out pretty good," he said.
Kemp was followed over the finish line by his U.S. teammates Skyler Trujillo (Fort Collins, Colo.) in 30th, Tony Smith (San Rafael, Calif./Whole Athlete)in 49th, and Will Curtis (San Rafael, Calif./Whole Athlete) in 58th.
2010 Junior MTB XC World Championships – Junior Men from Dario Fredrick on Vimeo.
4-Cross
Day three of Mountain Bike Worlds wrapped up with the elite men's and women's four-cross competitions in which world champ Jared Graves was upset by Tomas Slavik (CZE). Graves (AUS) took the silver and Michal Prokop (CZE) bronze while Roger Rinderknecht (SUI) was fourth.
Five Americans were among the contestants. After breezing through the early rounds and dominating the quarter finals, Barry Nobles (Wetumpka, Ala.) found himself in the semi's but tangled up about halfway down the course and fell out of contention for the finals. In the race for fifth through eighth places, Nobles placed seventh.
Joining Nobles on the four-cross course was fellow American Blake Carney (Camarillo, Calif.) who fell from contention in the quarter finals, as well as Ross Milan (Arvada, Colo./Yeti) and Erik Nelson (Gilbert, Ariz.) who were both eliminated in the 1/8 finals.
In the women's event, Neven Steinmetz (Boulder, Colo./Ellsworth Bikes) was eliminated in the quarter finals while Aussie Caroline Buchanan was crowned world champion. A pair of Czech riders, Jana Horakova and Romana Labounkova collected the silver and bronze medals.
Junior Men's Cross Country
1. Michiel Van Der Heijden (NED)
2. Julien Trarieux (FRA)
3. Julian Schleb (GER)
18. Seth Kemp (Campobella, S.C.)
30. Skyler Trujillo (Fort Collins, Colo.)
49. Tony Smith (San Rafael, Calif./Whole Athlete)
58. Will Curtis (San Rafael, Calif./Whole Athlete)
U23 Men's Cross Country
1. Mathias Fluckiger (SUI)
2. Thomas Litscher (SUI)
3. Patrik Litscher (SUI)
31. Robbie Squire (Sandy, Utah/Garmin-Felt-Holowesko)
34. Stephen Ettinger (Cashmere, Wash./Arlberg Sports)
40. Mitch Hoke (Colorado Springs, Colo./Tokyo Joe's)
45. Jack Hinkens (Edenprairie, Minn./Trek-Co-op)
52. Russell Finsterwald (Colorado Springs, Colo./Subaru-Trek)
Elite Women's Four-Cross
1. Caroline Buchanan (AUS)
2. Jana Horakova (CZE)
3. Romana Labounkova (CZE)
Neven Steinmetz (Boulder, Colo./Ellsworth Bikes) – eliminated in quarter finals
Elite Men's Four-Cross
1. Tomas Slavik (CZE)
2. Jared Graves (AUS)
3. Michal Prokop (CZE)
7. Barry Nobles (Wetumpka, Ala.)
Blake Carney (Camarillo, Calif.) – eliminated in quarter finals
Erik Nelson (Gilbert, Ariz.) – eliminated in 1/8 finals
Ross Milan (Arvada, Colo./Yeti) – eliminated in 1/8 finals