Absalon and Pendrel win Olympic Test Event in London
American's Jeremiah Bishop (Cannondale) and Georgia Gould (Luna) posted promising results at a test race held on the 2012 Olympic mountain bike course near London on Sunday.
Heading out the door? Read this article on the new Outside+ app available now on iOS devices for members! Download the app.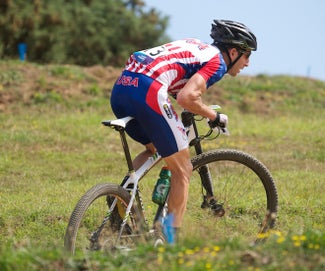 American's Jeremiah Bishop (Cannondale) and Georgia Gould (Luna) posted promising results at a test race held on the 2012 Olympic mountain bike course near London on Sunday.
France's Julien Absalon, who won Olympic gold in 2004 and 2008, won the men's test race ahead of Christophe Sauser.
In the women's race, Gould was second to her teammate Catharine Pendrel of Canada.
"I seem to rise to the occasion when I have the star-and stripes on my back," Bishop said. "It kind of makes you race at a whole 'nother level … It was awesome. Thousands of fans were going bonkers. Overall it was a great team effort as we had awesome support."
Forty-six women and 60 men contested the Olympic test event. Gould and Bishop were the lone Americans.
The small, but quality women's field tackled six laps of the 5.1-kilometer Hadleigh Farms course, which with an open hillside setting offers challenging gradients as well as nice viewing opportunities. Midway through the race Pendrel attacked from a lead group of three that included Gould and World Cup leader Julie Bresset (France). Gould soon dropped the Frenchwoman and bridged up to Pendrel before a crash on the last half lap knocked the top-ranked American out of contention for the win.
"Gould proved she can ride the course at speed in the lead group," said Gullickson. "The result was good for her confidence, but she would have been in for the win if she had not crashed with half a lap left."
Canadian coach Dan Proulx said Pendrel used the opportunity to ride on the course all week to do some hard workouts. "This was a strong performance for Catharine. She trained really hard this week. We did a ton of intervals and data collection on the Hadleigh course. Catharine's win was a bit surprising considering how hard her workouts were," said Proulx said.
Proulx said there is still room for improvement for Pendrel, who was fourth at the 2008 Olympics. "It's great to see her do well here, but there is still a lot she can do to go faster on this course. Next year's Olympic event is going to be extremely challenging. She's an ambitious rider and I know she'll work hard to be the best."
Bishop on Olympic track
After focusing on ultra-endurance events over the past few years, Bishop battled a rough start spot but was able to move up and pass World Cup leader Jaroslav Kulhavy (Czech Republic) mid-way through the seven-lap men's race to join the medal chase.
"You think all is lost after a bad start but the legs just came on," explained Bishop. "I passed several groups, figured I better at least get a good power file for Gully, and then I found myself all the way up in medal position. Without the traffic in the World Cups I was really able to put together a good ride."
Four-time world champ Julien Absalon of France had already built a strong solo lead, leaving Bishop chasing for silver with Christoph Sauser (Switzerland) and Karl Markt (Austria). The pair was eventually able to pull away from the American veteran, forcing the cramping Bishop to settle for fourth in the unofficial start of his newly pronounced Olympic quest.
"Bishop posted some impressive lap times after a bad start position. He rode up into second place at one point in the race before cramping a bit and coming home in fourth," said USA Cycling mountain bike program director Marc Gullickson. "I was expecting good performances from both riders and that's what we got. The course proved to be very challenging and I think it will produce a deserving Olympic winner next year."
Please check Singletrack.com soon for full results and a photo gallery.
Quick results
Men:
1. Julien Absalon (France) 1:31:48
2. Christoph Sauser (Switzerland) +0:01:20
3. Karl Markt (Austria) +0:01:46
4. Jeremiah Bishop (Harrisonburg, Va./Cannondale Factory Racing) +0:02:19
Women
1. Catharine Pendrel (Canada) +1:32:04
2. Georgia Gould (Fort Collins, Colo./Luna) +0:00:56
3. Julie Bresset (France) +0:01:3>