Absalon Wins Fifth Offenburg World Cup
Julien Absalon rails a descent on the way to his fifth-consecutive victory at the Offenburg World Cup. Photo © Michal Cerveny/Tamarac MEN'S OFFENBURG WORLD CUP GALLERY WOMEN'S OFFENBURG WORLD CUP GALLERY Offenburg, Germany has played host to a World Cup cross-country…
Heading out the door? Read this article on the new Outside+ app available now on iOS devices for members! Download the app.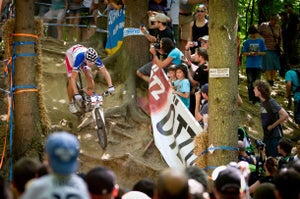 MEN'S OFFENBURG WORLD CUP GALLERY
WOMEN'S OFFENBURG WORLD CUP GALLERY
Offenburg, Germany has played host to a World Cup cross-country race for five consecutive years, and on Sunday Frenchman Julien Absalon was again the only man who has stood on the top step of the podium at the race.
In World Cup #3, two-time Olympic winner Absalon (Orbea) finished 29 seconds ahead of Jaroslav Kulhavy (Specialized Racing), who won World Cup #2 and, going into Offenburg, was the series overall leader. Maxime Marotte (BH-Suntour-Peisey Vallandry) finished third 41 seconds back.
The race on the 5.1km course was close until the third lap. A group of ten riders rode together through the rooty drops of Offenburg as a crowd of thousands cheered loudly. Absalon, staying behind the leading Marco Fontana (Cannondale Factory Racing) and Kulhavy, waited for the right moment for his attack.
In the fourth lap, on an uphill section, Absalon took the gloves off and left the whole group behind, riding to his fifth-consecutive title in Offenburg.
While Offenburg has twice been voted the best XC event on the World Cup circuit, it wasn't very good for the North American men on Sunday. Canadian Derek Zandstra (3 Rox Racing) was the closest to the top in 26th place nearly 5 minutes off the lead. He was followed by Todd Wells (Specialized Factory Racing) in 33rd place.
Women's Race
Julie Bresset (BH-Suntour-Peisey Vallandry) continued her winning streak by topping the field in Offenburg after her win at Dalby Forest last weekend.
Bresset, the French U23 champion, finished 41 seconds ahead of Canada's Catharine Pendrel (Luna Pro Team) and 1:34 minutes ahead of Eva Lechner. Continuing her consistency on the World Cup was Marin-Helen Premont, who finished fourth on the day.
Riding atop the series overall points rankings, Ren Chengyuan (Specialized Racing), didn't race on Sunday due to a fall during training.
Top North American results included Katerina Nash in 14th, Emily Batty in 15th, Katie Compton in 16th and Georgia Gould rounding out the top-20.
Offenburg World Cup
Men's brief results
1 ABSALON Julien FRA19800816 ORBEA 1:46:21
2 KULHAVY Jaroslav CZE19850108 SPECIALIZED RACING +00:29
3 MAROTTE Maxime FRA19861205 BH – SUNTOUR – PEISEY VALLANDRY +00:41
4 STANDER Burry RSA19870916 SPECIALIZED RACING +01:05
5 COLOMA NICOLAS Carlos ESP19810928 WILDWOLF – TREK RACING +02:30
6 GIGER Fabian SUI19870718 RABOBANK – GIANT OFF-ROAD TEAM +02:33
7 SCHURTER Nino SUI19860513 SCOTT – SWISSPOWER MTB – RACING +02:35
8 FONTANA Marco Aurelio ITA19841012 CANNONDALE FACTORY RACING +02:36
9 LITSCHER Thomas SUI19890514 FELT OETZTAL X – BIONIC TEAM +02:45
10 ALVAREZ GUTIERREZ Ivan ESP19811218 GIANT ITALIA TEAM +02:53
26 ZANDSTRA Derek CAN19841019 +04:5626
33 WELLS Todd USA19751225 SPECIALIZED RACING +05:50
45 SCHULTZ Samuel USA19851211 SUBARU – TREK +07:29
62 CRAIG Adam USA19810815 RABOBANK – GIANT OFF-ROAD TEAM +10:11
67 HORGAN-KOBELSKI Jeremy USA19780811 SUBARU – TREK +10:54
68 WATSON Andrew CAN19830530 +11:10
73 KABUSH Geoff CAN19770414 TEAM MAXXIS – ROCKY MOUNTAIN +11:54
101 BRODERICK Michael USA19731223 -2LAP
112 GAGNE Raphael CAN19870716 -2LAP
118 PAXSON Spencer USA19841209 KONA -3LAP
121 LOPES Brian USA19710906 -3LAP
Women's brief results
1 BRESSET Julie FRA19890609 BH – SUNTOUR – PEISEY VALLANDRY 1:28:59
2 PENDREL Catharine CAN19800930 LUNA PRO TEAM +00:41
3 LECHNER Eva ITA19850701 COLNAGO ARREGHINI SUDTIROL +01:34
4 PREMONT Marie-Helene CAN19771024 TEAM MAXXIS – ROCKY MOUNTAIN +01:48
5 BYBERG Lene NOR19821125 SPECIALIZED RACING +02:08
6 WLOSZCZOWSKA Maja POL19831109 CCC POLKOWICE +02:35
7 KLEMENCIC Blaza SLO19800311 FELT OETZTAL X – BIONIC TEAM +02:50
8 LEUMANN Katrin SUI19820208 GHOST FACTORY RACING TEAM +03:10
9 ZAKELJ Tanja SLO19880915 ORBEA GEAX +03:16
10 SÜSS Esther SUI19740319 +03:17
14 NASH Katerina CZE19771209 LUNA PRO TEAM +04:04
15 BATTY Emily CAN19880616 SUBARU – TREK +04:18
16 COMPTON Katherine USA19781203 RABOBANK – GIANT OFF-ROAD TEAM +04:23
20 GOULD Georgia USA19800105 LUNA PRO TEAM +04:50
28 DAVISON Lea USA19830519 SPECIALIZED RACING +06:44
30 MCCONNELOUG Mary USA19710624 +07:31
44 SIN Amanda CAN19770203 +10:55
48 DYCK Mical CAN19820211 +11:59
49 FORSMAN Chloe USA19870721 +12:04
64 PARK Krista USA19740604 +17:52