Carey and Cary Win High Cascades 100
Breckenridge, Colorado strongman Josh Tostado finished second in the men's open division . Photo Oregon Velo The infamous grumpy grouse of Mt. Bachelor that buzzed racers at past editions of the High Cascades 100 failed to make a third-year appearance on Saturday, which, no doubt, was a…
Heading out the door? Read this article on the new Outside+ app available now on iOS devices for members! Download the app.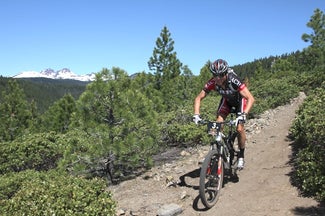 The infamous grumpy grouse of Mt. Bachelor that buzzed racers at past editions of the High Cascades 100 failed to make a third-year appearance on Saturday, which, no doubt, was a relief to riders who experienced the fury of the small, yet formidable fowl.
Men's Open
With Jeff Schalk (Trek) and Christian Tanguy (Team CF) recuperating from the Breckenridge 100, this year's High Cascades 100 battle became one between the 2010 High Cascades 100 champ Cary Smith (Hammer Nutrition) and six-time Breck 100 champion,Josh Tostado (santacruz/shimano/maxxis).
Tostado appeared to have, somehow, recovered from the 10,000-foot battle at the Breck 100 a week prior where he placed second to Schalk, the NUE defending Champion.
On Saturday, Smith, who finished in 8:37:33, and Tostado got out to an early lead and were riding together until Tostado had a little mishap on a section of singletrack about 15 miles into the race.
"We were having a little too much fun on the whoopty-doos on the Tiddly Winks descent," Smith said. "He nailed the take-off on a little double but missed the landing and ended up in a tree and broke his seatpost."
Smith also had his share of bumps and bruises.
"Ya know, it's Oregon, you can't crash without hitting a tree around here. I went down twice and hit trees both times," he said. "It' s tight, of course. It's beautiful and clean, but there are just a lot of trees."
Tostado finished second, 10 minutes behind Smith. He made up for lost time following the crash early in the race. James Gritters at Sagebrush Cycles of Bend offered Tostado a saddle at the aid station that allowed him to finish.
"I felt great," Tostado said. "It was like it all came together coming back here after suffering two flats last year. I got the seat so quick, and, all of a sudden it was like, I'm back in it. It was so cool. Maybe next year I can have no flats, no broken seats, no hittin' trees, but then again, ya know, maybe that's what makes it even more interesting."
Finishing third in 9:04:19 was Michael Tobin (George's/Niner) of Boise, Idaho.
Women's Open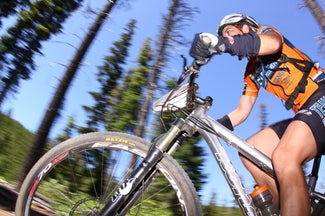 Defending NUE Series Champion, Amanda Carey (Kenda-Felt), moves into the top spot following her win in Bend, an impressive 10:03:14. Carey claimed that, for her, the HC100 was more difficult than the high altitude Breckenridge 100,.
"It was just full gas the whole time. There was no rest, no mental rest," she said. "There was very few sections where you could just pedal and gain time."
Carey, racing the HC100 for the first time, led for 60 miles with Alice Pennington (Team S&M) stuck on her wheel for the first 60 miles.
"I kind of rode my pace and she was smart, and just stayed there," Carey said. "She pulled around and we got into one of the very few sections that was double-track and she pulled in front and just started to push it. So I said, all right, if she's gonna go, I'm gonna go."
Pennington (Team S&M) finished about 16 minutes behind Carey and was happy with her result considering she hadn't planned on racing until two weeks ago when she got an entry from an injured rider.
"I had no idea," she said. "It would have been nice to have a little more volume. I've never done a century on a mountain bike but long rides are nothing new to me. I've been doing some road training and trying to stay in shape for cyclo-cross."
Serena Bishop (Silverado/Sunnyside Sports) of Bend, finished third at 10:28:05.
Single Speed Open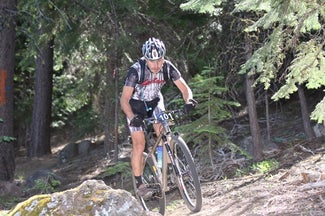 Defending NUE Single Speed Champion Gerry Pflug (Salsa/Pro Bikes) made it five wins out of six straight NUE races as he continues to defend his singlespeed crown. Although recovering from a hard fought seventh place finish at the Breck 100, just a week ago, where he suffered from the effects of the 10,000-foot plus altitude, the "Pfluginator" blasted off from the starting line on the first climb, disappeared from the sight of his competitors and was never seen or heard from again until he crossed the finish line at 9:22:37.
"I got out with a group of fast geared guys on the first loop and just kept my pace up, never saw another single-speeder, and kind of kept my pace with the geared guys," Pflug said.
Pflug will be heading to the Wilderness 101 in Pennsylvania and then off to the Pierre's Hole 100 the following weekend where it's possible he could gain a lock on the series title.
Greg Martin (Club Ride/American Classic) finished second, 9:39:14. Martin was racing his first HC100.
"There was one road climb on lap two that was a bit rugged.," he said. "You thought you were at the top of it but instead it just switched back and got steeper, so it was a bit deflating when you saw the second pitch but it wasn't too long."
I heard about the Grouse, and I was watchin' for the Grouse, but no Grouse (laughing). I had a good race but just didn't have quite the legs to catch the Pfluginator, I guess. I will be at Pierre's Hole in a couple of weeks and then Fool's Gold in Georgia after that and possibly the Park City Point to Point the week after that so this is really my first race of the season."
Mike Shane (Club Ride Apparel) finished third 9:50:58 riding a Niner One Nine.
Masters 50+ Open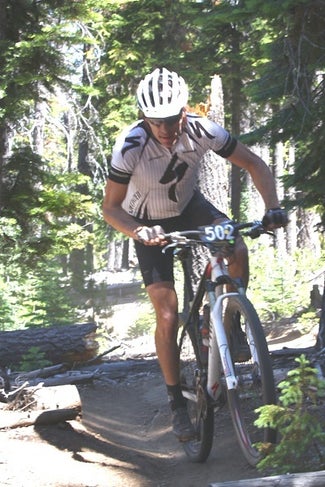 The NUE Series Masters division is in total disarray with no clear leader, although Bill Holden (Holden Brothers) retains his lead for another round.
But on Saturday it was Doug Andrews (www.GeoLadders.com) of Mission Veijo, California, who won his third NUE Series event in 9:49:04. That put him nearly two hours ahead of his nearest competitor in the Masters Division.
Andrews is not only the masters winner, he was among the top ten overall at Breckenridge and the top fifteen at HC100.
"I did this last year," Andrews said. "Bend is a great place to ride, endless trails, lot of twisty singletrack. One of the challenges is that it's difficult to eat because the trail is so demanding that you don't even get a chance to grab anything out of your pocket."
Finishing second was Mitchell Berger (Lactic Acid) of Boise, Idaho at 11:47:26 and third on the podium this year was local rider Don Leet (Sunnyside Sports) of Bend at 11:48:14.
Next up for the NUE Series: The Wilderness 101 in State College, Pennsylvania on July 30.
Race Notes:
Thanks to hundreds of downed trees, the redesigned HC100 course featured 75 miles of singletrack. Heavy snows pushed the race a closer to Bend this year with a 35-mile opening loop that featured just 1,500 feet of climbing in the first 20 miles and close to 3,000 for the last 15. It included the recently completed Steve Larsen Trail, welcoming the NUE Series as the first racers to compete on the trail. The race donated $5,000 to the local trail organization COTA (Central Oregon Trail Alliance), which provides trail access and opportunity in partnership with the Deschutes National Forest.