Commentary: American cycling's big moment
As summer 2018 winds down, five American stars have given U.S. fans reason to cheer, from the Vuelta to mountain bike worlds and the track.
Heading out the door? Read this article on the new Outside+ app available now on iOS devices for members! Download the app.
USA! USA! US—
… You get the point.
As we all know, cycling fandom in America is often an exercise in patience, as we wait weeks, months, and sometimes years for a big American result. Alas, we are not the Spanish, Dutch, or British, whose countrymen and women rattle off huge victories every few days. This is both a curse and a blessing. America's earth-shattering victories are few, yet quite memorable: Megan Guarnier at the 2016 Giro, Andrew Talansky at the 2014 Critérium du Dauphiné, Chloe Dygert Owen at nearly every race she enters.
This year was shaping up to be a down year. Coryn Rivera's spring classics campaign was ruined by sickness (she rebounded in June, winning the OVO Women's Tour), and Dygert Owen missed much of the summer due to a head injury. Our biggest story from the Tour de France was whether or not Lawson Craddock would overcome his injuries to finish.
And then in August, we learned that our domestic racing scene was set to shrink.
And then poof — the opening two weeks of September gave American cycling one of its best blocks of racing in recent memory. Come, let us bask in the glory of our esteemed countrymen and countrywomen.
Sepp Kuss emerges
Sepp Kuss has been on a meteoric rise through the American road cycling ranks ever since he traded in his fat tires for skinny ones in 2016. Kuss made his WorldTour debut in 2018, and his progression appeared to plateau in the early part of the season. And why wouldn't it? American WorldTour debutants often struggle, as the jump to Europe requires some time to adjust to Europe's narrow roads, crabby sports directors, and proliferation of boulangeries.
Then, a leaner, meaner Kuss came back to racing in August and tore everyone's legs off at the Larry H. Miller Tour of Utah with the most dominant performance in the race's 11-year history. That victory set him up for huge rides at the Vuelta a España. Riding in support of Steven Kruijswijk and George Bennett, Kuss rode at the front of a peloton containing grand tour hitters and absolutely shredded them on the final climbs during stages 4 and 9.
Why it's important: The United States has a scant few riders in cycling's WorldTour, so to see a new one enter the sport's top echelon and immediately thrive is always a great story. Kuss is just 23 years old, and his ride is a sign that he has the talent and confidence to have a long career.
Christopher Blevins earns MTB silver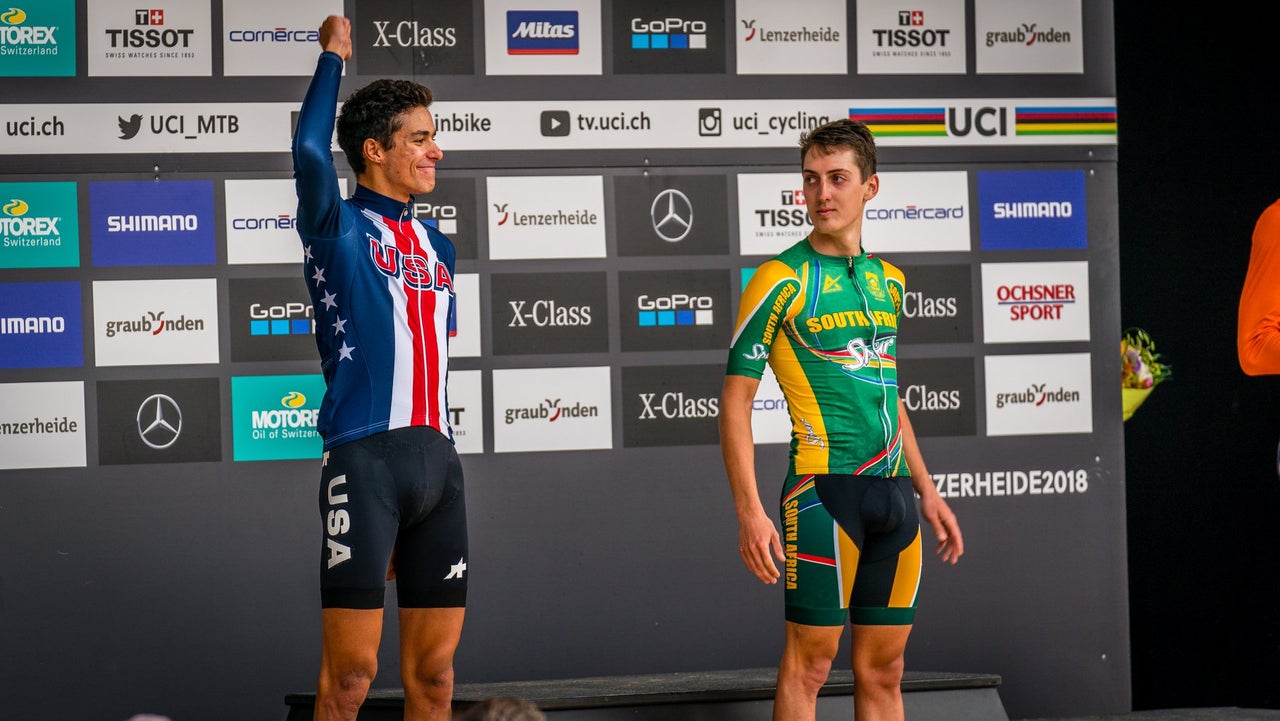 If you're not familiar with Christopher Blevins and his bevy of natural cycling talent, read this story right now. For the CliffsNotes version, let me be frank: there's more natural talent in Blevins's sweaty socks than you or I have in our entire bodies.
After an impressive season of huge results on the mountain bike and road bike, Blevins earned silver in the UCI under-23 World Cross-Country Championships after a hard-fought battle with South Africa's Alan Hatherly. It's the best finish by an American man in the U23 race ever, and it served as the top male cross-country finish at mountain biking's biggest annual race since Walker Ferguson won gold in the junior division in 2000. Yeah, it's big.
Why it's important: A medal at U23 worlds does not guarantee an otherworldly career in off-road racing, but it does help talented riders commit to mountain biking (instead of the road). Blevins is a great road racer, of course. But mountain bike fans like myself and Spencer Powlison want to see Blevins race full time on the mountain bike and bring American men back to off-road racing's promised land. Pop quiz: when was the last time an American man won a round of the UCI World Cup? I'll give you a few hints: White Bronco, Tonya Harding, Tupac. Yep, 1994.
Ashton Lambie leads a track renaissance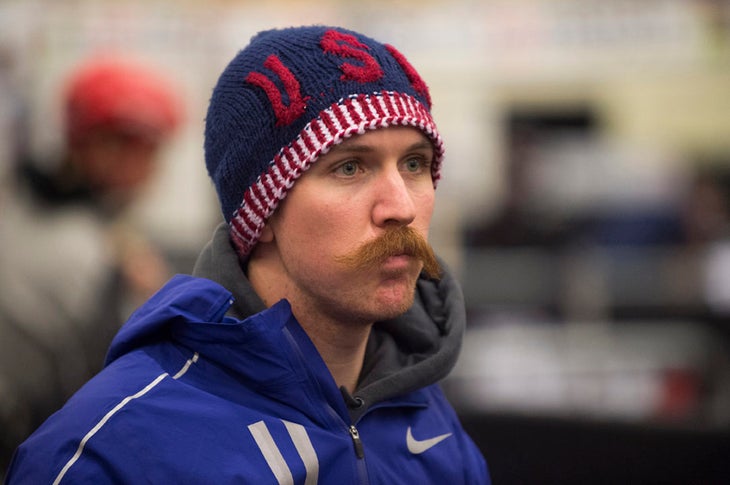 America's track program has given us plenty to cheer about in recent years, with the Olympic silver and world titles earned by the U.S. women's pursuit squad, and the individual World Cup victories won by Dygert Owen, Sarah Hammer, and Jennifer Valente. Our men's team has been noticeably absent from the medal haul, despite USA Cycling's efforts to recruit and train a new crop of riders for the endurance program.
Team USA broke out at the Pan American Championships last weekend in Aguascalientes, Mexico, winning 13 total medals, including four gold medals from Valente.
The breakout star, however, was Nebraskan Ashton Lambie, who helped the U.S. men's pursuit squad break the American record before he set a new world record in the 4km individual pursuit. Lambie has an unorthodox pathway to cycling, which you can read about here or listen to here. And Lambie set these records while sporting a bushy mustache that would make your local mixologist (or Civil War reenactor) beam with pride.
Why it's important: There are Olympic implications, of course. The success of Lambie and the men's pursuit squad is a sign that USA Cycling's efforts to build a men's endurance program have begun to bear fruit. The high point comes at a critical time: the Tokyo Olympics start in just 683 days. No American man has won a track Olympic medal since 2000.
Plus, Lambie's zero-to-hero story is extremely rare. The country's last male individual pursuit champion, Taylor Phinney, is the scion of Olympic medalists, blessed with gobs of natural talent. Lambie is the proverbial guy from your local bike shop. The one with the weird mustache.
Ben King strikes twice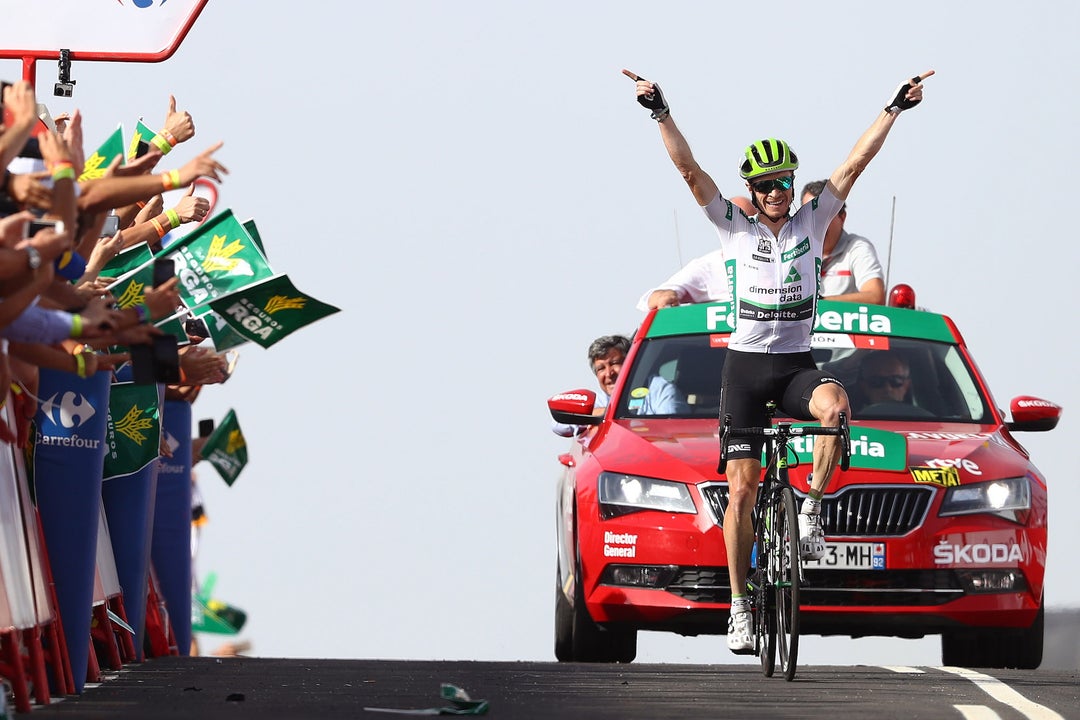 Let's tally the great American wins at grand tours over the last half decade: 1. Tejay van Garderen's stage win at the 2017 Giro.
It's no secret that American riders have struggled in the three-week racing format over the last few years. As cycling fans, we often find ourselves shrugging off the prospect of an American victory, and instead cheering for more modest results. Top 10? Top 15? Not DFL?
That's why Ben King's two stage victories at this year's Vuelta a España are so special. Over the course of five days, King doubled the number of American grand tour stage wins since 2013.
Why it's important: Stage wins do not require once-in-a-lifetime form, as King proved at the Vuelta. King told us that, while he's fit, he's not exactly scoring the best training numbers of his life right now. Instead, he used his intellect to outfox his breakaway companions for both wins. This fact should give more hope to America's other riders who are not grand tour contenders. Perhaps we will see more Americans in the break in 2019.
Kate Courtney's amazing ride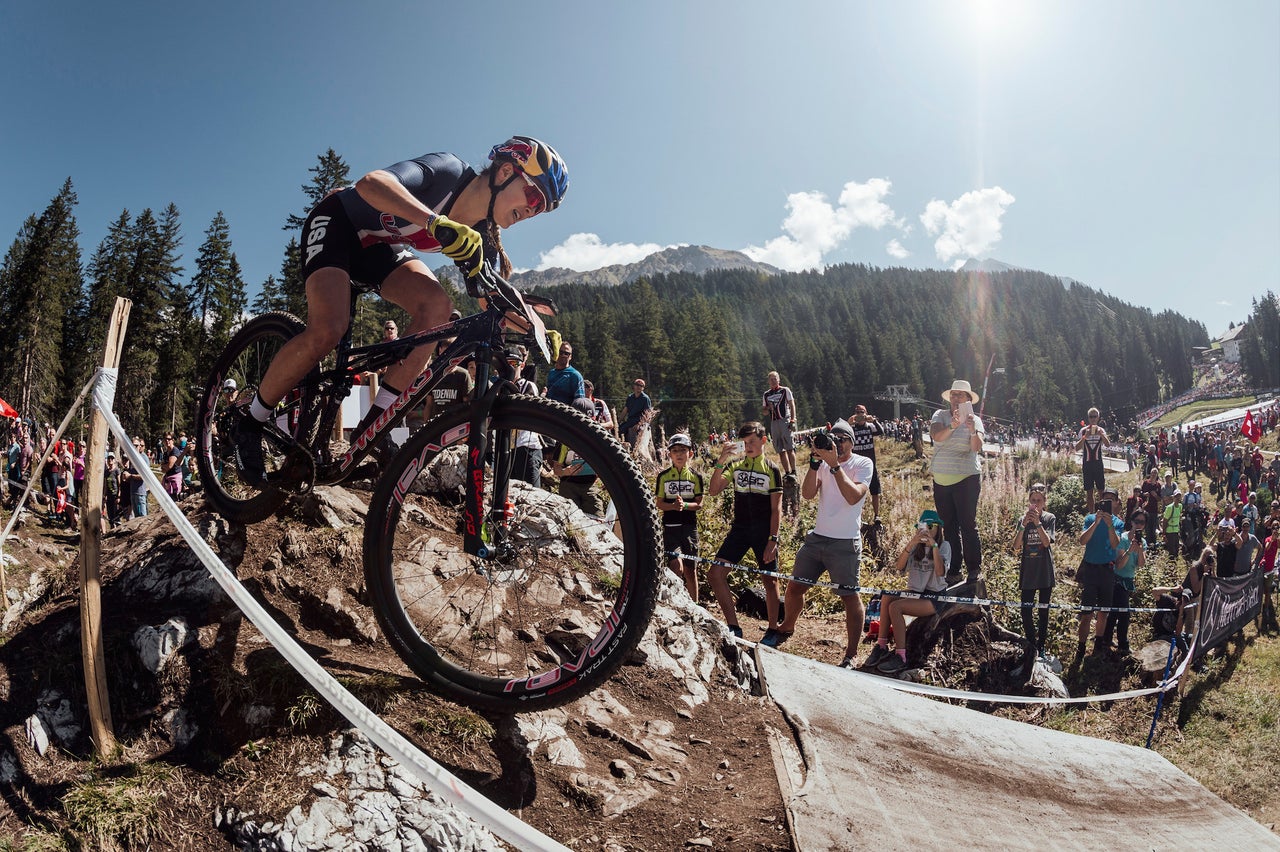 We saved the best for last. Chances are you've seen images of Kate Courtney's world championship ride from this past Saturday. There's a full replay of the race over on RedBull.com, which I strongly recommend viewing. Courtney was not favored to win the race, or even listed amongst the favorites in the pre-race broadcast. And why should she be? This was just her first season in the elite ranks, and she often finished just off the podium at the World Cup rounds, well behind more seasoned pros like Jolanda Neff, Annika Langvad, and Emily Batty.
Courtney's dogged pursuit of Langvad in the world championship race gave mountain biking one of its most thrilling finishes in recent memory. Courtney had plenty of opportunities to lay down and accept a silver medal — Batty, who rode in third, was more than a minute behind. Instead, Courtney kept up the chase, catching and then losing Langvad on the final lap, before again catching the Danish rider after she bobbled on some roots. Courtney's victory was pure entertainment, even without the nationalistic implications.
Why it's important: There's big history at play here for the country that invented the mountain bike. The last American world cross-country champion was Alison Dunlap, who took the rainbow stripes in 2001. Since then, American women have come painfully close, with Willow Koerber, Georgia Gould, and Lea Davison all reaching the podium. Courtney's victory snapped a 17-year losing streak.
And the winning could continue. In our recent story on Courtney, USA Cycling officials pegged her as a rider of the future. She is unquestionably talented, they said, and has the ability to win Olympic and world championship medals … someday. As Courtney proved on Saturday, someday is today. At 22, she could conceivably keep the United States at the top of off-road racing for decades to come.