Destination: Boise, Idaho
Boise could be written off as a pretty average city, but the mountain bike trail network just at the edge of town defies expectation.
Heading out the door? Read this article on the new Outside+ app available now on iOS devices for members! Download the app.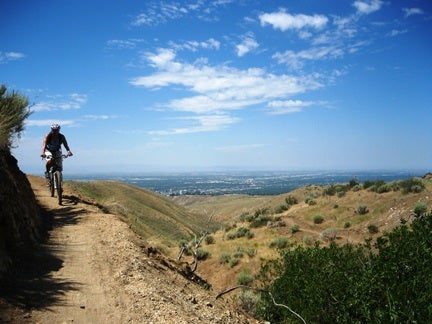 The southwestern Idaho city of Boise could be written off as very mediocre in many ways. Boise is medium in size, with about 200,000 residents. Cost of living, education and cultural opportunities, climate — all pretty average.
But the mountain bike trail network just at the edge of town — extensive and easy to access — defies expectation. It's well above average.
The quiet city  is situated in a tree-filled river valley. But rising up just to the north of town are rounded, sage and grassland foothills that are positively blanketed with trails of all shape and size. Some of the more prominent double tracks and ATV trails are even visible from downtown, reaching into the hills like fungal mycelia.
Even better? The network of fully 125 miles of jeep roads, doubletracks, and singlestrack trail can be readily accessed from neighborhoods surrounding the north and east perimeter of the city. Even from downtown, trailheads are only a ten-minute pedal, and present portals to every segment of the foothills system. The North End neighborhood of funky bungalows is the most popular jumping off point, and includes the Hyde Park district of restaurants, coffee shops, and stores.
At one time, the mostly public land of the Boise Foothills was cut with unregulated motorcycle and ATV trails. But in the 1990s, as mountain biking, hiking, and trail running became more and more popular, the city, county, Bureau of Land Management, and Forest Service created a trail management partnership called Ridge to Rivers. The Ridge to Rivers program has improved and maintained some trails, closed others, and mapped the entire system.
The granite-based geology of the Boise Foothills and the dry climate of southern Idaho dictate the nature of the mountain biking. Trails are smooth, sandy, and non-technical. A few rock outcrops here and there present some fall-line challenges, but the bike to bring is, at most, a 4- to 5-inch travel cross country rig. In fact, 29er hardtails are popular for the many fast rolling, swoopy trail segments. Hutchinson Python, Kenda Small Block 8 or Bontrager Revolt Super X tires are a good choice.
If you go: Boise, Idaho
Must-do trail: Hulls Gulch to Corral's, a loop that starts and ends in town and embodies the essential nature of the Boise foothills.
Best bike shop: the cycling community in Boise is small but fervent, and many shops cater to every need. But try Idaho Mountain Touring for the best variety.
Best map: The Ridges to Rivers map has all the info you need.
Best coffee: Too many great coffee shops to count, but Java Coffee and Café in Hyde Park has the best bean juice and breakfast.
Best bar/restaurant: Bitter Creek on 8th street downtown has a huge specialty beer list, plus their own brews and great food.
Riding Season: Almost year-round, but Boise is a four-season town with snow in winter and scorching dry heat in August. Best times are spring and fall.
Getting there: Boise has a good airport, and is right on Interstate 84.
Lodging: Plenty of options, but stay in the downtown area for best trail (and culture) access.
Other things to do: Lucky Peak Reservoir just outside of town provides boating and swimming opportunities.Web Site: www.ridgetorivers.org, www.swimba.org