Destination: Fruita, Colorado
While Fruita, Colorado is not as famous as its neighbor to the west — Moab, Utah — the small Colorado town is home to some of the best mountain biking in the region.
Heading out the door? Read this article on the new Outside+ app available now on iOS devices for members! Download the app.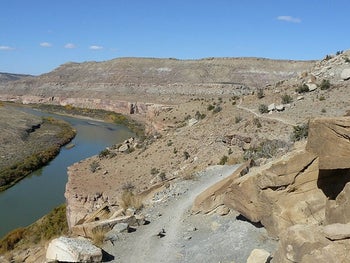 Anyone remotely interested in mountain biking has heard of Moab, Utah, and surely has it at the top of the list in terms of a destination trip.
And for the folks who live just across the boarder in Fruita, Colorado, that's just fine. While not as famous as its neighbor to the west, Fruita is home to some of the best mountain biking in the region. With a network of trails built by local mountain bikers in the mid-1990s, the desert landscape of Fruita offers something for everyone, regardless of ability. While Fruita has recently gained some attention from mountain bikers, particularly from Colorado and Utah, it still remains a relatively under-explored area. Since 1996, Fruita has hosted the Fruita Fat Tire Festival, which attracts riders from all over the country.
The Bookcliffs
On the north side of Interstate 70 is the Bookcliffs network of trails. Here you'll find amazing hand-built singletrack that is truly single and mountain-bike specific; the motto: "Keep Singletrack Single" reigns supreme here. Trails like Zippity Do Da, Kessel Run, and Chutes and Ladders are some of the favorites and are rarely more than 24 inches wide. With 50,000 riders a year and climbing (compared to over 300,000 for Moab), the locals are keen to keep it low-key and maintain trail quality at all costs.
Trails like Prime Cut and Kessel Run are fast, twisty and ear-to-ear grin fun for everyone, at any level of experience. In fact, on my last trip to Fruita a Boy Scout troop was riding Kessel Run, working on their mountain biking skills. For the slightly more adventurous, you can look to Joe's Ridge, Frontside and the Edge Loop. You'll still find narrow singletrack, but you'll also get steep climbs, exposure, drop offs and scenic desert views.
The area is also home to the Flight of Icarus, one of the most amazing rides I've ever done. I rode the trail for the first time with Troy Rarick, owner of Over the Edge bike shop and the man largely responsible for many of the trails in the area — not to mention most of the tourist dollars that flow into the small town. To ride the trail with the guy who built it was amazing. Lots of exposure, drop offs and an endless grin, despite a few scuffs and scrapes along the way.
Kokopelli's Trail System
If you want to open up the scenic options a bit more, one exit west of Fruita on I-70 will bring you to the Kokopelli trailhead and more amazing singletrack. If you're really up for an epic, get some sag support and head from Fruita to Moab on the 146-mile Kokopelli trail. It's typically done as a four-day trip.  For those of us with less time, however, there is still plenty of fun to be had. Mary's Loop and the Horse Thief Bench offer an 8-mile loop along the cliffs above the Colorado River. The views are spectacular.  Other trails, like Moore Fun, Troy Built and the Grand Loop offer rocky, technical riding, but also fast descents, tricky sections and very few people.
Fruita is located just west of Grand Junction, Colorado, which has an airport. It's about five hours west of Denver along I-70. The best time to ride Fruita is during the spring and fall months; summer can be unbearably hot. In terms of lodging, there are a few hotels in Fruita proper, but there are many places to camp (again, avoid summer), and there are lots of hotels a few miles away in Grand Junction.
Fruita is a blast and gives the novice reason to come back and the advanced riders a challenge as stiff as anything you'll find across the border in Utah. But hurry, the secret's out.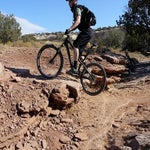 If you go: Fruita, Colorado
Must-do trails: The Flight of Icarus, Horsethief Bench/Mary's Loop, Kessel Run, Frontside, and Zippidy Do Da
Best bike shop: Over the Edge Sports — the only real shop in town.
Best map: Over the Edge Sports Trail Map, which is written by the guys who built the trails; what more could you ask for?
Best coffee: Aspen Street Coffee
Trail service: Trails in and around Fruita are built and maintained mostly by the locals who live and ride there; that's why they're so good and so narrow.
Riding season: You can ride pretty much all year, however, the summer can be extremely hot. The best time to ride is spring or fall.
Getting there: You can fly directly into Grand Junction to the Walker Field Airport; Fruita is only a few miles west of the airport. Fruita is about 4.5 hours west of Denver.
Lodging: There are several great campsites nearby, although be cautious of camping in summer months; there is limited tree shade — it's the desert after all. There are a few hotels and motels in Fruita and many more just a few miles away in Grand Junction.
Insider tips: Fruita is at its best in April, September, and October when the daytime temperatures are mild and you can ride all day long.