Epic Conditions Hit Riders at Breck Epic
Tuesday's third stage of the Breck Epic somewhere above Breckenridge, Colorado saw a brutal day in the saddle where riders climbed over the Continental Divide twice in 44 miles, gaining over 9,400 feet. And did we mention it was cold...?
Heading out the door? Read this article on the new Outside+ app available now on iOS devices for members! Download the app.
By Sarai Snyder
Special to Singletrack.com
[album id=73 template=extend]
Check out Breck Epic racer Sarah Uhl's daily stage blogs
As the week wears on and racers dealt with a grueling third stage at the Breck Epic in Colorado, epic is defined as a brutal day in the saddle climbing over the Continental Divide twice in 44 miles, gaining over 9,400 feet.
Epic is defined as finding "another planet" atop French Pass "with alpine tundra snow fields," as Jeremiah Bishop described it.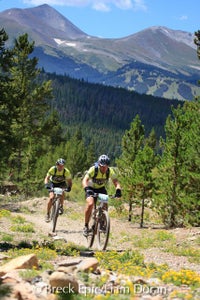 " I saw thick, heavy black clouds and thought it was mountain mist," Bishop said of Tuesday's stage three high above Breckenridge, Colorado. "It was probably 40 degrees at the top and a rainy day on the other side."
Epic is defined as following that with a traverse of Georgia Pass where the winds and rain grew in intensity. Epic is riding this is 3:26:15.
Bishop (Cannondale Factory Racing) crossed the line first closely followed by teammate Alex Grant. Josh Tostado (Bach Builders-Santa Cruz) managed an unbelievable third place despite a broken rear deraillure. His "just get me to the end" chanting must have worked, as Tostado finished just three minutes off the lead.
All the riders felt the effects of todays stage. Germany's Ivonne Kraft (Squirt/Bionicon) described it as the "the frozen day," saying her whole body hurt descending the Colorado Trail without a jacket or arm warmers. Craft took another second-place finish and maintained her second overall to Pua Sawicki (Okolestuff.com) the women's leader. Sawicki finished eighth Tuesday with a time of 3:49:40, giving her over an hour lead in the GC.
Sonya "just let me take a dip in the big mud puddle" Looney crossed the line with Topeak-Ergon teammate Jeff Kerkove with a time of 4:30:45, moving their GC lead to 43 minutes over the Eriksen Team in Duo Co-ed.
Evan Plews (Evanplews.com) smashed the singlespeed field again despite a broken pedal just 10 minutes in. Plews rode to aid station 1 and was given a pedal and cleat by the Organic Mechanic and a very generous race supporter. He was followed by Mike Melley stepping onto the podium for the first time this week followed by Niner's Dejay Birtch.
Wednesday's Stage 4:
The fourth day is described as the hardest stage of the week by race promoter Mike McCormick.
"Its like a slobbering rabid dog," said McCormick. "Its going to come at you and come at you and come at you…"
The stage will take riders 42 miles and out to Keystone and back. How will stage four define "epic"? Stay tuned for the aftermath.
Brief GC Results After Stage 3
Solo Open Men
1. Jeremiah Bishop 9 hours 43 mins 07 seconds
2. Alex Grant 9:43:08 +.5 seconds back
3. Josh Tostado 9:52:45 +9:38
4. Ben Sonntag 9:57:33 +14:25
5. Matt Shriver 10:06:53 +23:45
Solo Open Women
1. Pua Sawicki 10:41:20
2. Ivonne Kraft 11:46:56 +1:05:36
3. Wendy Lyall 13:24:27 +2:43:06
4. Mireille Montminy 13:55:07 +3:13:47
5. Sarah Uhl 14:08:16 +3:26:55
Solo Singlespeed
1. Evan Plews 11:01:24
2. Dejay Birtch 11:31:22 +29:58
3. Jake Kirkpatrick 11:48:37 +47:12
4. Michael Melley 11:54:48 +53:23
5. Dan Durland 11:55:07 +53:42