Extreme Weather Floods the Fool's Gold 100
Although electrical storms moved through well before the start of the Fool's Gold Rush race in Georgia on Sunday, heavy and steady rains remained causing a viscous mud bath at race 7 in the National Ultra Endurance Series.
Heading out the door? Read this article on the new Outside+ app available now on iOS devices for members! Download the app.
By Singletrack.com
[album id=72 template=extend]
After wet and muddy conditions earlier this season at the Kenda National Ultra Endurance Series Cohutta 100 and then again at the Mohican 100, racers preparing for Sunday's Fool's Gold 100 in Georgia were hoping for dry and warm as usual.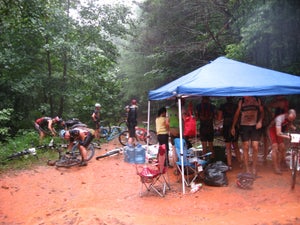 However, beginning just after midnight a powerful line of thunderstorms moved through Camp Wahsega, start/finish, unleashing seemingly nonstop lightning strikes followed by booming thunder and heavy rains. The local news issued flood warnings on race morning, the result of stationary storms that were dumping as much as one inch of rain per hour on some areas.
Although the electrical storms moved through well before the start of the race the steady rains remained to take their place. Thus began the 2010 Fool's Gold Rush — NUE #7.
Men's Open Division
Early in the Men's Open race, as expected, last year's Fool's Gold winner Christian Tanguy (Team CF) and NUE reigning champion, Jeff Schalk (Trek Mountain CoOp) lead the way up the first large gravel road climb with Schalk edging out Tanguy to take the King of the Mountain award that included a growler from Yazoo beer.
Schalk described conditions as, "the worst conditions of the year. I lost my rear brake completely at mile-30."
This was true of most racer's as the highly abrasive mica, better known as fool's gold, ground brake pads down in as little as 20-30 miles in the soaked red Georgia clay.
In the end, 4:15:26 was the winning time as Schalk edged out last year's winner by just two minutes before both pleaded with race director, Eddie O'Dea, to call the race.
"Both racers told me they were willing to continue on and had spare brake pads, however, even a spare set of brake pads might only last for 30 miles," said O'Dea, who called the race largely for safety concerns. "Witnessing the fear in the eyes of the pro's that came in sealed the decision to cut the second loop."
"I won by two minutes because [Tanguy] had mechanicals," Schalk said after the race. "A dry battle might have been different. Today was more about survival."
More than a half hour later, Michael Simonson (Gary Fisher/SRAM/NoTubes), Robert Marion (American Classic/Kenda/Tomac), and Ernesto Marenchin (Speadgoat.com), rounded out the next three spots, coming in within minutes of each other.
Women's Open Division
In the Women's Open Division, Fool's Gold became a pivotal race for contenders Amanda Carey (Kenda/Felt) and NUE Series leader, Cheryl Sornsen (Team CF). Carey, needing a win, set the pace from the start, winning the Queen of the mountain award. At 5:02:20, Carey's impressive finish was thirteenth overall, men and women. For Carey, this is her third win in the Kenda NUE Series setting up a women's showdown at the final event, The Shenandoah 100, just two weeks away. The winner will likely claim the title of 2010 NUE Champion.
"For me, I had a rotten day," Sornsen said. "I was sent in the wrong direction and then corrected but as conditions worsened and I lost brakes I felt it best to stay safe and pulled out before the last 8 miles of trail. I was mentally done and mechanically hampered and it was a good decision for me.  Bummed, but the season has been so great that this one race does not sour it for me."
Retired former national champion, Sue Haywood, rolled in 28 minutes behind the leader with Brenda Simril (Motor Mile Racing) less than a minute back. Simril has improved her scores all season, moving up the ranks on this year's circuit.