Four Contenders Talk Windham World Cup and MTB Worlds
Singletrack.com recently caught up with four North American contenders for the podiums at the World Cup final at Windham, New York and at the mountain bike world championships at Mont Ste Anne — Georgia Gould, Katie Compton, Geoff Kabush and Todd Wells.
Heading out the door? Read this article on the new Outside+ app available now on iOS devices for members! Download the app.
By Neal Rogers
The next two weeks are huge for mountain bikers competing on the international level. First off, this coming weekend — Aug. 28 and 29 — the World Cup final is at Windham Mountain, New York. It's the first time in five years a World Cup race, let alone the finale, will have been held in the United States.
And then Sept. 1 through Sept. 5, the Mountain Bike World Championships are being held at Mont Saint Anne in Quebec, just a day's drive from Upstate New York.
With the World Cup final and the MTB worlds being held in the same time zone on the same continent less than a week apart, North American riders are chomping at the bit to post impressive results.
Neal Rogers, managing editor of VeloNews — Singletrack.com's sister publication, recently caught up with four North American contenders: Todd Wells, the reigning U.S. cross-country and short-track national champion; Geoff Kabush, who has stood on the World Cup podium three times at Mont Saint Anne in 2008 and 2008; Georgia Gould, current U.S. cross-country national champ and winner of the Pro XCT overall; and Katie Compton, U.S. short-track national champ and no stranger to international competition.
Todd Wells, Specialized Factory Racing:
Goals: "Last year I was eighth at worlds, so I'd love to medal this year."
"For World Cup finals in Windham, I'd like to be top 10. But after such a great worlds last year, I wasn't incredible, but I felt close to incredible, and I think I can improve on that eighth place.
Mont Ste Anne Course:
"It is short and punchy — two minutes sustained climbing, but a series of technical climbs and descents; typical East Coast riding – at a ski resort, but not typical ski resort NORBA course that has sustained 15-minute climbs up, 5 minutes of descending down. They've changed it a little; it's more technical than the World Cup course of years pas
Rankings: UCI points – 18th in world cup, 13th in UCI points (for worlds)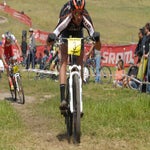 Geoff Kabush, Maxxis-Rocky Mountain:
Outlook: "I've been looking forward to the next two weekends all year, and now it's here. It's nice to not be packing up for a trip across the Atlantic, or to Australia. Nice to just jump on plane."
"Really glad to have three weeks away from being on a plane. My last trip to Europe I had a really crap day on my last race and dropped out of a race for first time in four years. But my training has been going well — hope to be back on it."
How do you tune-up for worlds after Windham?
"I'm happy to have the Windham race to get my confidence back. I usually train well, it will be good to get back in race rhythm, gain some confidence and if anything it will just be coasting into worlds. I've trained hard. I've turned things around, all my data is trending in the right direction. Regardless how the last races went, I should be at the front of the race the next few weekends.
Worlds Scoop:
"I'm not a big favorite. I'm optimistic. I haven't had great history at worlds, but coming into prime in my career, I was fifth last year with a small problem, and this year it's unique having worlds on home soil. Regardless how this season has gone… 2010 has been up and down — the (Iceland) volcano thing started World Cup season off kilter. It took three days to get to first World Cup, then got sick, only six World Cup races with not much chance to get back on it – last trip, travel to Europe wasn't great. But I've been thinking about this week the whole year, focusing on it, desiring to have good result – now it's time to perform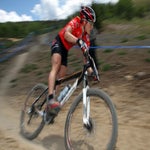 Katie Compton, Planet Bike-Stevens:
2010: "The season has been okay — ongoing health issues, trying to race and not suck."
"I won short-track nationals, fourth at the World Cup in Italy – a podium at a World Cup meant automatic selection for worlds."
Outlook:
"I'm trying to get better at mountain biking – always been a mountain bike racer – never focused on it, but now I'm trying to qualify for the Olympics, get some UCI points, hope to have a strong 2011 and 2012. I'm setting the groundwork, foundation — doing what's realistic to do. Things are going well with that, cyclo-cross is still my love, what I do the best, but I want to win a world championship, whether it's mountain or cross.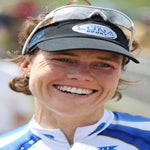 Georgia Gould:
How would you rate your mountain bike season?
"Really pleased, a little bit fresher this season, had my best season in a few years. I took a lot of time off this winter, more than I ever had in the past. Made the start of season slower. It paid off and worked out well.
2010 highlight?
Second at World Cup in Offenberg (Germany), feeling like I was still ramping up, still building.
Next step?
Worlds: I'm going in to win. Why not? I've beaten everyone that's there. I know its something I am capable of. I also know it's something that requires everything to line up just right. It would be a fantastic result, but it's not just a fantasy. It's not an unreasonable goal, not at all.