Frischknecht's new coffee shop rekindles Sea Otter tradition
Thomas Frischknecht opens new cycling-centric coffee shop in Monterey with Tom Ritchey and the Conway family.
Heading out the door? Read this article on the new Outside+ app available now on iOS devices for members! Download the app.
MONTEREY, California (VN) — As soon as you walk in the door at Captain + Stoker, a trendy coffee house just east of downtown, Thomas Frischknecht greets you. Mountain biking's Swiss legend keeps it informal and humble: "Hi, I'm Thomas."
It's a foggy Sunday morning in Central California's sleepy town. The Sea Otter Classic is winding down just a few miles up the road. Frischknecht is here for the grand opening of the shop, which he owns alongside Carmel locals Peterson and Wendy Conway, as well as mountain biking forefather Tom Ritchey. They all share a specific goal with Captain + Stoker: cultivate a cycling-centric coffee shop that will be a community hub for local riders.
"I kind of jumped on the train," Frischknecht says. "When [Conway] said he was going to open a coffee shop that's very much related to bikes, I said I wanted to be part of it."
As Frischknecht greets guests, Ritchey makes conversation with a handful of other mountain bike legends who have come for the opening. Frame-building pioneers Joe Breeze and Charlie Kelly mill about. The fourth Ritchey mountain bike — likely the first-ever mountain bike that was sold commercially — leans off to the side, drawing a lot of attention.
Ritchey was the mutual friend who connected Conway and Frischknecht in 2009. Frischknecht famously rode for Ritchey's professional mountain bike team in the 1990s, winning multiple World Cups aboard Ritchey's classic red and blue bike frame. Ritchey, who lives in nearby La Honda, is close to the Conway family — so close that he is godfather to both of their daughters.
Peterson Conway operates within Silicon Valley's elite class of venture capitalists and technology visionaries; he works for Paypal co-founder Pieter Thiel as a talent recruiter, assembling teams for Thiel and others as they launch new companies. He and Wendy are also passionate cyclists.
Peterson and Frischknecht were fast friends. They raced the Baja 1000 off-road motor race together. In 2017 he and his family stayed at Frischknecht's house in Tuscany — that's where they developed the idea for a coffee shop.
"I wasn't a coffee drinker, and I discovered good coffee and that was with Frischy [Frischknecht]," Conway says. "I kind of discovered the link between cycling and coffee as a way of life. It was fantastic."
When they returned to nearby Carmel, California, after a yearlong family trip around the world, Peterson and Wendy Conway saw the opportunity to start an Italian-style coffee shop. They floated the idea to Frischknecht and Ritchey, and both men came on board.
"Frischy had some very strong opinions right from the start that this had to be focused on people and we had to focus first on cyclists," says Peterson Conway.
Right away, the connection to cycling is evident in the shop's name. A captain drives a tandem bicycle, while the stoker sits behind. It's no coincidence that the Conways got married on a vintage Schwinn tandem. There's a 1973 Ritchey Skyliner tandem on the wall above the coffee bar to drive the point home, as well as several other vintage Ritchey bikes, including Frischknecht's race bike from the 2000 Sydney Olympics.
"It's a meeting point, a place to be," says Frischknecht. "And cycling, in my opinion, is very much a sport that lives off community too. Group rides are much more fun than going out on your own."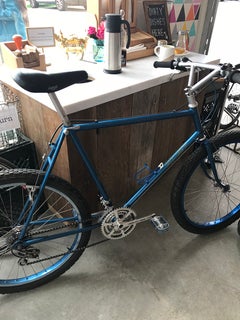 Captain + Stoker isn't meant to be some sort of cycling museum, though. Frischknecht wants the coffee shop to attract today's stars, as well as local riders, and that's why the grand opening coincided with Sea Otter Classic. During Frischknecht's era, the pro riders would meet the Sunday after Sea Otter's cross-country race and go for an easy spin around the coast.
The ride was both to stretch the legs and to build camaraderie.
"All the pros would meet on Sunday morning for a coffee ride," Frischknecht says. "We always went from some coffee shop. It was Peet's the last couple of years, and now we have our own place. I want to keep that as a traditional thing that people will meet Sunday morning."
Frischknecht's vision for Captain + Stoker is already becoming a reality. As he greets guests, Olympian Lea Davison (Clif Bar) steps through the open garage door on the side street next to the shop, kitted up for a ride. A few minutes later, U.S. cross-country champion Kate Courtney rides up in her national champion's jersey.
From the looks of things, an old tradition is rekindled in a new place.