Goin' Mobile with Mary and Michael
For almost eight years now, two-time Olympian Mary McConneloug and teammate Michael Broderick have found a home on wheels from which to race their bikes, and they like how it feels — goin' mobile.
Heading out the door? Read this article on the new Outside+ app available now on iOS devices for members! Download the app.
Whether the police and the tax man miss Mary McConneloug and Michael Broderick, well, Who really knows?
What we do know is that two-time Olympian McConneloug and teammate Broderick have, for about eight years now, found a home on wheels from which to race their bikes, and they like how it feels goin' mobile. From England and Belgium to Poland and Germany, they keep movin'.
They pull up by the curb and make it on the road and cross-country circuit by goin' mobile. They can stop in any street and talk with people that they meet by goin' mobile.
They keep on movin'. Out in Windham or in Germany, mountain bike racing's all the same to Michael and Mary. When they're driving free the world is their home — they are mobile. Hee, hoo! Beep beep!
OK, so I got a little carried away there with a certain hippie gypsy tune. But the cool thing is that The Who's Going Mobile pretty much details how Mary McConneloug and Michael Broderick race their mountain bikes on the World Cup circuit in Europe — except the part about not caring about pollution.
Without the support of big sponsors, McConneloug and Broderick have taken on well-funded mountain bike operations in Europe and the States and done quite well, thank you. While Seven Cycles, Kenda and Stan's No Tubes are supporters, the couple otherwise works alone, (although they get a little help from their friends — but that's a different song).
And when chasing UCI points in Europe, as they currently are, they do so by goin' mobile in an RV. So play the tape machine, make some toast and tea then read what Singletrack.com found out when we caught up with Mary and Michael to see how life on the road is going …
Singletrack.com: How many seasons have you and Michael been racing in Europe using a camper as home base?
Mary McConneloug: This is our eighth season. Our first trip racing in Europe out of a rented camper in 2003 was for three weeks; it opened our eyes wide to the adventures of racing mountain bikes in Europe . In 2004 we spent almost eight months living in a house on wheels traveling to something like 12 countries to race and see what they use for chain lube.  In years year since we have spent on average of two to four months living, training, racing, eating sleeping in a "wohnmobile"(German for RV) in Europe.
We should mention that this travel style for us was not something new.  Since mike and I met 11 years ago, we have typically traveled to races and more or less lived continually in some sort of camping vehicle be it proper or improvised. Moving into a real RV felt cushy in comparison; the perfect attack craft for bike racing — highly mobile yet fully outfitted for major combat. And on the off days it's a virtual a palace on wheels.
Singletrack.com: How many days on the road do you average basing out of the camper?
MM: In addition to two to four months in Europe each year, we spend about a month or so on the road in the U.S.A. Our time on the road is determined largely by the race schedule and our plans of how to arrive at the races with our best form. In Europe it is pretty much our only means of transport. So in Europe three months of racing means three months in the RV.
In the states we roll in 45 feet of van and tow along a camp trailer set-up.  This rig is massive and not so much fun to drive but when we are docked we live train and run the team really comfortably. For better or worse, the U.S. is way too big to be driving across with any vehicle just for one race, so from time to time we have to do the more typical fly and rent for reasons of convenience or time constraints.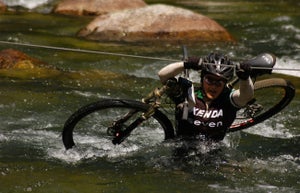 Singletack.com: Unlike the Luna Pro Team, Subaru-Gary Fisher, Specialized Factory Racing, etc., you guys deal with all your own logistical needs — setting up travel, getting from point A to point B, equipment needs and so on. How does all that affect your race prep/concentration?
MM: The fact that we handle all aspects of our own race program keep us more than busy. Mike and I make a big effort to have the physical aspects of being an elite cyclist (training, eating, streching, sleeping and etc.) as our priority, but there is so much more involved with running our program that demands constant time and effort. There never seems to be enough time in the day.
Pretty much all our time and energy goes into some aspect of our program.  It seems that we have built our lives around accepting this and for eight or so months of the year actually live within the job.
Mike especially has his hands full around the critical race time with the equipment end. It is probable that spending time standing up race tuning bikes the night and morning before his races affects his performance. Then comes the scramble to set up the tech pit and support one another on race day and this is hard on us both when we can't find a spare hand! For me the mental aspect of handling logistics and needing to really be on top of a lot of stuff keeps me up at night on occasion, Luckily the training helps keep me in check with this.
Singletrack.com: After being your own team/support unit for several seasons now, how has your approach to those things changed from your first time on the road?
MM: Experience has taught us so much and chiefly that we should always continue to look and listen for those little things that add up to making things work out as you would like them to. Although the word "easy" does not come to mind just yet, it is clear that things are more efficient and smoother.  We are now more often relaxed about certain details that used to consume our energy and have really grown into a comfortable rhythm with being on the road. What was once new and different and something that we were trying to do has now become how we live our life.
Singletrack.com: With what you now know, what experiences do you look back on and laugh at, or what makes you grimace when you think back?
MM: We look back and laugh at ourselves for so much — including stuff from just this morning. I feel like we try and put a lot of our "prior issues" out of our minds so as not to give ourselves a complex but still draw on our experiences to try to get things done the right way.
Let's just say that you should know the following without a doubt: The exact height and width of your vehicle; that beef tartar (in France) does not refer to sauce; to always weigh your own vegetables at the supermarket; how to poach a wireless signal; how to say "hi", "please", "thank you" and the local etiquette for a proper toast.
No matter the language barrier most critical communications can be taken care of with charades. Always come come prepared for the climate and with all your equipment and tools necessary to get the job done yourself. If this means over packing over-weight baggage then so be it, since when traveling with your bike you will for sure pay and pay dearly in any case!
Singletrack.com: For some people, Europe can be difficult as far as eating: Lots of meat and potatoes, etc. How has it been managing your overall nutrition there versus in the States? And to top it off, you're living in a camper. How much actual "cooking" do you do?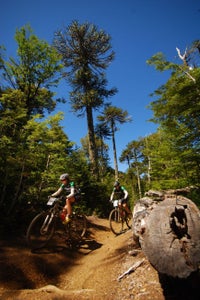 MM: Actually, Mike and I thrive off meat and potatoes! Though you touch on one of the main reasons we got into the RV travel — the fact that you can easily prepare your own food.
Shopping and cooking for ourselves keeps us eating right and on budget.  With the exception of an occasional dinner out we prepare every meal ourselves. There are good foods available almost everywhere across Europe including health food sections at most grocery stores with a solid range of organic (bio) produce and products.
Mike and I are  always on the lookout for the seasonal foods and regional specialties, as Europe is full of amazing cuisine. For added sustenance we make an effort to keep and eye out for local foragers — harvesting your own wild asparagus or mushrooms really cant be beat.
Learning to be open to new tastes and products is pretty fun and we have found that being less picky with foods has turned us on to a lot of new and exciting dishes and never really done any long term harm.
Singletrack.com: Racing is one thing, how do you guys fit in training? When cruising some autobahn or another and not at a venue how do you know where to get in quality three or four-hour training rides, for example?
MM: Training while living out of an RV can be challenging, but on the other side with a little research and knowledge it can be incredible as well. We have refined our styles after revisiting Europe many times and can now get in what we need when we need it, though being flexible with our workouts is also an important aspect of training on the road.
Some of the keys to finding quality riding  are looking towards previous race venue. This gives us a good insight into where we can get some dirt under our tires. For road rides we use a road atlas to find our routes from wherever we may be stationed for the moment. Bike routes across Europe are in general abundant and well signed or otherwise marked; most offer what we need without a second thought.
Some of our most memorable road rides have taken place on the routes used in professional road races, There are no shortage of these routes in seemingly every country. In fact, they seem to pass through most every town. You can pretty much just follow the painted arrows to get in a good ride on these routes and for some extra training motivation compare your time up the Alpe d'Huez.
A good GPS is also really handy. In the case of absolute emergency or bad weather we put out the awning on the RV and hit the stationary trainer.
Stretching out the kinks presents other problems that we constantly battle with. Campground yoga is workable, though we tend to attract a bit more attention than we would like when breaking out a downward dog on the picnic table. Stretching in the RV can be frustrating and is reserved for bad weather conditions. In all it has been a good life lesson. We are learning to care less about what others think of us and instead focusing more on doing what we need to do to for ourselves.
Singletrack.com: Would you undertake a World Cup campaign any other way? What are the pros and cons of being an Army of Two?
MM: Mike and I have a World Cup attack that has pretty much developed itself out of us both being two strong-minded people accustomed to doing things ourselves. The mantra "if you want things done right, you need to do it yourself" runs deep within us. If the budget were unlimited we would certainly approach things in a different manner, but in the meantime we feel like we are making the best possible use of our situation.
Looking back on what Mike and I have accomplished — managing and  running all aspects of our team while both racing internationally on the  pro level for eight-plus years — is really something that we feel a lot of pride in having been able to pull off. We are open to there being other ways to get it done and, just as our program evolved, it continues to do so. We are just happy to have had so many fantastic experiences together and to share with the great friends we have made along the way.
Needing to ask for help along the way has proven to be one of greatest pros to our style of attack. Asking friends, family, other teams or, in some cases, complete strangers to help us in the tech pit/feed zone on race day has opened us up to meeting many people who have gone on to become great friends.
The social opportunities within the Tribe of the Bike are without parallel, but if you don't ever reach out, need help or give help you will miss out on a lot of it. On the flip side trusting a stranger or someone who is under-qualified to handle the critical bottle hand/tech zone support at a big race can be far from ideal.
We have learned to flow with it and accept the consequences in the name of doing things our own way. So far so good!