Gould Dominates Sea Otter Cross-Country
SEA OTTER: After winning the short-track race on Saturday at the Sea Otter Classic, Luna's Georgia Gould repeats in the cross-country.
Heading out the door? Read this article on the new Outside+ app available now on iOS devices for members! Download the app.
By Chris Stein
[album id=21 template=extend]
Despite withering attacks from Lene Byberg, Georgia Gould once again won the Sea Otter Classic women's cross-country race, repeating her victory from last year.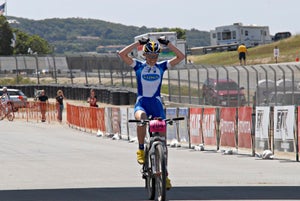 After dropping most of the field early on in the race, Byberg (Specialized Factory Racing) and Gould (Luna Pro Team) stayed in a five-woman group with Catharine Pendrel (Luna Pro Team), Willow Koerber (Subaru-Gary Fisher) and Heather Irmiger (Subaru-Gary Fisher).
When Byberg attacked midway through the last lap of the three-mile course, Gould counterattacked, eventually passing Byerberg and beating her to the line by only seconds.
"[Byberg] attacked earlier than I expected, but I caught her on the climb and knew I could close her on the downhill," said Gould, who also won the short-track race on Saturday.
Worried about the race finishing with a field sprint, Byberg said she attacked in hopes to breaking the lead group apart.
"On the last lap I had to make a choice," Byberg said. "I'm not a good sprinter, so I attacked."
Pendrel and Koeber were dropped by Byberg's acceleration, but worked together for the remainder of the race, before sprinting to the finish in third and fourth place, respectively.
"When [Gould] was able to get on Lene, [Koerber] and I pushed each other, and then sprinted, mano a mano," Prendel said.
Just off the back of the main group was Emily Batty (Trek World Racing), who dropped Katerina Nash (Luna Pro Team) after the first lap, then rode by herself to sixth place.
"It was Nash and me for the first lap and a half," Batty said. "Then I pulled away and it was a bit of a time trial."
Sea Otter was the second event of the season for USA Cycling's Pro Cross-Country Tour. Teammates Byberg and Todd Wells won their respective fields. Up next is the Mellow Johnny's Classic outside Austin, Texas over Memorial Day Weekend.