Gwin Wins Again; Leads World Cup DH
The fastest downhill riders on the planet took on each other and muddy conditions at the third World Cup gravity event over the weekend in Leogang, Austria. But during Sunday's finals the top riders proved that the weather didn't matter in the end, as the top-seeded qualifiers…
Heading out the door? Read this article on the new Outside+ app available now on iOS devices for members! Download the app.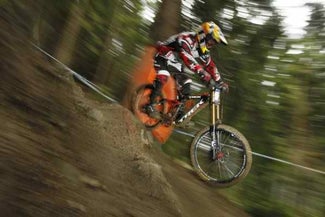 The fastest downhill riders on the planet took on each other and muddy conditions at the third World Cup gravity event over the weekend in Leogang, Austria.
But during Sunday's finals the top riders proved that the weather didn't matter in the end, as the top-seeded qualifiers in both the men's and women's competition went on to win the final. Floriane Pugin (Scott 11) took the first World Cup win of her career in the women's race, while American Aaron Gwin (Trek World Racing) regained the lead in the men's series after taking his second win in three events.
After suffering a last minute crash in Fort William one week ago, Gwin proved that he is still the man to beat in the downhill season of 2011, with a convincing win in tricky conditions. Gwin's win means that he, like his team mate Tracy Moseley, will be carrying the World Cup leader's jersey across the Atlantic for round 4 in Mont-Sainte-Anne, Canada, in two weeks.
By the time the elite of the elite men were on their final runs, the course in Leogang saw large holes and ruts opening up. The first sector of the track was slippery and would normally demand mud tires, but the rolling speed of the remaining two sectors meant that for the men, dry tires were a better bet.
Second place Gee Atherton (Commencal), who rode just before Gwin — who started last as the fastest qualifier — ran mud tires and was 3 seconds up after the first interval on eventual third-place Greg Minnaar (Santa Cruz Syndicate). That looked impressive, but Gwin came down on dry tires, and was 1.7secs faster than Atherton.
Gwin crossed the line more than 2 seconds over Atherton, and nearly 6 seconds over Minnaar.
"It feels great to get that monkey off my back after last week's crash," Gwin said. "I knew I had it in me, I just had to put it together. My run went good until it almost fell apart at the bottom … I blew my feet out of the pedals and rode the last minute of the track without being clipped in, but managed to hold it together. The bike was working awesome, everything just sort of clicked. I'm just happy it all came together."
Women's Race
With her victory, the young French rider Pugin stopped World Cup leader Tracy Moseley's (Trek World Racing) winning streak at two: the British rider managed third. Rachel Atherton (Commençal) took second behind Pugin. Moseley still leads the World Cup standings with 660 points, followed by Pugin at 570 and Atherton — who missed the first round — at 410.
The only American woman contesting the event, Jill Kintner, finished in 18th after qualifying fourth.
"It is hard to take in," a breathless Pugin said after her run. "I'm so happy. It was so hard in the pedalling section because [the ground] was getting sticky and it was hard to carry speed through there, but I gave it my all. To win a World Cup was my main goal for this year, and now it is done."
MEN'S BRIEF RESULTS

1 GWIN Aaron USA19871224 TREK WORLD RACING 3:44.181
2 ATHERTON Gee GBR19850226 COMMENCAL +02.113
3 MINNAAR Greg RSA19811113 SANTA CRUZ SYNDICATE +05.721
4 SMITH Steve CAN19891125 DEVINCI GLOBAL RACING +07.942
5 HILL Samuel AUS19850721 MONSTER ENERGY / SPECIALIZED / MAD CATZ +09.225
6 HART Danny GBR19910920 GIANT FACTORY OFF-ROAD TEAM +09.253
7 GRACIA Cédric FRA19780323 CG RACING BRIGADE +09.357
8 LEOV Justin NZL19841020 TREK WORLD RACING +09.984
9 BLENKINSOP Samuel NZL19881028 LAPIERRE INTERNATIONAL +10.163
10 MACDONALD Brook NZL19911125 MS EVIL RACING +10.615
12 PEAT Steve GBR19740617 SANTA CRUZ SYNDICATE +13.445
14 STROBEL Luke USA19860624 MS EVIL RACING +13.720
32 MULALLY Neko ° USA19930219 TREK WORLD RACING +17.608
50 ROPELATO Mitch USA19920303 +22.607
57 KEENE Curtis USA19791121 +25.962
63 TENNANT Dean CAN19880928 +29.704
65 RIFFLE Duncan USA19861029 GIANT FACTORY OFF-ROAD TEAM +30.151
77 GAUVIN Remi CAN19920616 +58.742
WOMEN'S BRIEF RESULTS

1 PUGIN Floriane FRA19890417 SCOTT 11 4:29.427
2 ATHERTON Rachel GBR19871206 COMMENCAL +02.583
3 MOSELEY Tracy GBR19790412 TREK WORLD RACING +02.692
4 NICOLE Myriam FRA19900208 RIDING ADDICTION COMMENCAL +09.806
5 JONNIER Sabrina FRA19810819 TEAM MAXXIS – ROCKY MOUNTAIN +10.735 6 BERNHARD Petra AUT19801118 ALPINE COMMENCAL AUSTRIA +13.957
7 SIEGENTHALER Emilie SUI19860919 SCOTT 11 +19.477
8 GATTO Micayla CAN19880821 +21.280
9 GROS Céline FRA TEAM MORZINE -AVORIAZ/HAUTE-SAVOIE +23.254
10 CHARRE Morgane FRA19900609 PASSION VELO THIERS STEMTEE +26.108
16 MILLER Miranda CAN19900302 +33.589
18 KINTNER Jill USA19811024 +1:07.357