Hannah Otto triumphs at the Leadville Trail 100
Rose Grant and Haley Smith complete the podium.
Heading out the door? Read this article on the new Outside+ app available now on iOS devices for members! Download the app.
LEADVILLE, Colorado (VN) — Hannah Otto (previously Hannah Finchamp) celebrated a huge career victory on Saturday with a commanding win at the Leadville Trail 100. Otto won the 105-mile race after climbing over 12,000 feet and swapping places with her competitors numerous times.
Otto finished the race in 7:24.12, a full five minutes ahead of Rose Grant at 7:29.41. Grant was the race's previous two-time defending champion.
Rounding out the podium was Haley Smith of Ontario, Canada at 7:41.53.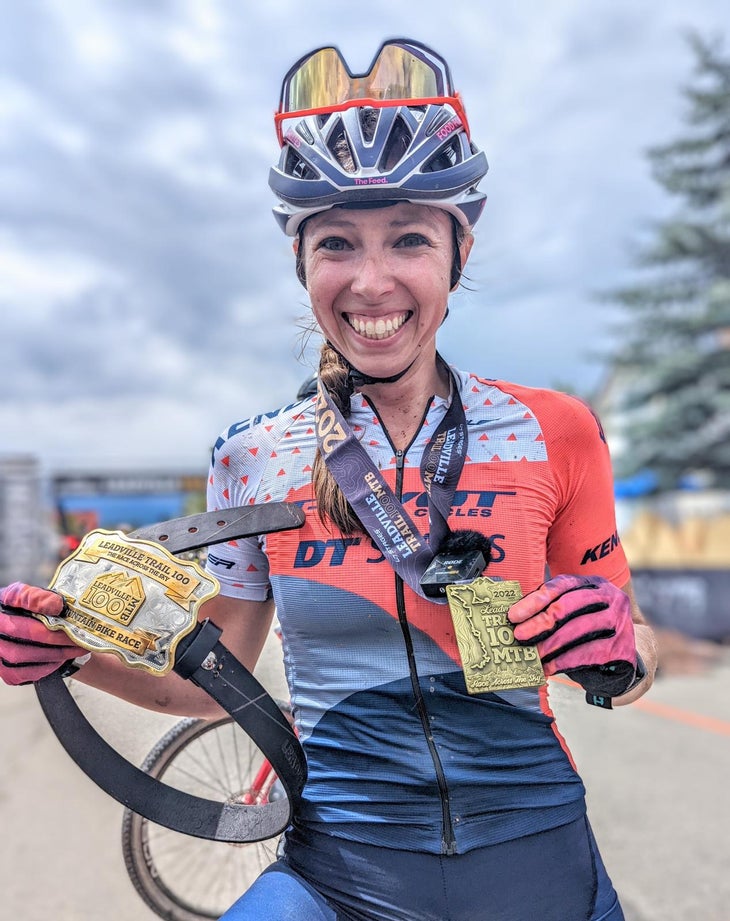 The race started with an attack from US national marathon champ Alexis Skarda, followed closely by Sofia Gomez Villafañe. A group trailed the leaders including Sarah Sturm, Otto, Grant, and Erin Huck.
Otto and Grant both said the highlight of the race was working with so many other women to move up through the race. 
On Columbine, the notoriously decisive climb, the group of four began to close in on Skarda and Gomez Villafañe. 
"I started to catch Alexis on Columbine and she is such an incredible climber," Otto said at the finish. "It really shocked me. That's when I realized I was having a really good day. At that point I started to change my expectations and open myself to the possibility that I could actually win this today.
"I felt so much gratitude for every mile I got to experience on the front, I couldn't even believe I was still in the lead at the finish line." 
Grant's own analysis of the day also included major kudos for Otto. 
"I felt like I rode within and was very conscious of eating and the things I could control, I'm content," she said. "The real highlight of the day was watching Hannah take the win. I am super proud of her, it's so awesome." 
The lead group of women, while mixed in with the men's race, were able to work together and their positions shuffled dramatically throughout the day.
Haley Smith, the third place finisher, had a strong climb up Columbine and reached the top just behind Grant.
"I climbed Columbine really well," she said. "I think I crested in third or fourth — that was the highlight. The rest of the race was super suffery."
Sarah Sturm finished just a minute behind Haley Smith.
"I've never cracked that hard in my life," Smith said. "I think I had five or six minutes at one point and at the end of the race I was just limping home and Sarah had less than a minute on me."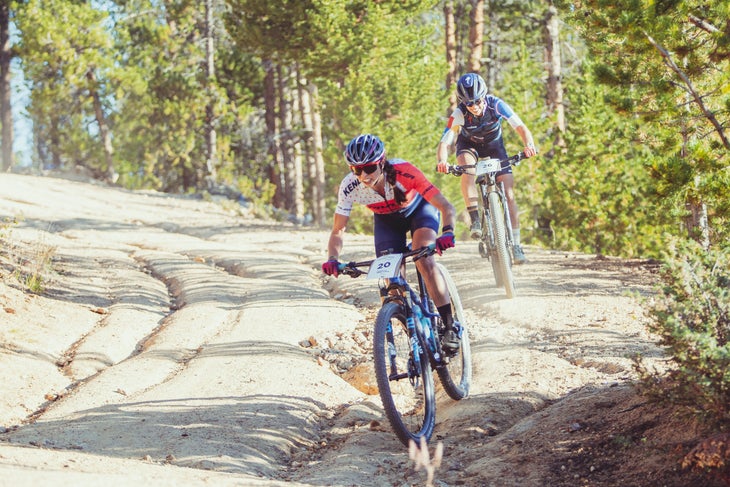 Sturm, a crowd favorite and strong contender for the win, finished in fourth place. Although she wasn't feeling well most of the day, Sturm felt that pushing through was the better of two alternatives. 
"I felt really horrible, but I knew it would feel worse to stop, even though I could have so many times," she said. "I had a wild time out there, there were times when I was riding with Hannah and feeling great, but right at the end I was actually hit by a cow. It came running across the road and I was thrown off my bike. I suddenly just saw a wall of fur next to me. I picked myself up and grabbed my bottles and sunglasses which had been thrown.
"I'm really grateful it didn't trample my bike or my body. I know this is weird but I honestly think it was helpful because I had a huge rush of adrenaline. It was ridiculous! That damn cow! I was body slammed! I'm not even a meat eater but I am going to eat a hamburger tonight."
Skarda, who led the beginning of the race, finished in fifth, followed by Erin Huck, a mountain bike legend who is just five months postpartum. Ellen Campbell was seventh in her first ever Leadville 100. 
Rounding out the top ten were Paige Onweller, Kristen Legan, and Melisa Rollins. 
Sofia Gomez Villafañe, who was leading the Life Time Grand Prix series going into the race did not finish after starting to feel bad after the Twin Lakes feed zone. As she was climbing up Columbine, she spotted her teammate Russell Finsterwald running down with a busted wheel. She gave her wheel to Finsterwald who went on to finish ninth in the men's race.
Full results here
1 Hannah Otto (USA) 7:24:07
2 Rose Grant (USA) 7:29:37
3 Haley Smith (CAN) 7:41:53
4 Sarah Sturm (USA) 7:42:54
5 Alexis Skarda (USA) 7:45:38
6 Ellen Campbell (USA) 7:48:12
7 Paige Onweller (USA) 7:49:13
8 Kristen Legan (USA) 7:51:16
9 Melisa Rollins (USA) 7:52:20
10 Crystal Anthony (USA) 7:55:18