Iceman Shaping Up as a Drag Race
Men's pro field looks to be fast in Michigan on Saturday. Chilly day too.
Heading out the door? Read this article on the new Outside+ app available now on iOS devices for members! Download the app.
Check out photos from last year's Iceman Cometh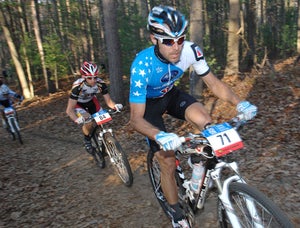 Even though it takes place at the tail-end of what could be considered mountain biking season — and in Michigan in November, no less — the elite field for the 21st edition of the Iceman Cometh Challenge is stacked with top-flight North American pros.
And it looks as though teams will be the name of the game in Traverse City on Nov. 6. Jeremy Horgan-Kobelski is back to defend his title. He's got his Subaru-Trek wingmen Sam Schultz and Russell Finsterwald to set a high pace and cover dangerous moves.
But going back-to-back won't be an easy task for JHK as the BISSELL Pro Cycling (road) Team has sent an entire squadron of test pilots, including Ben and Andy Jacques-Maynes, to bring the Ice Trophy back to Michigan.
Tour de France and Giro d'Italia competitor Brenk Bookwalter, Traverse City's Larry Warabasse, and Cole House from the BMC Team are all set to throw down in what could be borderline freezing cold conditions. Unlike 2009, when the Iceman was contested under California-like balmy weather, this year's race will more closely resemble its name.
Along with slushy weather this past week, the National Weather Service is forecasting snow showers before 8 a.m. on race morning, then a chance for flurries before ending. High temperatures will top out near 45 degrees on the rolling, wooded course.
Meanwhile, Team Kenda's ambition is clear since they're represented by Colin Cares and Andy Schultz.
Flying solo, but nonetheless dangerous, are Specialized's Todd Wells, Cannondale's Jeremiah Bishop (2008 champion), Gear Grinder's Brian Matter (2004 & 2007 Champion), and Trek 29er Crew's Michael Simonson (2006 Champion). All these pros know how to mix it up and will all be looking for a dog fight to separate themselves from the field.
Pro Women's Field
2008 Iceman Champion Amanda Carey will be flying the Team Kenda colors along with teammate Judy Freeman as Carey hopes to stand on the top tier of the 2010 podium. Heather Irmiger from Subaru-Trek squad and Susan Stephens out of Ontario and the Bells Beer Team will both be looking to step up a rung higher and displace Carey. Given the size and quality of the ladies' field, anything can happen and it probably will.
The Rest of the Field
Along with top North American pros and the unpredictable weather, what makes the Iceman unique is that nearly 4,000 racers will take on the 27-mile, point-to-point course.
In 2009, 30 start waves were needed to get the field going, with the first riders finishing as the final waves were starting.
To address the course traffic issue, race organizers have made changes to the 2010 race categories and wave starts. The 2010 race categories will no longer be based on ability and age. They will be based solely on age because organizers discovered that approximately 25 percent of riders were "riding-up" an ability level compared to where they really should have been racing. Additionally, the 2010 waves will be based on the time the rider posted in the 2009 race. New Iceman riders without a previous time will start towards the end of the waves.