It's Stander in a Sprint at Sea Otter
SEA OTTER: Reigning U-23 world champ Burry Stander out-kicks Geoff Kabush for the win at the Sea Otter Classic cross-country race.
Heading out the door? Read this article on the new Outside+ app available now on iOS devices for members! Download the app.
[album id=22 template=extend]
With Specialized Factory Racing controlling what was half road race and half mountain bike race, Burry Stander won a sprint finish at the Sea Otter Classic cross-country event on Sunday.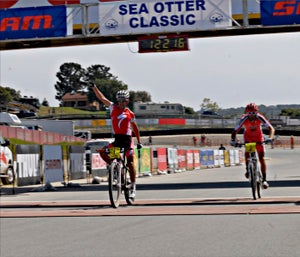 Stander out-kicked Geoff Kabush (Team Maxxis-Rocky Mountain) in a three-man sprint finish on the Laguna Seca racetrack. Stander's Specialized teammate Todd Wells finished third.
The race was five laps on a 3.2 mile circuit, with about half of each lap running on the asphalt racetrack before turning up into the hills above Laguna Seca. With 125 riders starting the event, the first lap on the track was raced in a colorful peloton, which meant road-racing tactics ensued.
The Specialized team of Stander, Wells and Christoph Sauser, who finished fourth, hammered at the front of the group. That left Kabush alone to cover attacks by Specialized's heavy hitters, sit in or throw a few jabs of his own.
"I was trying to keep it in control on the road," Kabush said. "On selective parts of the road I hit it a few times to soften them up."
Early on Kabush worked with some of the Cannondale Factory Racing team, but by and large he was a one-man band. CFR rider and former cross-country world champ Roel Paullison managed sixth place despite stomach pains.
"It would have been nice to have another non-Specialized guy up there to cover the attacks," Kabush said.
Stander, the current U-23 world champion from South Africa, said he was "psyched" to win Sea Otter, his first victory at the 20-year-old event. Sauser won the event last year.
But even with his team driving things, Stander said he had a difficult time shaking the Canadian Kabush, which made the finish a sprint to the line.
"It was tough," Stander said. "I just couldn't get a gap on Kabush."
Going into the race, Kabush said that he figured it would be a tight finish.
"My goal was to get to the line in a sprint and I did that," he said. "I felt good. Obviously I wanted to win, but it was a good race."
Race organizers switched up the course so that it would be more spectator friendly. In previous years laps were longer and sent riders further away from the Sea Otter expo area. The change was part of an effort to shorten all the Pro Cross-Country Tour tracks to 15 to 22 minute laps so races appeal more to spectators.
How that went over with racers was a mixed-bag. Wells said he felt the course was short and that a sixth lap should have been added. Stander said it lacked big hills.
"I prefer longer and steeper climbs," he said.