Julien&Nino: Change of the XC Guard?
Julien Absalon is the torch-bearer for a generation of racers. Is he ready to pass the flame to Nino Schurter?
Heading out the door? Read this article on the new Outside+ app available now on iOS devices for members! Download the app.
Considering their differing ages and accomplishments it would be easy to characterize a story about the two best cross-country racers in the world as one of "passing of the torch" or "changing of the guard."
Yes, 2010 was the first time in many years that Julien Absalon, 30, didn't win the World Cup overall or pull on a rainbow jersey.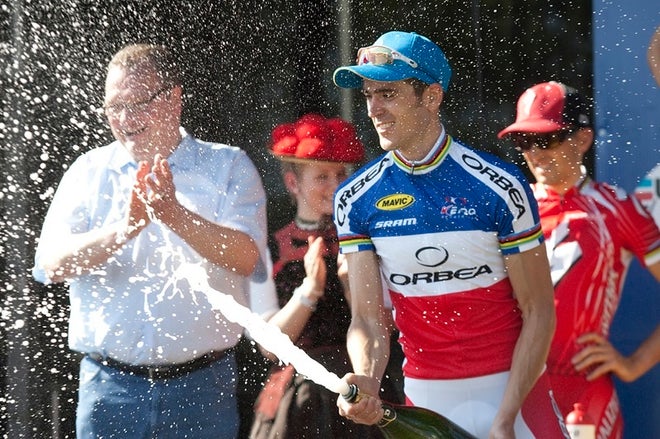 To say 24-year-old Nino Schurter is the new boss is tempting. Going into 2010 it was he who was sporting the coveted rainbow stripes as the 2009 cross-country world champion. By the end of last year's World Cup season he was also the overall leader — ahead of Absalon. Adding to Schurter's bona fides is the bronze medal he brought home to Switzerland from the 2008 Beijing Olympics as an U23 racer.
But the guy who would be doing the supposed passing of the torch in this story is having none of it. Yes, the 2010 season was "difficult," admitted Absalon. After winning the World Cup overall (2003, 2006, 2007, 2008, 2009), the world championships (2004, 2005, 2006, 2007) and Olympic gold (2004 and 2008), the Frenchman was bedeviled by punctures and mechanicals in 2010.
Nonetheless, Absalon won one World Cup race and finished second twice — behind Schurter, of course. Those results would be touted by most riders yet are seen as a loss of prowess for the king of cross-country.
Sprint to the Finish
What helps make the old lion-young lion storyline even more compelling are two epic sprint finishes between the two racers. At the end of the 2009 season at the mountain bike worlds in Canberra, Australia, Schurter earned his rainbow jersey after beating Absalon in a sprint. At the first World Cup race of 2010 in Dalby Forest, England, the scenario played out again.
"He's a really good rider," Absalon said of Schurter. "It's also logic: The young generation arrives and the old generation goes back."
While that sounds as though Absalon is anointing his heir apparent, think again. Ahead are the 2012 Olympics in London and another season set to start April 23-24 in South Africa.
"I'd like to take another rainbow jersey, but also the World Cup," said Absalon. "I want to focus on the world championships. It will be easier in 2011. In 2012 [worlds] will be right after the Olympics."
So, essentially, Absalon gives nothing and wants… everything. First things first: 2011 World Cup/worlds, then he'll set his eyes on a third Olympic gold medal. But guess who else will be eyeing the same hardware?
"London is a really big target for me," Schurter said. "Beijing [2008] I was the youngest rider on the Swiss team; there was not a lot of pressure. Now in London it will be different."
One big difference is his proven track record against Absalon since 2008. Winning has a way of giving one confidence.
"He's the best mountain biker ever," Schurter said of Absalon. "I think now we are on the same level."
Rites of Passage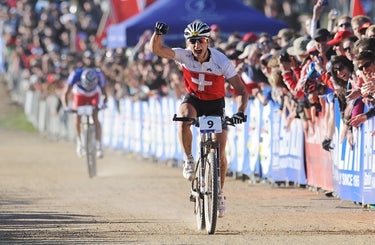 When Absalon won his first Olympic gold Schurter was all of 18 and not long from his home in the Alps. With the likes of Swiss compatriots Thomas Frischknecht, Christoph Sauser and Ralf Naef to learn from Schurter ramped up his mountain biking skills quickly.
"Kids in Switzerland, they have a lot of heroes," Schurter said. "I just started riding because it was fun. Then I started to race and saw Thomas Frischknecht. For me it's one of the most beautiful of sports."
And beauty begets emotion, which for Schurter came early in his racing career. He said standing on the podium in China as a neo-pro tops his world championship victory as well as winning the World Cup overall. While winning the rainbow jersey was actually a "better race" as far as performance and winning the season overall showcased his consistency, "all three victories were different," he said. "All are beautiful."
"The most emotional was the Olympic games in Beijing," Schurter recalled. "Everything was new to me — the media, all the things around the Olympic games. It was really an emotional moment for me."
For his part Absalon doesn't even mention the one emotional moment of 2010 that, stated or not, had to have impacted his season — the birth of his first child. And it wasn't like his son arrived in the lull of the off-season. No, he arrived in July, smack dab in the middle of the racing season.
Despite that life-changing event, Absalon said his aim was to hammer the early pre-baby races and then deal with the post-baby details, like lack of sleep, when they actually arrived. And he did just that, winning the Offenburg, Germany World Cup race in May. His son was born two months later.
Still, it would be easy to lay Absalon's un-Absalonian season at the feet of an infant. On the contrary, the new dad said he has fresh inspiration, which should make his rivals even more wary.
"After July it was a little more difficult; a little less sleep," Absalon conceded. "But for your head it gives you more energy and more motivation."
Schurter, meanwhile, has surely stoked the torch, but don't look for Absalon to pass it along before London, 2012.