Kate Courtney's cheerful pursuit of greatness
At 22, mountain biker Kate Courtney is already on a trajectory toward world titles and Olympic medals.
Heading out the door? Read this article on the new Outside+ app available now on iOS devices for members! Download the app.
Kate Courtney could have been doing her homework or helping her mother with the evening chores. It was a rainy, cold evening in 2012 and Courtney was, instead, on her bicycle, completing an interval workout before the sun went down. Courtney was 16 at the time, a freshman at Branson collegiate prep high school in Marin County, California.
Courtney's father, Tom Courtney, was worried for his daughter's safety and decided to drive out into the storm to find her. He assumed she'd climb into his car and out of the damp weather. When Tom found Kate, a scenario of a completely different nature played out. Kate was not finished with her workout. She was not coming in from the rain — not yet, anyway.
So, father followed daughter through the twilight to light her way with the car's headlights until the ride was done.
"I was just doing my job," Courtney says. "I'm very much known by my family and coaches for always finishing workouts."
The story of a teenager completing her intervals in the rain is just part of the growing legend surrounding Kate Courtney, perhaps the most talented young American cyclist racing today. Spend time on Courtney's social media feeds and you will see videos of her performing strength workouts that defy logic. Follow her results and you will see things that point to otherworldly talent. Oh, and Courtney graduated last year from Stanford with a bachelor's degree in human biology, a major that's heavy on both math and science.
Courtney's current trajectory in cross-country mountain bike racing points toward world championship stripes and, just maybe, Olympic medals. She is just 22 and she owns the 2018 USA national cross-country mountain biking title and is currently ranked No. 13 in the UCI world rankings. She often defeats women a decade or so her senior — an impressive feat within a sport that typically favors riders with experience. And Courtney has been winning at mountain bike racing since she was a child, an oddity for a sport that often recruits riders in their mid-20s.
Courtney's head start could give her an edge at the highest level.
Courtney shrugs off talk about Olympic medals and greatness. She simply wants to challenge herself, and if victories come of it, so be it.
"I think being competitive is an interesting thing," she says. "I'm really competitive against myself in a lot of ways, and that's what has driven that aspect of competition for me. I always want to be at my best."
Ask anyone within Courtney's orbit about the roots of her talent, and you hear a similar story. It's her toughness and her relentless pursuit of perfection. She battles back from crashes and mechanical calamities. She shakes off losses and tries to learn from her mistakes. When others come in, Kate Courtney stays out in the rain.
"She's hardwired that way," says her mother, Maggie Courtney. "She was like that as a kid, just energetic, always needing to be busy, curious. Competitive. She's competitive in a sense that she wants to master something."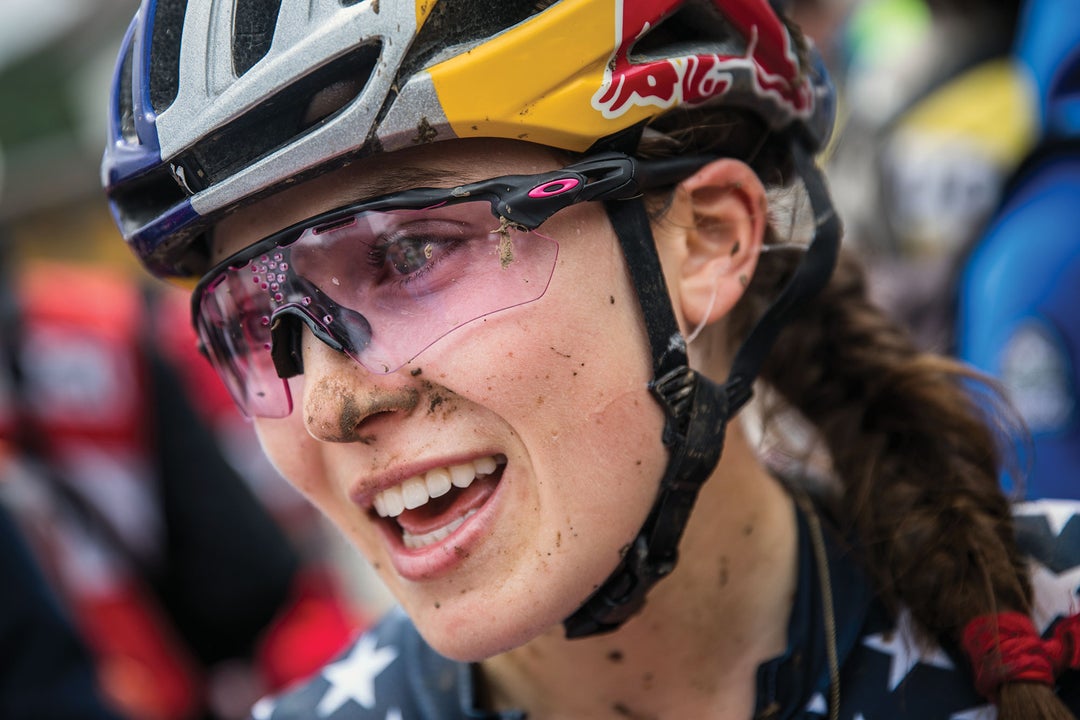 COURTNEY COMES FROM A background unlike previous generations of American mountain bike racers. Her first racing experience was with the National Interscholastic Cycling Association (NICA) as a high school student. She discovered NICA racing during her freshman year of high school after a standout fall season as a cross-country runner. She was just 15.
Maggie Courtney brought Kate to a race at Fort Ord, near Monterey, California. Kate had been riding with her father and sought a spring sport to complement her cross-country running.
Kate accelerated from the gun, dropped her opponents, and won.
"I think she came across the finish line and she just stopped in front of me and said, 'That was the most fun I've ever had. I'm never running again,'" says Maggie Courtney.
Kate joined a development team, called Whole Athlete-Specialized, and participated in regional and national events. She applied her focused, energetic mindset to the training and quickly improved, traveling to NICA races during the school year and other cross-country events in the summer, often with mom in tow.
Maggie Courtney says her daughter soaked up the analytical side of cycling — power numbers and training metrics appealed to her mathematical mind.
"I always joke that Kate was the first kid on the block to have a power meter," Maggie says. By contrast, Courtney's predecessors often discovered mountain bike racing later in life. Alison Dunlap famously took up racing her sophomore year of college after she failed to make the college soccer team. Georgia Gould took up racing in her early 20s. Even Lea Davison picked up the sport in her later teenage years to complement her ski racing. All three got into the sport long before high school mountain biking leagues came into existence. Marc Gullickson, USA Cycling's national mountain bike team director, says that Courtney and the coming generation of pro riders will benefit from having early starts with NICA.
"I give a ton of credit to the NICA program," Gullickson says. "I don't specifically think that type of event is the best prep for World Cup events, but mountain bike events with young riders is a massive improvement over what it was 10 or 20 years ago."
Courtney's early start has historic implications for American cross-country mountain bike racing. The country that invented mountain biking has struggled on the international circuit over the past 20 years. American women have scored far better results than their male counterparts; Lea Davison, Willow Koerber, and Georgia Gould all won medals at the world championships. Alison Dunlap's world title from 2001 still marks the country's top result from the last two decades.
At the Olympics, American women won two medals: Gould and Susan DeMattei both won bronze.
Courtney is the newest hope to bring the U.S a top result. She steps into a lineage of American female cross-country greats dating back to the sport's halcyon days. Juli Furtado won a world championship in 1990, followed by Ruthie Matthes in 1991.
Courtney owns an advantage that those women never had — she's been racing since she was a teenager.
"If Kate does continue to improve and does land on the Olympic team, it's really hard to say — a couple years is a long way away, but based on her track record and trajectory, I'd like to think she'd be a contender for a medal," Gullickson says.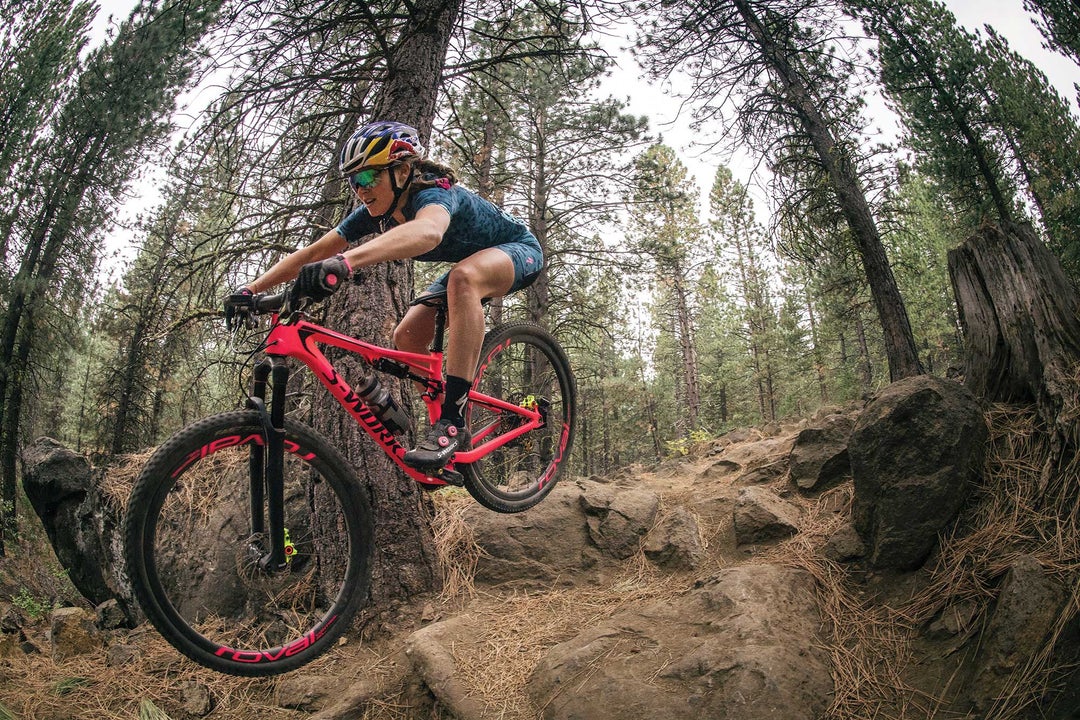 GULLICKSON HAS SPENT THE last decade scrutinizing the country's best up-and-coming mountain bike racers, hoping to find an athlete capable of winning an Olympic medal.
Gullickson finds young riders and sends them to race in Europe, where the sport's pinnacle series, the World Cup, holds most of its rounds.
Often, legs and lungs have little to do with an athlete's success on the World Cup, even in the junior and under-23 ranks. Riders must pedal up impossibly steep hills, and then navigate treacherous descents. The constant focus means an athlete's confidence and attitude can outweigh skill.
"It's kind of daunting to go over there," Gullickson says. "It's pretty cutthroat — all the juniors are sort of posturing, there's not a lot of camaraderie among the countries, in the juniors especially."
Kate Courtney caught Gullickson's attention when she joined the U.S. national junior team in 2012. Courtney was unquestionably talented, and she also soaked up the pressure. Courtney shrugged off the attitudes on the start line. Her first result, 10th at a World Cup in the Czech Republic, was far above expectations.
Tom and Maggie Courtney were also caught by surprise and traveled to Europe to see their daughter race the next World Cup, held in La Bresse, France, a week later.
The race went terribly. While fighting for position at the back of the pack, Courtney was punched by another racer. She then crashed in a rock garden. Her parents watched the carnage from the sidelines.
After the race, Maggie Courtney assured Kate it was okay if she wanted to quit after the disastrous outing.
"I said, 'Kate, you do not have to do this.' And part of me wanted to say, 'Why would you do this?'" Maggie Courtney says. "And she just looked at me and said, 'Nope, I know some of the things I need to do, and I'm doing this.'"
Courtney continued to race World Cups. In June she lined up for the only American round of the series against Canadian rider Frederique Trudel, one of the strongest young riders in the bunch. Courtney dropped Trudel on the first climb and never looked back. Her victory marked the first victory by an American junior woman on the World Cup circuit.
Rather than bask in her glory, Courtney focused on her weaknesses from that debut season on the junior World Cup. In the off-season she got back on her bicycle and trained the areas where she struggled.
"I needed to work on my technical skills; I don't do steep enough climbs," Courtney says. "There's this whole new level of racing that I want to get to eventually."
Courtney was just 16 for that debut season on the World Cup. That early taste of European racing should give Courtney a huge leg up in her pro career, says Lea Davison.
"I wasn't racing internationally until I was 25," Davison says. "Already the international race experience she has was so much more — seasons upon seasons — compared to where I was in my career [at her age]."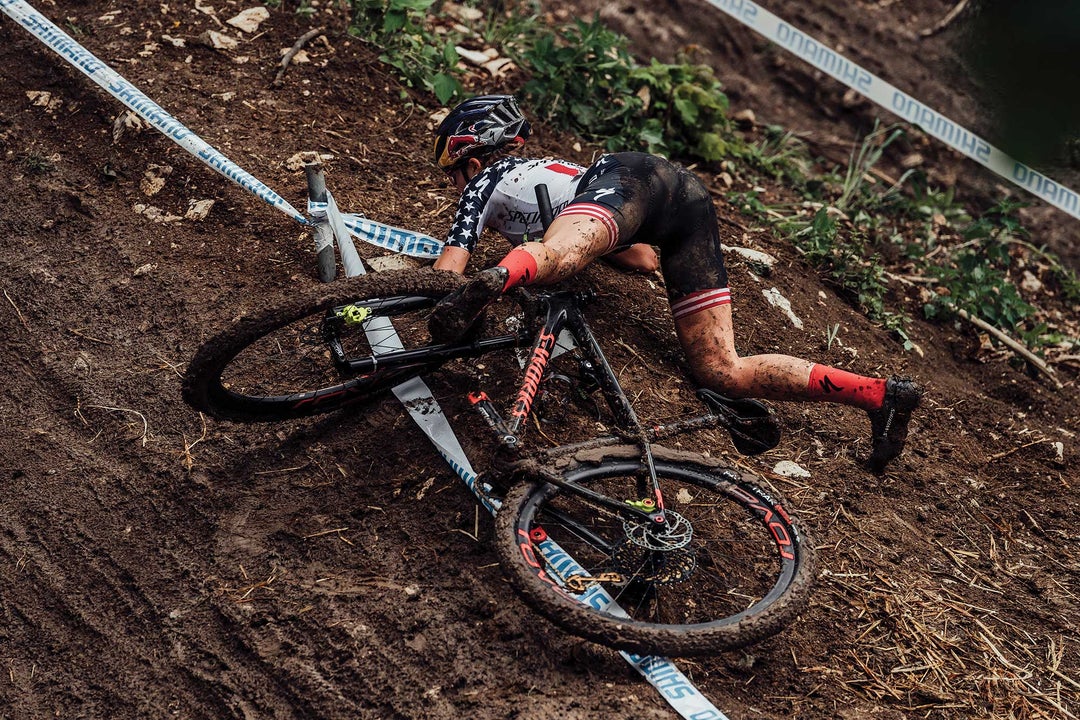 WHAT AMERICAN TEENAGER SPENDS her free time training in the rain, and rewards her success by scrutinizing her weaknesses? Kate Courtney is obviously atypical from her peers. Those who know her best reference her tireless appetite for self-improvement.
Courtney acknowledges her competitive nature. Prior to mountain biking she was a promising high-school runner. During her freshman year she was named "Runner of the Year" by the Marin County Athletic League.
There are nuances to her competitive streak. It isn't a simple win-or-lose situation. Courtney's desire for competition is decidedly academic, a pursuit of her true potential.
"The more I race the more I realize that what matters is putting in an effort I can be proud of, and doing my best no matter what the challenges are on that given day," Courtney says.
The academic approach may spring from Courtney's success in the classroom. Courtney earned top marks in high school and gained admission to Stanford University in 2014.
Rather than pursue a professional racing career, Courtney made academia her primary focus. She studied human biology with a concentration of her own design: global public health and technology innovation.
The academic detour begs the question: What would Kate Courtney do with her life without cycling? Her competitive nature angles her toward law or business. Her dogged work ethic and academic outlook are skills that benefit any profession.
Courtney says she would likely work outside of cycling.
"It might be health technology, or VC [venture capital] was kind of what I was going for in college," she says. "Health tech investing was what I was studying."
Courtney continued to race through college, however she scheduled her racing around school. She often missed early World Cup rounds in the spring. Did those skipped rounds slow her development? Perhaps. Courtney says her decision to step back has benefitted her career in the long-run.
"I think in a lot of ways it was the perfect thing for the start of my mountain bike career, to hold me back a little bit, and also keep me grounded, make sure I had balance, and make me really want it at the end of the day," she says. "Because I had to strike a balance with studies, and that was really difficult, so it reminded me every day that I really want to do this, I'm choosing to do this, I'm committed to doing this."
Part of Courtney's commitment to cycling has been to seek out mentors in her sport. During her time at Stanford, Courtney created friendships and mentorships with more established professional riders on the circuit.
Courtney joined the Specialized factory racing team in 2013, where she rode alongside Davison. The two became close friends and training partners. Courtney even gifted Davison a mini Bluetooth speaker for her birthday so they could have dance parties in European hotel rooms.
Davison taught Courtney how to navigate the team's chain of command.
"'If you need something, you should communicate with the mechanic,'" Davison told her. "I remember she was just getting the hang of the basics."
More recently, Courtney has surrounded herself with a crew of talented women in the Bay Area — UnitedHealthcare's Katie Hall and Leah Thomas, as well as ex-pro Katheryn Curi.
"That little crew has taken me under their wing a little bit, and we train hard together. It gets pretty gnarly on some climbs, but then we're all friends afterwards, and we have dinners," Courtney says.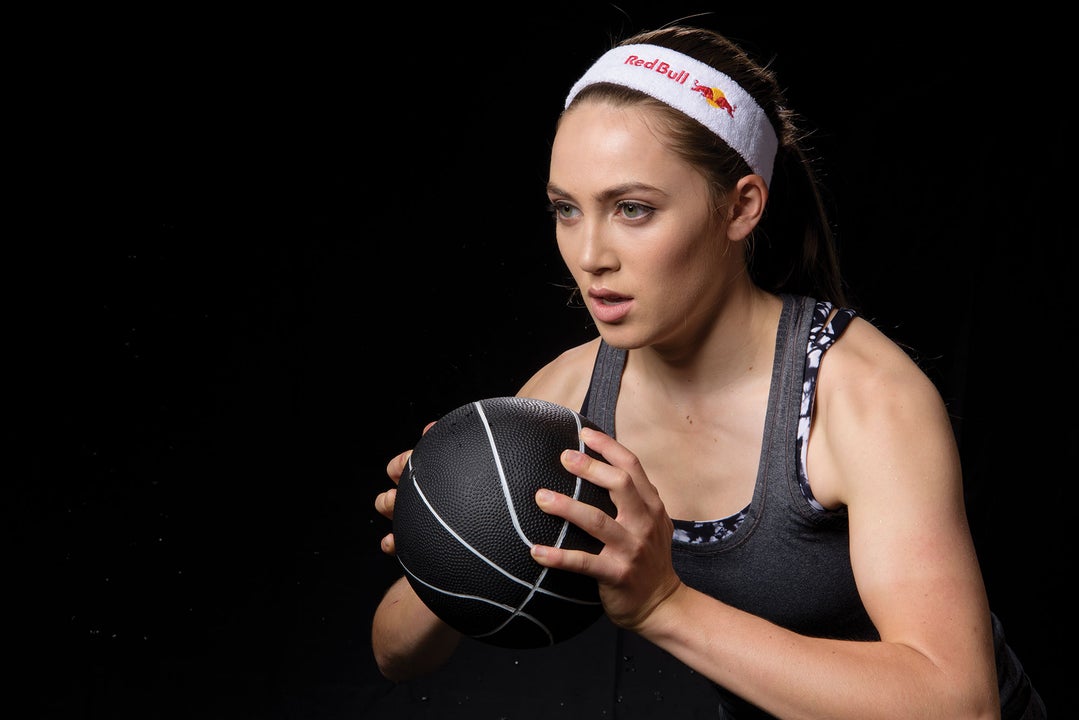 COURTNEY'S SUCCESSES HAVE ALSO sprung from her various failures. Like any professional cyclist, she has endured moments of struggle. During the 2016 UCI world championships, Courtney was a favorite to win the U23 prize. It was held on her favorite course in the Czech Republic. She had taken time off from classes at Stanford to prepare. She was motivated and fit.
And then the rain poured down the night before the race, transforming the track into a slippery, muddy quagmire.
She crashed early in the race and never recovered, ending the race a distant 18th, more than eight minutes behind winner Jenny Rissveds. Courtney took that poor race result as an opportunity to chase improvement, not dwell on negativity.
"Kate was devastated," her mother says. "That was a tough, tough issue to confront."
The following day Courtney called a sports psychologist to discuss the disappointment. The next weekend she finished second at the World Cup in Lenzerheide, Switzerland, just 42 seconds behind the winner.
The incident speaks volumes about her resilience.
"In part with my racing, as I've risen in the levels of mountain biking and faced new pressures, opportunities, and challenges, it's become a more deliberate approach," she says. "I spend a lot more time thinking about the mental side, and finding ways to be a more resilient and strong racer."
In early 2018 Courtney welcomed a new challenge that carried with it the potential for failure. She teamed with Annika Langvad to compete in South Africa's Absa Cape Epic. The eight-day race pushes riders beyond their physical limits with long, punishing stages in the hot African sun. World Cup riders often use it to prepare for the coming season. More than a few racers, however, have pushed themselves too far at the race and suffered from fatigue in the early season.
No American had ever won the race.
The event was well outside of Courtney's comfort zone. Prior to the event, her racing experience was limited to short, punchy cross-country races.
"The only marathon race that I'd ever done before that was Whiskey 50," Courtney says. "Most of the days at the epic were 4.5 to 5.5 hours. I've never raced that distance before, let alone done a stage race."
To prepare for the race Courtney enlisted her coach, Jim Miller, to craft a brutal stage-race simulation. She called the training block the "Kate Epic."
"I was the underdog," Courtney says. "Before this race, people were truly like 'Well, we hope you survive.'"
Not only did Courtney and Langvad win, they dominated, beating the duo of three-time Olympic medalist Sabine Spitz and Robyn De Groot by more than 45 minutes.
"For me personally to be able to take on something that was challenging, or that maybe other people thought wasn't such a good idea for me, was really empowering to be able to prepare for that and trust my team and trust myself."
Like any professional athlete, Courtney thrives in the competitive pressure cooker of major events like Cape Epic or World Cups. What may set her apart, though, is the internal gratification she gets from the training and racing, striving to be her best, approaching challenges with cheerfulness.
"She's super joyful about her life and her pursuits," says Maggie Courtney. "It's about her mastering her craft, and she doesn't have to detract from someone else to continue on her path of achieving her goals."
And that's why Courtney stands a chance at becoming the next American world champion or Olympic medalist. Fun, grit, focus, and curiosity are all part of her approach to being a pro racer. If that means intervals in the rain, bring it on.