Keegan Swenson smashes the Leadville Trail 100
Repeat victory for the US national champion; John Gaston and Howard Grotts round out the podium
Heading out the door? Read this article on the new Outside+ app available now on iOS devices for members! Download the app.
LEADVILLE, Colorado (VN) — In a repeat victory, Keegan Swenson won the Leadville Trail 100 MTB race, absolutely smashing the second half of the course and finishing 14 minutes up from second place, at 6:00.01.
Rounding out the podium were John Gaston and Howard Grotts in 6:14.31 and 6:15.19 respectively.
Swenson rode away from the group on Columbine climb — the turnaround point for the race.
"I stayed on the gas and was hoping I could make it under six hours, we got close, and considering I was solo all the way back from Columbine I am quite happy with it," Swenson said at the finish.
Related: 10 men to watch at the Leadville Trail 100
The Santa Cruz HTSQD rider also added that he'll return next year with the hopes, again, of breaking the course record of 5:58.35.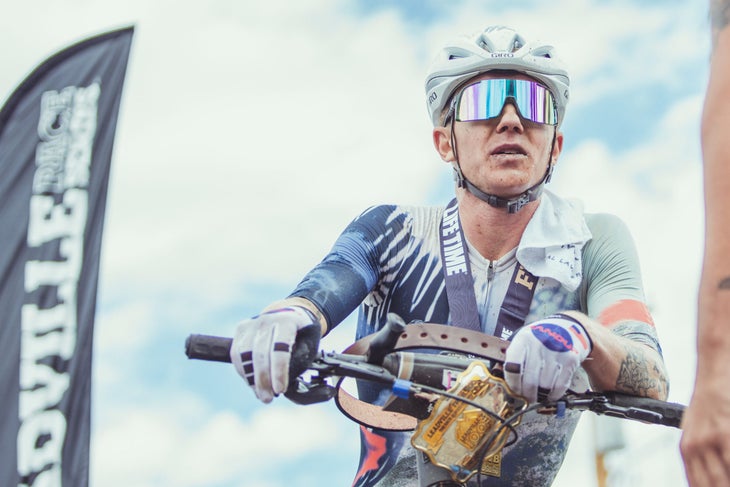 Leadville's format of an out-and-back can create interesting tactics and a look into what is happening at other parts of the race.
"There were about ten of us going into the base of Columbine — on that climb, everyone just has their own pace and there wasn't much attacking going on, we all just did what we could do," Swenson said.
Then, he saw the rest of the race behind him after Columbine and felt confident that there wouldn't be any big groups to chase him down.
"The highlight of the day was coming back down Columbine, people are cheering and I could see friends climbing up," he said. "My girlfriend Sofia was climbing up and that was definitely one of my favorite parts of the day."
Sofia Gomez Villafañe recently won Unbound and currently leads the Life Time Grand Prix series. However, she did not finish the race on Saturday due to illness.
John Gaston, the second place finisher, lives in Aspen and is a professional ski moutaineering "skimo" racer.
"I'm a lot better skier than biker, I almost killed myself on some of the gravel," he said at the finish. "I've raced Leadville most recently in 2019, I had a decent race but I was very much the second group, not the first group. This time around, I decided, I am going to go until I can't anymore.
"I'm over the moon about this finish, this is so far beyond my expectations. I've followed these guys' careers for a decade, from the outside, to be clear, from a skier's perspective."
Gaston was able to be among the pointy end today by moving his way through the group, slowly catching riders throughout the second half of the race.
For third place and three-time Leadville champ Howard Grotts, the goal of the day was to tactically stay ahead of Swenson.
Knowing Swenson's strength, Grotts' plan for the day was to stay with the group if Swenson rode away, hoping to catch him using group tactics. However, Grotts ended up riding solo on Columbine, two minutes behind Swenson and two minutes ahead of the group behind him.
"My strategy was that if Keegan went solo I would stick with the group behind and try to chase back on together — I kind of messed up on Columbine and got lost in no-man's-land out there," Grotts said. "I wasn't going to ride solo — Keegan can pull that off, I can't. From there I just stayed completely within my limits. And John, he's understating, he's so strong and it was really fun to ride with him. He just had more power at the end and took second.
"The highlight of my day was also on Columbine, I was really stoked to see Ellen [Campbell, fellow racer and Grotts' partner]. I was tearing up going down the descent when we passed her. I'm just so stoked for her to do this in a home state. She looked strong and comfortable right behind the leaders — I'm just so happy for her."
Campbell is a burgeoning off-road racer who is part of Sarah Sturm's privateer program. She placed seventh on the day.
Rounding out the top ten were Alexey Vermeulen, Cole Paton, Lachlan Morton, Matthew Beers, Peter Stetina, Russell Finsterwald, and Robert Britton.
On Sunday, Swenson heads west to race SBT GRVL in Steamboat Springs, a 142-mile gravel race with 9,200 feet of climbing. Swenson currently leads the Life Time Grand Prix a six race off-road series. His finish at Leadville 100 has further solidified his lead.
Full results here
1 Keegan Swenson (USA) 6:00:01
2 John Gaston (USA) 6:14:30
3 Howard Grotts (USA) 6:15:18
4 Alexey Vermeulen (USA) 6:16:01
5 Cole Patton (USA) 6:20:14
6 Lachlan Morton (AUS) 6:24:08
7 Matthew Beers (RSA) 6:28:04
8 Peter Stetina (USA) same time
9 Russell Finsterwald (USA) 6:29:27
10 Rob Britton (CAN) 6:30:09