Koerber Dons World Cup Leader's Jersey
After her second-place finish over the weekend in Belgium and her second place last weekend in England, American Willow Koerber leads the 2010 World Cup, making her the first American since Alison Dunlap eight years ago to wear the leader's jersey.
Heading out the door? Read this article on the new Outside+ app available now on iOS devices for members! Download the app.
By Singletrack.com
1. Eva Lechner (ITA) 1:40.30
2. Willow Koerber (Durango, Colo./Subaru-Gary Fisher) +0:05
3. Elisabeth Osl (AUT) +0:36
14. Georgia Gould (Fort Collins, Colo./Luna) +5:54
18. Heather Irmiger (Boulder, Colo./Subaru-Gary Fisher ) +6:48
23. Mary McConneloug (Chilmark, Mass./Kenda-Seven-Notubes) +8:25
31. Pua Sawicki (Yucaipa, Calif./Okolestuff.com) +10:52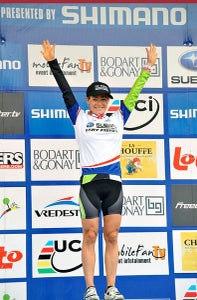 Second-place finishes at the first two World Cup races of 2010 has Willow Koerber leading the series overall after Sunday's event in Houffalize, Belgium, making her the first American since Alison Dunlap eight years ago to claim the World Cup leader's jersey.
Rain made a challenging track famous for its savagely steep climbs even more difficult for Sunday's World Cup cross-country race in Houffalize. Koerber (Subaru-Gary Fisher), who finished second behind Irnia Kalentieva (Topeak-Ergon) at the first World Cup last week in England, trailed winner Eva Lechner (Colnago Arreghini Sudtirol) by five seconds. Overall 2009 World Cup champion Elisabeth Osl (Central Post) finished in third.
Overnight rain Saturday into Sunday made many of the climbs on the cross-country course too slippery to ride and the downhills treacherous.
The women's four lap race (plus a start loop) split up quickly, with Lechner, Koerber, Osl, and defending Houffalize champion Marga Fullana (Massi Team) moving to the front. Lechner fell off the pace mid-race with a flat tire, but quickly rejoined the leaders, and then charged off the front, with only Koerber able to match her pace. On the last lap, Koerber touched wheels with Lechner and had to stop and put her foot down, allowing Lechner to open a gap she held to the finish line. The American came in second, followed by Osl, and then the leading Under-23 rider, Julie Bresset (BH-Suntour).
Like the first World Cup race of the season in England, women on North American-based teams peppered the top-ten at Houffalize. Catharine Pendrel (Luna Pro Team) finished fifth followed by teammate Katerina Nash in ninth. Specialized Factory Racing's Lene Byberg finished in tenth with Luna's Georgia Gould in 14th and Heather Irmiger (Subaru-Gary Fisher) 18th. American long-distance specialist Pua Sawicki crossed the line in 31st.
Reigning World Champ Kalentieva, who won last weekend in England, finished 13th out of a field of 107 women.
Men's Race
1. Jose Antonia Hermida Ramos (ESP) 1:44.19
2. Manuel Fumic (GER) +0:57
3. Wolfram Kurschat (GER) +1:25
26. Todd Wells (Durango, Colo./Specialized) +7:19
38. Sam Schultz (Missoula, Mont../Subaru-Gary Fisher) +8:50
63. Jeremy Horgan-Kobelski (Boulder, Colo./Subaru-Gary Fisher) +11:33
**99. Rob Squire (Sandy, Utah/Garmin-Felt-Holowesko) +15:25
108. Michael Broderick (Chilmark, Mass./Kenda-Seven-No Tubes) +17:15
**120. Tad Elliott (Durango, Colo.) -1 lap
**146. Ethan Gilmour (Ludlow, Vt.) -1 lap
**161. Travis Livermon (Winterville, N.C./Cannondale) -2 laps
**162. Tristan Cowie (Brevard, N.C.) -2 laps
**Denotes USA Cycling National Development Program rider.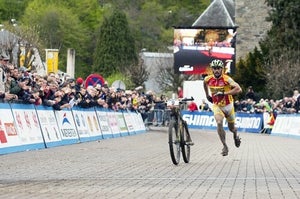 Jose Antonia Hermida Ramos (Multivan Merida) took a come-from-behind victory in the six-lap men's cross-country, and donned the World Cup leader's jersey.
The men's race saw a series of upsets, with eventual fourth-place finisher Jaroslav Kulhavy (Rubena-Birell-Specialized) crashing on the start line, blocking many of the top riders on the left side of the course. Manuel Fumic (Cannondale Factory Racing) wasn't blocked, and he immediately opened a 30 second-plus gap on chasers Julien Absalon (Orbea), Wolfram Kurschat (Topeak-Ergon) and top Under-23 rider Matthias Flückiger (Trek World Racing).
Late in the first lap, however, defending Houffalize champion Absalon suffered a flat and had to run for almost half a lap to the tech zone, dropping into the 30s before he began a chase back to finish seventh.
Meanwhile, Fumic was continuing to hold down the lead lap after lap, as Kurschat and Flückiger couldn't close the gap. It took Hermida, coming back from the mid-teens after having been caught by the start crash, to finally catch the chasers and then Fumic as they started the final lap. After that, it was just a matter of time before the 2007 Houffalize winner was able to pull away from his rival to win the sixth World Cup of his career.
Out of 192 pro men, the top-placed American was Todd Wells (Specialized Factory Racing), who finished in 26th place. Canadian Geoff Kabush (Maxxis-Rocky Mountain) was 34th, American Sam Schultz (Subaru-Gary Fisher) was 38th and his teammate, Jeremy Horgan-Kobelski, crossed at 63rd. Kenda-Seven rider Michael Broderick was 109th followed by Tad Elliott (120th) and Ethan Gilmour (146th).
World Cup racing returns May 23 for the third round at Offenburg, Germany.