Minnaar, Moseley Fly to Fort William Wins
Fort William, Scotland While Fort William celebrated its tenth anniversary of World Cup downhill competition, Tracy Moseley (Trek World Racing) celebrated her fifth victory in seven years at the Scottish venue. On the men's side at round 2 of World Cup gravity racing it was South African…
Heading out the door? Read this article on the new Outside+ app available now on iOS devices for members! Download the app.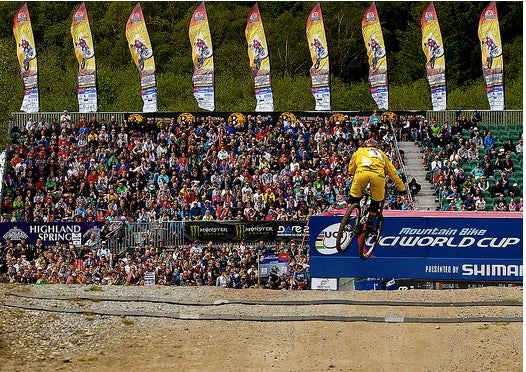 While Fort William celebrated its tenth anniversary of World Cup downhill competition, Tracy Moseley (Trek World Racing) celebrated her fifth victory in seven years at the Scottish venue.
On the men's side at round 2 of World Cup gravity racing it was South African Greg Minnaar (Santa Cruz Syndicate) returning to form from the last two seasons.
Rachel Atherton (Commencal) made it a one-two British day for the women, with France taking the rest of the top-five spots. DH world champ Moseley's second consecutive win gives her a significant 170 point lead over second ranked Floriane Pugin (Scott 11) in the overall rankings.
"It's pretty amazing. To come here as world champion is pretty special, but to come here as World Champion and manage to win, it's just awesome," said Moseley. "The crowd is amazing, which makes it such a pleasure to ride and to push harder and harder."
Men's Race
While Minnaar took the win in round two for the men, it was the young riders who finished second and third — Danny Hart (Giant) and Brook MacDonald (MS Evil Racing) — who were the real story of the day, signalling the arrival of the next generation of downhillers.
Minnaar's win, coupled with round-one winner Aaron Gwin's (Trek World Racing) fifth place, put the South African into the leader's jersey for the overall standings.
Starting 48th (out of 81), MacDonald absolutely nailed the pedalling bottom half of the course, to finish a staggering 5.643 seconds ahead of the next best rider at the time. The young New Zealand rider, who won't turn 20 until November, was the Juniors World Champion in 2009, but this ride put him in a whole new league.
As rider after rider came down, none could surpass his time. It wasn't until Minnaar, a two-time winner at Fort William, and fourth from last to start, came down that MacDonald was finally dislodged from the lead. The South African, a prodigy himself when he won his world title in 2003, was eighth fastest at the top split, and continued to improve as the course went on, to knock nearly two seconds off MacDonald's incredible run.
Hart, starting just after Minnaar and only a month older than MacDonald, pushed the Kiwi down to third by 0.65 seconds. The final two starters — Gee Atherton (Commencal) and World Cup leader Gwin — slotted in to fourth and fifth respectively after their runs.
"It was tough today," admitted Minnaar. "I was really nervous. I didn't think I had it today. In yesterday's qualifying, I was behind, and I wasn't sure I could find the time. [Brook] MacDonald had a great ride, but I'm stoked to be on top … it's just an awesome day. I'm speechless."
BRITISH CYCLING SLIDESHOW
ROUND 2 WORLD CUP DH: FORT WILLIAM
Men's Brief Results
1 MINNAAR Greg RSA19811113 SANTA CRUZ SYNDICATE 4:43.854
2 HART Danny GBR19910920 GIANT FACTORY OFF-ROAD TEAM +01.299
3 MACDONALD Brook NZL19911125 MS EVIL RACING +01.934
4 ATHERTON Gee GBR19850226 COMMENCAL +03.004
5 GWIN Aaron USA19871224 TREK WORLD RACING +03.193
6 COLE Cameron NZL19880203 LAPIERRE INTERNATIONAL +03.748
7 BLENKINSOP Samuel NZL19881028 LAPIERRE INTERNATIONAL +04.269
8 LEOV Justin NZL19841020 TREK WORLD RACING +04.331
9 HILL Samuel AUS19850721 MONSTER ENERGY / SPECIALIZED / MAD CATZ +04.579
10 SMITH Steve CAN19891125 DEVINCI GLOBAL RACING +05.823
11 PEAT Steve GBR19740617 SANTA CRUZ SYNDICATE +06.481
15 STROBEL Luke USA19860624 MS EVIL RACING +07.694
24 RIFFLE Duncan USA19861029 GIANT FACTORY OFF-ROAD TEAM +10.212
47 ROPELATO Mitch USA19920303 +15.416
63 KEENE Curtis USA19791121 +20.575
71 MULALLY Neko ° USA19930219 TREK WORLD RACING +27.485
Women's Brief Results
1 MOSELEY Tracy GBR19790412 TREK WORLD RACING 5:21.898
2 ATHERTON Rachel GBR19871206 COMMENCAL +01.721
3 PUGIN Floriane FRA19890417 SCOTT 11 +07.530
4 NICOLE Myriam FRA19900208 RIDING ADDICTION COMMENCAL +08.251
5 JONNIER Sabrina FRA19810819 TEAM MAXXIS – ROCKY MOUNTAIN +10.072 6 KINTNER Jill USA19811024 +15.010
7 RAGOT Emmeline FRA19860527 TEAM GR +16.698
8 CARPENTER Manon ° GBR19930311 MADISON SARACEN +18.989
9 GRIFFITHS Fionn GBR19820827 TEAM GR +21.690
10 SIEGENTHALER Emilie SUI19860919 SCOTT 11 +22.282
13 GATTO Micayla CAN19880821 +27.015
17 HARMONY Jacqueline USA19780307 +40.874
20 MILLER Miranda CAN19900302 +2:15.615