New Stuff: Honey Stinger Stinger Waffle
If the sound of a honey sandwich made with sweetened wafers sounds good, you'll most likely enjoy a new product from the Honey Stinger crew.
Heading out the door? Read this article on the new Outside+ app available now on iOS devices for members! Download the app.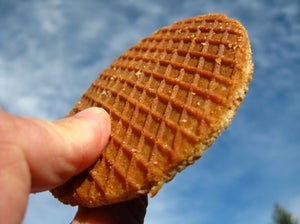 I love waffles, especially big, fluffy Belgian waffles that are perfectly and ever so lightly crusted on the outside and covered in a heap of chocolaty, syrupy, fruity, whipped-cream-topped goodness.
So, when anyone mentions "waffles" that's what comes to mind, even if it's the Honey Stinger guys talking about their new ride-friendly Stinger Waffle. After marketing mastermind Mike Mac handed me one of their newest creations modeled after the European Stroopwafel, I was a bit underwhelmed.
But, I'll admit the reality of individually wrapping a true Belgian delicacy to withstand the abuse of bouncing around in a hydration pack, all the while getting twice-baked from the hot summer sun beating down upon it, was setting the bar a bit high.
So, if not topped with whipped cream, then what is the Stinger Waffle? Well, it's more of a Stinger wafer sandwich. Consisting of two thin, dense, flour-based pastry sides pressed together around a Honey Stinger honey filling, the trailside treat weighs in at a mere 30-grams, but packs 160-calories, 21-grams of carbs, 7 grams of fat and 55-miligrams of sodium.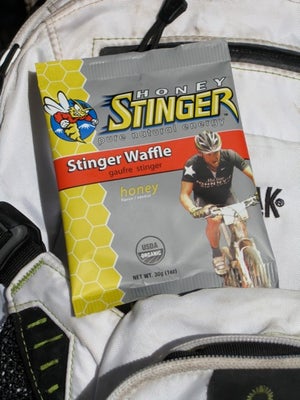 Taste-wise, if the sound of a honey sandwich made with sweetened wafers sounds good, you'll most likely enjoy these. Personally, I thought they were quite tasty, a touch on the sweet side, and had a predominant honey flavor.
The individually wrapped Stinger Waffles are about half the weight of most energy bars out there, which may be a good portion for some, but I felt like I burned 160-calories merely getting the package open. That said, my guess is that they'll eventually double up the all-organic product sometime in the near future.
And speaking of wild, uneducated predictions, while the Waffle Stinger is currently only available in "honey" flavor, be on the look out for a few more choices down the trail, too. MSRP is $1.39.