Nue #4: Founders Lumberjack 100
Cheryl Sornsen The Lumberjack 100, race four in the National Ultra Endurance Series, sold out again in 2011 with a packed field of solid competition in every division vying for the coveted "hatchet" award. Fair skies and mild temperatures contributed to record times this year yet just…
Heading out the door? Read this article on the new Outside+ app available now on iOS devices for members! Download the app.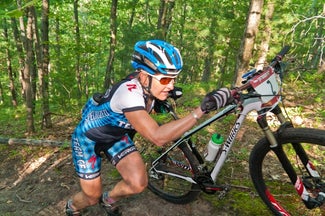 The Lumberjack 100, race four in the National Ultra Endurance Series, sold out again in 2011 with a packed field of solid competition in every division vying for the coveted "hatchet" award. Fair skies and mild temperatures contributed to record times this year yet just one defending champion would claim four straight.
NUE Women's Open
Held in Michigan's Manistee National Forest and the Big-M Ski Area, defending NUE Champion, Amanda Carey (Kenda-Felt) captured her third win of the series this year in what could be shaping  up to be her second straight NUE title. Although it's still early in the season, the question remains, who will step up to challenge the defending champion with seven races remaining? Carey finished the race in 7:40:38.
2009 NUE Champion, Cheryl Sornsen (Team CF) finished third at 8:04:46.
"It was a fast running course today and I felt wonderful going into it," Sornsen said. "I was riding with NUE Champion, Amanda Carey, and we did a really fast first lap, I was psyched because I had been tired lately. This was my third big event in a row."
Karen Potter (Mtbracenews.Com/irideadventures) from Shrewsbury, Massachusetts went on to capture second place, 7:57:30.
Danielle Musto (Salsa/Twin Six/Kenda) finished second in the Women's single speed division, 8:22:22, a top-ten finish when combined with the Women's Open in the NUE Series.
NUE Men's Open
Christian Tanguy (Team CF) racked up his third win of the season at the Lumberjack 100, taking the top podium spot by finishing in a fast 6:30:25.
"I had a twenty niner and it was right on for this course," Tanguy said. "I remember from previous years that it's quite bumpy, although there is not too many rocks or roots."
Tanguy said he felt like he had good legs on the day and could engage with the other racers on the strenuous climbs.
"It was like I had a little more today than everybody else," he said. "This course has a really good mix of singletrack and dirt roads where we can reposition ourselves until the next stretch of singletrack so I think this is a good set up. Full suspension was really the better bike on this course. After several second places, I really wanted the hatchet"
Three-time reigning champion, Jeff Schalk (Trek) of Frederick, Maryland said he felt good until the first big attacks.
"Christian, a little bit into the second lap, put in a really big attack and started drillin' the front and instantly I knew I was in trouble," Schalk said. "It was a matter of just hanging on for as long as I could."
Schalk, who took second in 6:40:03, has raced the Lumberjack four times.
"This was a really stacked field. I was amazed," he said. "We had about 15 people together after one full lap, which is unprecedented."
Michael Simonson (RBS Trek MTB Team) finished third, 6:40:12,
Singlespeed Open
Gerry Pflug (Salsa/pro Bikes) of Mt. Pleasant, Pennsylvania, made it four straight wins this year, albeit a close one, at the Lumberjack 100.
"The competition at this race was stiffer than it has been at any of the races this year so far," Pflug said. "There was four singlespeeders and we were all in the front pack with Jeff Schalk and Christian Tanguy. I hit a stump on the side of the trail, just like last year, went over the bars, crashed really hard, messed up my front suspension, so I dropped off from the front pack and just went into recovery mode."
Luckily enough, Pflug was able to grab the wheel of another singlespeeder and ended up catching Jordan Wakely (Einstein Racing).
NUE Masters
NUE Masters Champion and race winner Robert Herriman (Trek 29er Crew/wsc/acfstores.Com) of Royal Oak, Michigan, won the division in 7:25:30.
Roger Masse, Trek 29er Crew, of Bethesda, Maryland, finished second at 7:50:09.