Rainbow Man: Switzerland's Schurter Wins Worlds
Nino Schurter and Swiss teammate Florian Vogel work together to keep Julien Absalon in second place at the mountain bike World Championships in Canberra, Australia. Canada's Geoff Kabush and the USA's Todd Wells finish in top 10. Complete Results
Heading out the door? Read this article on the new Outside+ app available now on iOS devices for members! Download the app.
By Anthony Tan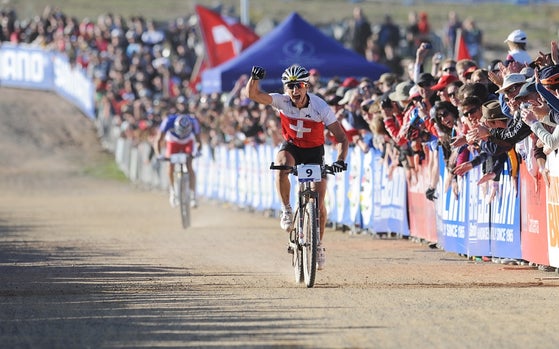 CANBERRA, Australia — Twenty years following the inaugural world mountain bike championships in Durango, Colorado, Switzerland's Nino Schurter upstaged his older archrivals to become the 2009 world cross-country mountain bike champion Saturday in Canberra, Australia.
"It's an amazing feeling for me – the perfect race, the perfect course. I had a great day today," said the 23-year-old Schurter. "After under-23 world champion, [being] elite world champion straight away, it's incredible."
Taking full advantage of the technical, 45.29-kilometer-long course and combining with countryman Florian Vogel, the Swiss pair initiated a masterful tactical display that annulled arguably the day's strongest rider, Julien Absalon. The Frenchman threw everything including the kitchen sink in his bid for victory. But in the end, it was an all-or-nothing attack that saw Schurter victorious.
The North American contingent turned out to be no match for the front four, but weren't too far off, either, as Canada's Geoff Kabush and Team USA's Todd Wells ended the day fifth and eighth, respectively.
Absalon, who finished second, three seconds in arrears, had even predicted Schurter's winning move: "Yes, I was expecting it – but not so strong," said the dual-Olympic (2004, 2008) and four-time world champion (2004-07).
"I was never thinking I could take the win until the last feed zone," said Schurter, who admitted he was feeling slightly intimidated to be in the company of Absalon for the last three laps of the seven-lap event.
"But," he told Singletrack.com, "maybe without Florian [Vogel] I was not able to [attack in the final lap], because we were helping each other a lot. He was breaking [Spain's José Antonio] Hermida behind; he was doing no work when I was leading with Julien. The whole race, I thought, 'I'm just going to stay on his [Absalon's] back wheel and I'll race for silver'. [But] I attacked, I saw I had a small gap of 10 metres, and I flew down to the finish."
The last feed zone was the final time to attack, Absalon said, " Because after that it's only downhill to the finish line. He did a really good attack, and I made a mistake with my chain on the downhill. I lost five metres and it was finished for me."
Just as Schurter let Absalon do the majority of the pace-setting up front, knowing full-well the Frenchman didn't want to see either Vogel or Hermida return to the head of affairs, Vogel's relatively easy ride guaranteed another Swiss spot on the podium. Add reigning world champion Christophe Sauser's tenth place and it was a happy day for the Swiss.
It turned out the only doubt on the final podium spot was not the strength of Vogel's opponent, but rather the strength of his own conviction.
"I realised José had done a lot of work – he really tried to catch up with Nino and Julien and he wasted a lot of energy," Vogel said. "I realized if I got to the [last] downhill in first position, it would be really hard for him to overtake [me]. I knew how to do it and had some luck – he almost crashed on one of the last corners.
"At first I wasn't so sure if I should sprint against him, because he was leading the whole time the last three laps. I felt a little bit sorry, but I was selfish enough to sprint," he said, a wry grin indicating he didn't really feel sorry at all.
Vogels and Hermida finished on the same time, 58 seconds down on Schurter.
Define shrinkage
In fact, it was Vogel who had the better start of the mighty Swiss duo, as a 75-strong field shrunk to just a dozen men after the slightly longer opening lap of 6.47-kilometers, before tackling six 6.2-km laps.
The second lap dwindled the lead group to nine, and by the end of lap three, as Schurter led the race across the line, only a trio were left in his wake: Absalon, Hermida, and Vogel. Kabush was seventh, around 20 seconds behind, moving to fifth a lap later, and it was on this next fourth loop that Absalon and Schurter found themselves without company.
"I had a really good start," said Vogel, "but I realized quite soon I was not as fast in the really technical sections as Nino and Julien. So I just decided to let them go, and rode my own pace. I just wasn't fast enough to stay in the front."
Unchanged, the top five positions remained as such till the end, with Kabush and Todd Wells fifth and eighth, respectively, 2:04 and 3:06 in arrears of race winner Schurter.
Was Absalon the strongest?
"It's difficult to say," said the 29-year-old Frenchman. "Most of the time, after the halfway point [in the race], it's done, but this course with this wind, it became tactical. And the Swiss were the strongest nation. It's not often [like that] in mountain bike, but today it was like this."
Take a bow, Todd Wells
However, it was perhaps the largely unrecognised performance of Wells who enjoyed the ride of the day.
Following a disastrous start, the 33-year-old launched a remarkable comeback, returning from a near-fatal twenty-ninth position by the end of the first lap to finish in the top ten and a career-best finish at the world MTB championships.
"I just had a bad start," Wells said matter-of-factly. "I raced this course last year and it was the first time I ever got on a World Cup podium, so I knew it was a good course for me and I knew it was fast – a very punchy course – so I had perfect training, a lot of motor-pacing before the race.
"The way this course was, it began with a long road section and a headwind, so it wasn't flat-out from the start. The group was surging – the left side would surge, the right side would surge – and it seemed like every time it surged, I was on the wrong side, and I just kept going further and further back. Usually, I'm really good at that type of thing; I'm a big guy, and I can get my elbows out there and hold position and move up."
But, said Wells, he just picked the wrong side every time.
"I would've liked to [have] got a better start and today," he said. "I felt really good, maybe have a shot at a medal, but it just didn't work. But I feel good with how I rode – I was strong. Usually, I always die at the end; today I was able to hang on, so I think that's important. I was happy with it."
With six North Americans in the first fifteen places in the women's cross country, and Kabush and Wells in the men's top ten, does he feel a resurgence of sorts?
"With Willow [Koerber's] ride, I was getting goose-bumps!" said Wells. "So I think the US is coming back. For a while there, mountain biking dipped pretty low. I feel now, with all the drug-testing and everything, the playing field is completely level, and the US riders are coming back."
[imagebrowser id=22]