Rusch rides Ho Chi Minh Trail to find fallen father
In 2015, Rebecca Rusch rode 1,200 miles along the Ho Chi Minh Trail to find where her father's plane crashed during the Vietnam War.
Heading out the door? Read this article on the new Outside+ app available now on iOS devices for members! Download the app.
Forty-three years after his plane was shot down during the Vietnam War, Stephen A. Rusch met his daughter.
She came searching and found him beneath a curious-looking tree in a thick Laotian jungle, far from her Idaho home. She rode her mountain bike over more than a thousand miles of gnarled landscape, across three Southeast Asian countries, to get there. She meticulously assembled a team of people to help her do, and film, it all. She had pondered for years about who this man was, how she could ever find him, if she could ever know him.
Somehow, she found the very spot where he had been waiting all this time. For the first time in her life, she felt her dad. She felt whole. Tears filled her eyes, the crunch of leaves beneath her feet and her gentle sniffles the only perceptible sounds in this jungle.
To understand what it took for that daughter, consummate endurance athlete and mountain biker Rebecca Rusch, to find the very spot where her father was buried, beneath that special tree, would be to believe in destiny. At least that's how Rusch sees it.
"I wouldn't have told you I believed in destiny until … now," Rusch says. "I can look all the way back through my career — it was all leading me there. I was meant to go to that tree and find that spot."
Rusch's emotional and physical journey is documented in the feature-length film "Blood Road," which won the Audience Award at the Sun Valley Film Festival in March and was released online in June. It is screening at festivals and events through the fall.
We go behind the scenes of the making of "Blood Road."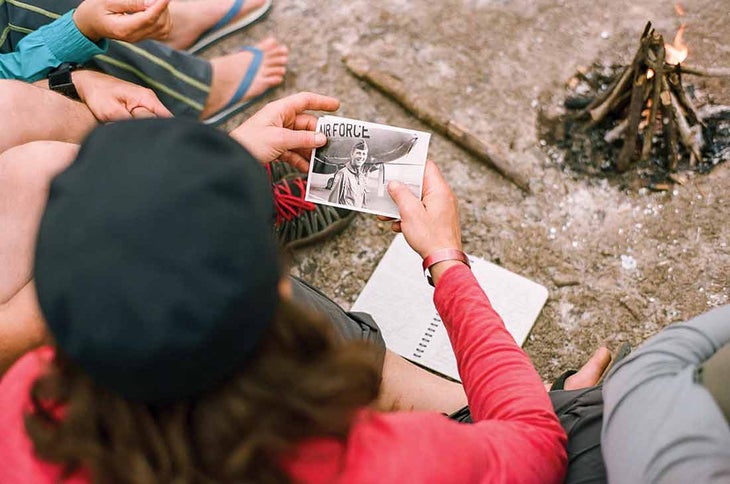 THIS STORY BEGINS ON March 7, 1972. On that day, U.S. Air Force pilot Carter Howell and weapon's systems officer Stephen A. Rusch were flying an early morning mission over Southern Laos in their F-4E Phantom II fighter-bomber, Gunfighter 61.
Below, sprawled across more than 12,000 miles of roads, footpaths, and waterways, was what Americans dubbed the Ho Chi Minh Trail, after the North Vietnamese leader. The Trail was the main supply route constructed and used by the North Vietnamese to move soldiers, equipment, and ammunition during the war. Starting in Hanoi, the main city in the north, it stretched thousands of miles to Saigon (now called Ho Chi Minh City). The U.S. wanted it destroyed and launched a five-year operation of covert bombardment.
According to the account of the crew of Gunfighter 60, which flew beside Rusch's plane that day, it wasn't long before muzzle flashes lit up the jungle and tracer bullets from anti-aircraft guns flashed through the air.
Then came an explosion. Gunfighter 61 dropped, crashing through the thick jungle canopy, gouging the hillside below as it came to rest near the village of Ta Oy. There was radio silence.
Rebecca Rusch was three years old.
For 35 years, Stephen Rusch was considered Missing In Action. And Rebecca lived life not knowing her father, or if he perished. For years she had recurring dreams that one day she'd meet him while he was playing music in a coffee shop; they'd sit down and talk about their lives.
In 2002, Rusch traveled to Vietnam to compete in the Raid Gauloises adventure race. She found herself wondering if the brutal jungle conditions she faced with her teammates were similar to what her father and his fellow soldiers encountered during the Vietnam War.
Later that same trip, she visited Da Nang Air Force Base, where her father had been stationed. Her mother, Judy, accompanied her. She visited the demilitarized zone and Khe Sanh, site of one of the bloodiest battles of the war. There, on what is now a beautiful coffee plantation, Rusch's tour guide pointed out the Ho Chi Minh Trail, across the border in Laos. Knowing that her father was shot down over the trail, Rusch's mind began to turn: "It was a fleeting moment. I took a photo, but I said, 'I want to go there someday,'" she recalls.
She didn't think about it again for many years.
In 2007, a search and recovery mission finally identified her father's remains at the crash site. She received its GPS coordinates. The news confirmed that he had died in the crash that day in 1972. He had never been a prisoner of war. Rusch was relieved to find out he hadn't been tortured or suffered in any way.
The discovery sparked her curiosity yet again. She contemplated planning an expedition. Around this same time, though, adventure racing was quickly drying up, and Rusch made the leap to mountain biking. She immediately began to dominate the sport. She was focused on winning the Leadville Trail 100, Dirty Kanza 200, and setting records. Though she was again inspired, an expedition remained just a thought.
It all changed in 2013. As a Red Bull-sponsored athlete (something she's been for over 15 years), Rusch is asked to pitch the company with ideas for amazing adventures. During a long bike ride, a friend suggested she pitch them the idea to ride the Ho Chi Minh Trail. Suddenly, it all became clear.
Rusch first approached her Red Bull athlete manager, who typically helps with reviewing and planning expedition ideas. Initially, Rusch wanted to do this for the adventure of it, and she needed logistical support.
She was turned down.
It's something she's glad happened in retrospect. If they had accepted the idea when she first pitched it, she believes, neither she nor the production team would have had the skill to take on the journey's challenging logistics. "I'm glad they turned it down, because it made me think about it more, made me want it more," Rusch says.
After further research, and building a better pitch, Red Bull Media House (RBMH) became involved. Eventually, the project made its way to Nicholas Schrunk, the creative director of the RBMH production company. He loved it.
"When I heard that logline for the first time, it gave me goosebumps," says Schrunk, who became the film's director. "In the sports world, there are so many great stories, but a lot of them fall into doing the unknown, or the bigger-faster-stronger type films. This pitch caught me off-guard: something that hadn't been done before, but also had an emotional journey, something that brought in the idea of war, of family, while still being this incredible expedition, on a bike, through the unknown."
In 2014, "Blood Road" was a go. Rusch's attitude about the project, says Schrunk, sealed its fate.
"She came to us saying, 'This is a story I'm willing to tell; I'm willing to open myself up; I'm willing to make myself vulnerable; I'm willing to share this journey because I want and need the support of a lot of people to put this together,'" Schrunk says.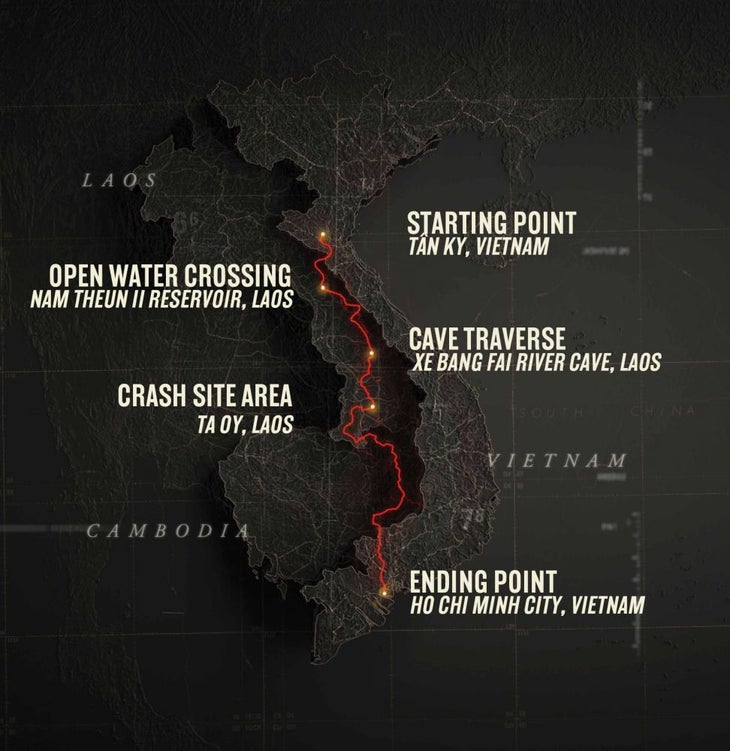 FOR THE NEXT NINE months, Rusch, Schrunk, and the Red Bull Media House team got to work researching how to execute on such a daunting and thrilling plan.
Crucial to that research was finding Don Duvall, an American cartographer, sailor, and adventurer who has made it his life's mission to map the braided network of trails that comprise the Ho Chi Minh Trail.
Duvall began mapping in Laos in 1999, after sailing to Southeast Asia to explore the area. Using Department of Defense maps produced in the late 1960s (the most detailed topographic maps of many of the areas) and his own GPS data — and extreme amounts of time — Duvall has created something that proved crucial to the success of the project.
"Collecting data, organizing it, and making a final product is a monumental task that would normally take a team of people. And has taken me years," Duvall says. The extensive research laid the foundation for deciding what could and couldn't be ridden on mountain bikes, how best to access the crash site while sticking to the most historically accurate route, and choosing a portion that could be completed in a month's time.
The team decided to follow the historical trek from North to South, and begin the route outside of Hanoi in the small town of Tan Ky, where the official start of the trail once was. (A Zero Kilometer monument now marks the spot in the center of town.)
The 1,200-mile route comprised a mix of all types of terrain, from paved roads to remote jungle footpaths where machetes would be needed to break trail. It traveled through Vietnam, Laos, and Cambodia. The crew would end the expedition in Ho Chi Minh City on the grounds of the Independence Palace, which at the time of the war was the official residence of the President of South Vietnam.
Duvall's devotion to mapping the region, as well as his determination to guide the team to the crash site despite breaking his shoulder along the way, was not lost on the team or himself. As he states in the film, it was one of the most important projects he's ever worked on.
"It was a dream come true to have Rebecca and Red Bull Media House do this documentary so the world could see this little-known and very important part of history — how the war changed the lives of so many people and is still impacting everyone living in the area of the Ho Chi Minh Trail today," Duvall says.
A second critical element to the expedition was finding a teammate for Rusch. The prevailing feeling was that riding with someone from the region would help Rusch better understand the country and experience the ride with a completely different perspective. Through research and word of mouth, they discovered Huyen Nguyen, one of the most decorated cyclists in Vietnam's history, a four-time winner of the Southeast Asian Games.
Typically Rusch knows her expedition partners. Going on the biggest ride of her life with a complete stranger was concerning. Little did the team know that Nguyen's athletic achievements, though important, would pale in comparison to the companionship she provided Rusch during the challenging expedition.
Having lost her mother when she was eight years old and her husband seven years before the expedition began, Nguyen possesses a deep understanding of loss. Her kindness and empathy toward Rusch's emotional journey are strikingly apparent on film.
"I feel blessed to be able to ride alongside Rebecca to the place where her father fell in the war," Nguyen says. "And with that, maybe I can partly share her agony and sorrow."
Though well decorated, Nguyen had been retired from mountain biking for a decade.
She raises her children, son, Huu Nhat Thanh, and daughter, Nguyen Bao Ngoc, as a single mom while working at Ho Chi Minh City University and coaching the junior Vietnamese women's cycling team. Yet the chance to ride the Ho Chi Minh Trail carried great meaning. She jumped at the chance.
Rusch was the great beneficiary of Nguyen's addition to the team. Most importantly it helped the American learn to slow down and express her emotions more openly.
"What was my biggest fear going into the expedition turned out to be my biggest gift," Rusch says. "While I was teaching her on the trail, physically, she helped me grow emotionally. I wasn't always recognizing it in the moment. But I look back now and read the full translations of her interviews and see, 'Wow, she really was devoted to me, devoted to my cause, very patient with me.' It warmed my heart to know she was doing and feeling and saying all those things without me even knowing it or being able to say those words to each other."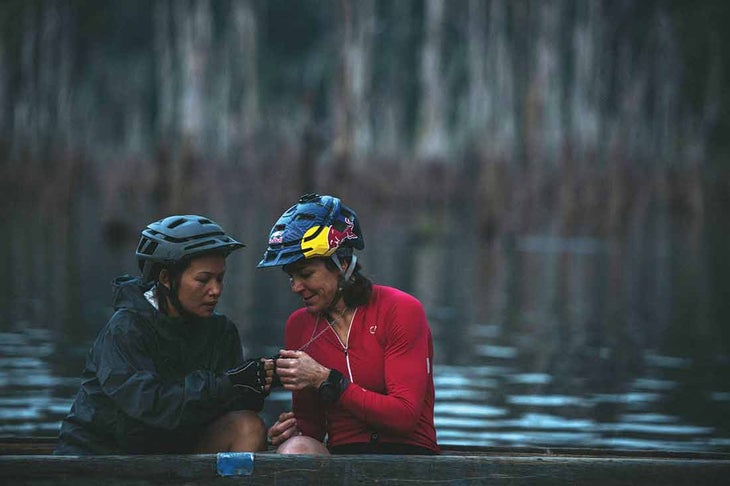 METICULOUS PLANNING WENT INTO how to film an expedition of this scale, through jungles and remote villages, with delicate modern film equipment, all while dancing around a pair of incredibly talented endurance athletes.
Schrunk allowed Rusch to detail the expedition from an athletic standpoint on her own. For that authentic experience you see on screen, it had to be a true expedition, he believed. Yet, for the purposes of catching it all on film, Schrunk and his crew couldn't take such chances.
"We needed a cheat sheet because there's no way you stay in front of one of the world's best endurance athletes by accident," Schrunk says. "We didn't want to leave things unto chance. As a filmmaker, you want to be able to capture all of it: the villages, the streams, the rivers, the jungles, while capturing the story in a genuine and real way."
Thus, for three months, over two trips, Schrunk scouted the route. On his second and third trips down the planned course, he, Duvall, and director of photography Ryan Young established GPS waypoints where they could film the two riders coming or going, beautiful shots of the landscape and villages, as well as places to charge batteries, get water, and so forth. The giant bank of waypoints became their cheat sheet.
"In any documentary, the pre-production process is where the genius lies," Schrunk says. "It's how you get more chances to get more creative elements."
The crew was never in the same place twice — there were no do-overs. Furthermore, most of them had never seen these places before. Most importantly, they had high aspirations for the cinematography and storytelling. And the one thing they couldn't ever replace was Rusch's reactions and her discoveries for the first time.
The ask was high: Rusch and Schrunk shared a strong but sometimes conflicting desire to succeed. While her concern was to respect her family and fully address the unexplored, both physically and emotionally, Schrunk's ultimate responsibility was to document all facets of the journey, and in particular to capture the raw human emotion.
It didn't always work out the way they hoped.
The small crew Schrunk directed — a team of six, including two cameramen, an audio specialist who doubled as the drone pilot, a gimbal operator, a producer, and himself — could only shoot one scene at a time.
They were often constrained by their small size.
One morning the crew awoke in camp to witness a beautiful golden sunrise — light rose in the jungle, reflecting off a river while a nearby waterfall cascaded down. They couldn't resist shooting what Schrunk describes as a once-in-a-lifetime moment. They sent the drone into the sky. (Little did they know at the time the footage would be used to open the film.)
Meanwhile, Schrunk looked over to see Rusch embracing a teary-eyed Nguyen. The two women were deep in conversation about Nguyen's late husband's tragic death. It was a cathartic moment. Meanwhile, the drone flying above destroyed any chance of capturing quality audio from the touching scene.
"It's like you're handcuffed watching hundred dollar bills fly in front of you on the ground. You can only really grab one of them," Shrunk says.
It wasn't the only time the film crew missed an opportunity to capture a human moment.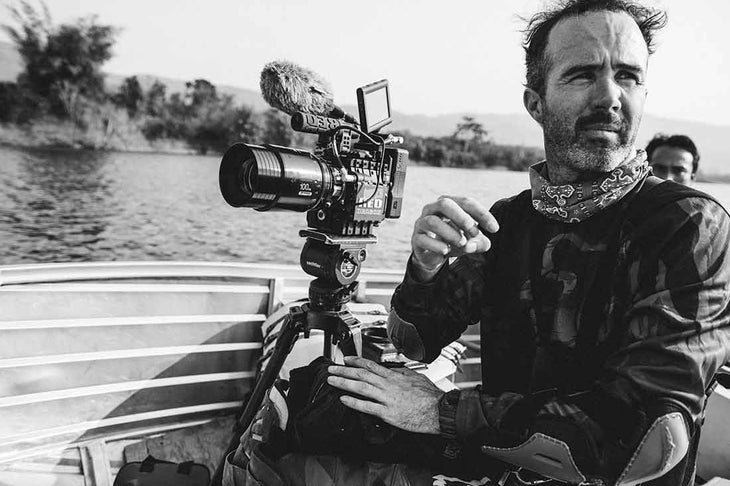 ONE SCENE THAT WASN'T missed, and the film's most surreal, was the encounter in the village of Ta Oy. As viewers of the film, we watch as an aghast Rusch learns she is sitting across from the son of the former village chief who discovered her father's fallen plane. Mr. Ayr is now the village chief.
The chance meeting took the air out of the room.
"Complete shock," Rusch says. "I was saying to myself, 'How is this happening? How did we find this person?' He welcomed me into his home. My dad was dropping bombs on his family, and for him to still have the kind spirit and openness to welcome me and be glad to see me and say that we're family, it made me sad for what we've done in our wars and all the f—ked up things that happened, but it also made me realize how good humanity is, how forgiving they are."
In the eyes of Rusch and Mr. Ayr, they are family. Off camera, Mr. Ayr told Rusch, "We're brother and sister. You're part of me." That's because Mr. Ayr's mother was pregnant with him at the time of the plane crash. The village shaman told his family the spirits of the dead American soldiers were born in him — when one spirit dies, another is born. She was floored.
As a filmmaker, moments such as these are what Schrunk dreamed of capturing. He moved his cameras back and let the scene unfurl.
While Rusch believes it was destiny, Schrunk has a more pragmatic view of the outcome. "I remember calling my editor and saying, 'You're going to think I'm lying but I swear to god this just happened.'"
He reasons that if you analyze the situation, it doesn't appear to be so miraculous. The region has changed little in the past 40 years — people still grow rice, live with their families, remain in the same villages, live a life similar to the way they did during the war — you start to understand how it could happen. If you were a village chief and a plane fell out of the sky, of course, you would go out and see what would be there. And a village chief's son would, of course, likely become the village chief once his father passed away. With coordinates in hand, perhaps it was only a matter of time before Rusch found Mr. Ayr.
It sounds so simple now. Yet, there is no denying the moment bears a tinge of the miraculous.
THE LOGISTICS OF FILMING in rugged jungle terrain while constantly on the move presented a serious challenge. Doing so with such a small crew was grueling. That meant the entire team adopted a fluid production style — everyone had multiple jobs. The gimbal operator also managed equipment and drivers, while the drone pilot arranged audio equipment, and the cameraman maintained the motorcycles.
Those motorcycles, specifically dual-sport dirt bikes, were the only way the team could traverse the terrain. On singletrack jungle roads, everyone's bikes were loaded with survival equipment, supplies, and camera gear. This, of course, created an element of danger that required the team not only be talented in filmmaking, but also skilled moto riders.
Audio was incredibly challenging to capture within the harsh environments. It was made more difficult because the film crew couldn't be with Rusch and Nguyen for most of the day. They used audio equipment to record the riders in order to capture more than 150 hours of conversations.
Moisture and heat were the two main enemies in the jungle. Both variables struck with little warning. Moments after clouds would clear, the temperature often rose 20 degrees, pushing the crew's equipment to its limits. If any moisture made its way into the RED Dragon 6K cameras or lenses it would take days to fix. They had to waterproof all their cases and gear, and shelter everything before the sun came up. Then there was the most crucial task: not falling off a motorcycle into a river with 60 pounds of delicate, expensive, and irreplaceable gear.
Of the many challenging moments the team faced, none tested them as much as the nine-hour traverse of the Xe Bang Fai River cave.
When the teams' senses were taken away and the element of the unknown introduced — how long is this cave, how long will it take to get through it, do we have enough battery life in our headlamps — every emotion was exaggerated.
The team was late entering the cave, for many reasons. Rusch, a seasoned veteran of adventure races in extreme conditions, was accustomed to being more in control. Her default mentality of pushing even harder didn't get them anywhere faster. They had arrived during the dry season, which meant the river was low. It led to five portages over sharp and slippery rocks, hauling bikes, camera gear, and rafts, in eerie darkness. When they turned on headlamps, strange white bugs swarmed them. To top it off, this was just before the halfway mark of the trip — there was still a long way to go.
Rusch broke. She lost her composure. The typically poised veteran of such situations unleashed a tirade. (Viewers catch only a brief glimpse.) The team was cracked.
But sometimes it takes being broken in order to rebound and know where everyone stands as teammates. When the protective layers are removed, the experience becomes something more genuine and real, says Schrunk.
It was a pivotal moment in the making of the film. For Rusch, it was an educational moment. Soon after her outburst, she felt embarrassed. She apologized to Nguyen and the crew who had seen her at her worst.
"While I'm not proud of how I was in the cave, I think it was a good lesson for me," Rusch says. "I knew I had to communicate better, slow down. It took us to another level in our friendship and working relationship. We started as strangers and now we're like brothers and sisters."
WHILE THE MOMENTS WITHIN the cave were raw and unfiltered, there was no more touching and poignant scene than when Rusch stands at the very tree where her father was buried.
The film crew knew this was going to be a powerful moment no matter how it played out. They wanted to avoid dictating anything about how Rusch experienced it. Schrunk chose camera angles that were purposefully set back so that she wouldn't have any distraction. There could be no moving around; there could be no pressure on her to do or say anything in particular.
"This was her moment," Schrunk says. "I told her, 'We're going to get it, and no matter what you feel or how it goes about, it's going to be great because it's going to be genuine to you. This is your moment. You live it how you want to.'"
Father and daughter were reunited. After so many years, Rusch felt her dad. It was the crux moment of an incredible journey. The true meaning of it all, however, wouldn't immediately strike Rusch.
A few days later, she and the team visited a dusty, drab temple, one of hundreds along their route. Rusch opened the door to the sanctuary and entered another world: like going from a black and white movie into Technicolor, she says. Incredibly vibrant Buddhist scenes covered the entire room, some 50-feet square. It glowed. Across the back wall was a hand-painted scene of the Buddha sitting beneath the Bodhi tree, where he is said to have attained enlightenment.
"That's when it struck me: My dad's tree was my Bodhi tree. That tree in the middle of Laos was…finding myself, finding enlightenment, finding a purpose."
The messages had been coming at her for years. She hadn't been listening. Finally, her father broke through.
"In his letters, my father laments over having to drop bombs and not understanding why. Why did he bring me here? In order to help heal, close these wounds finally. He's brought me there to try to fix it."