Schalk Beats Tostado at Breckenridge 100
2011 BRECKENRIDGE 100 FULL RESULTS Jeff Schalk leads Kelly Magelky through one of the many snow fields on the course. Photo Mountain Moon Photography 100: Schalk-Magelky Since its inception in 2005, Colorado strongman Josh Tostado has maintained a firm grip on the podium…
Heading out the door? Read this article on the new Outside+ app available now on iOS devices for members! Download the app.
2011 BRECKENRIDGE 100 FULL RESULTS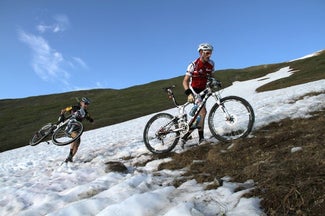 Since its inception in 2005, Colorado strongman Josh Tostado has maintained a firm grip on the podium of the Breckenridge 100.
Tostado, who resides at 10,500 feet in nearby Alma, was gunning for a seventh straight win on Saturday. But if there was one rider who had a legitimate chance to win the grueling race it was Jeff Schalk. And he did it in record fashion stopping the clock at 8:08:53.
In 2010, Trek rider Schalk, the Kenda NUE Series national champion, made his second attempt at the Breckenridge title without success, thanks in part, to two flat tires along Wheeler Pass on loop one that set him back by just over 19 minutes behind the seemingly undefeatable local champion.
In 2011 however, Schalk, the now three-time reigning national champion, returned with a successful strategy. Both contenders would face the leading series contender, Christian Tanguy (Team CF) who has won three of the last five NUE Series races, including the most recent Lumberjack 100 in Michigan.
"I really didn't think I was going to win," Schalk said. "It was more will than anything."
Before the race Schalk acclimated in Boulder, about half the elevation as Breckenridge. His plan was to go easy on the first big climb of the day, but that went out the window right away.
"But Kelly Megelky of Golden, Colorado was pushing the pace and he's been doing really good this year, better than I've ever seen him, so I figured I had better stay with him," Schalk said, adding that he had shallow breathing and a stitch in his side the whole time.
Tostado (Santa Cruz-Shimano), meanwhile, finished second, breaking his own course record at 8:13:50. Megelky (Honey Stinger/Trek)  was with Schalk and Tostado about halfway through the second loop, about 50 miles, and then he was having chain-suck issues before he dropped off. Then it was just Schalk and Tosado for the remainder of the race.
"I was battling with Jeff and Kelly Magelky on the first two loops and Jeff was having an incredible day, just hammering it out on every single climb and pinning it on the down hills. I was feeling great too, definitely the best I've felt all year."
Still in contention for the NUE title, Tostado's next stop will be the High Cascades 100 in Bend, Oregon next Saturday followed by the Pierre's Hole 100 in Alta, Wyoming and the Park City P2P in Park City, Utah.
Leading the NUE Series with three wins and placing third in the race at 8:24:38, Christian Tanguy said the three snowpack crossings leading up to Wheeler Pass slowed his race.
"Each time I lost 50 yards, especially the last one," he said. "I came to a complete stop. I didn't know how to push the bike or carry the bike, it was very steep. I lost a tremendous amount of time."
Finishing just 11 minutes behind Tostado in his first attempt at the Breck 100, Tanguy said he was pleased with his time.
"I had a great day and my bike worked excellent," Tanguy said.
Hiw next attempt at his fourth win will be at the Wilderness 101 in State College, Pennsylvania on July 30.
Jesse Jakomait finished third, 8:51:17, and Kelly Magelky held on for fourth, just over four minutes behind Jakomait.
Women's Open
Among the women in the100 miler, Jari Kirkland (Alpine Orthopaedics) from Crested Butte captured her second straight win, finishing in just 10:31:36.
"I don't necessarily know the competition but I came here to improve my time from last year. I definitely did not feel too great on the first two loops and it was just like, stick it out, stick it out, Jari, stick it out. You came here to ride one hundred miles."
Finishing second this year was Melissa Trainer (Trek Bicycle Store) from Boulder, Colorado, 11:45:39.
Single Speed Open
Mark Thompson, (Wilderness Sports/Specialized/Big Wheel Racing), of Breckenridge rocked the course for the third straight year, the only singlespeed racer to break the ten hour barrier at 9:54:00.
NUE Series reigning champion Gerry Pflug (Salsa/NoTubes/ProBikes), who has won the first five series races, placed seventh at Breckenridge.
Michael Scott, (Trek Bicycle Store) from Denver placed second in what was a close race between second and third, 10:03:07. Jeff Carter, (www.willaswheels.org) of Denver finished third, 10:06:41.
Next, the NUE Series heads Northwest to the High Cascades of Bend, Oregon for the HC100. Stay tuned for a race preview and highlights.