Up next: Oz Trails Off-Road
Heading into the final Epic Rides Series mountain bike race of 2018, Spencer explains the three "Ps" of how to use knowledge as power.
Heading out the door? Read this article on the new Outside+ app available now on iOS devices for members! Download the app.
Editor's note: News director Spencer Powlison is racing all four of the Epic Rides Series mountain bike races this summer to cover the pro racing and experience the events from a participant's standpoint. This coverage is sponsored by Fezzari Bicycles, Smith, and Mavic. Powlison will ride Fezzari's new Signal Peak cross-country bike, wear Smith's Forefront 2 helmet and Attack Max sunglasses, and ride Mavic's Crossmax Pro Carbon wheelset.
To wrap up our 2018 coverage of the Epic Rides Series, I'm heading to the inaugural Oz Trails Off-Road mountain bike race, October 5-7 in Bentonville, Arkansas. Does that town's name ring a bell? Yes, Bentonville is the home to retail giant Walmart, as well as the family that owns the business, the Walton family. The retail giant's charitable arm, the Walton Family Foundation, has put $13 million into trails in Northwest Arkansas. The Epic Rides series decided to bring its series eastward to race on the miles of singletrack.
As usual, the weekend kicks off with a pro-only fat tire crit, includes 25-, 35- and 50-mile race options for amateurs, parties all Saturday afternoon and evening with five musical acts, and culminates with the pro backcountry race Sunday.
The course
If you've followed along as I've raced the other events on the Epic Rides Series — Whiskey Off-Road, Grand Junction Off-Road, and Carson City Off-Road — you've probably noticed that all those races include (at least) one massive climb. Well, Northwest Arkansas is hilly but not mountainous. So the Oz Trails Off-Road will have a different rhythm. The 50-mile route has 5,906 feet of climbing, and to get all that gain, there's a jagged profile of ups and downs as the race loops north to the Missouri border and back.
There will be plenty of purpose-built mountain biking singletrack and some sections of chunky rocks. The three-mile trail known as The Ledges may present the greatest technical challenge. It comes at the 34-mile mark and should be a tough climb before the race drops back into town with one final kicker at the end.
The tunes
Saturday's musical line-up features four local acts from Northwest Arkansas with Smokey & The Mirror, a husband and wife duo out of Fayetteville, Arkansas, Emily Nance, Melody Pond, and Josh Noren. Big Sam's Funky Nation will be the headliner, coming in from New Orleans with a mix of funk, jazz, rock, and hip-hop.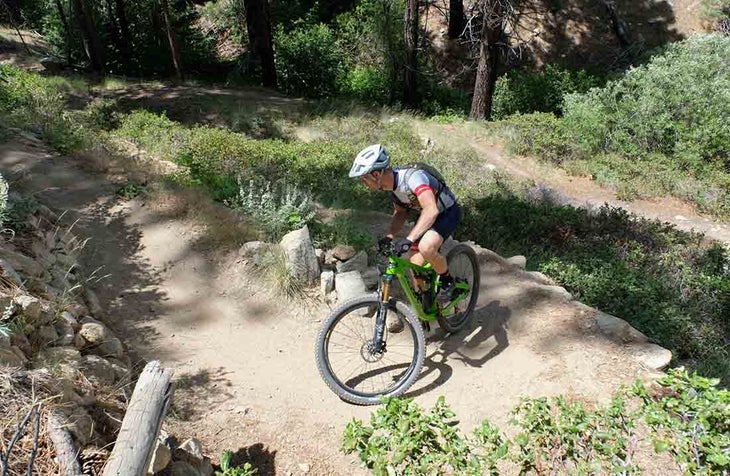 Knowledge is power
After a long season of riding and racing, I'll admit I'm not coming into this race with peak form. Maybe you've had this feeling at some point, looking ahead to a major event and realizing you aren't quite physically prepared. Well, even if you don't have power in your legs, you can fall back on the power of wisdom. Here are my three "Ps" to help the race go smoother and maybe even a little faster.
Pacing. This is a 50-miler, so it isn't worth digging yourself into a hole in the first five miles to chase a faster rider. Can they maintain that furious pace for the whole race? If so, it's not worth going beyond the limit. Will they crack because they started too hard? If so, then all the better — you'll see them later.
Preparation. This is all-encompassing, and something you should do for any race. I just gave my Fezzari Signal Peak's rear shock some TLC because it has seen more than 500 miles of riding. Mavic was nice enough to send along some new Crossmax Pro Carbon wheels — I rode those a few times before packing up my bike to avoid any surprises. And I made sure to pack the Chromapop Contrast Rose lenses for my Smith Attack Max sunglasses for those shady Arkansas forests. Another major preparation task beyond gear is nutrition: How many gels will I eat? What mix do I want to drink? What sort of breakfast should I plan on? Essentially, I walk through the entire day in my mind, planning out the details — and the worst-case scenarios.
 Perseverance. If you're in the position that I am in, taking on a tough mountain bike race at the end of the year, it's important to remember what has led up to the race and to draw on that when things get tough. Even if you're not in peak form, you have hours of racing and riding built up. There's plenty of raw fitness built up in the reserves, it just comes down to the psychology of convincing yourself that you can make a withdrawal from that account.
What I'm riding: