Wells Takes Home Two Champion's Jerseys
Slideshow:Todd Wells wins XC and short-track titles over the weekend; Katie Compton shows her elite form with short-track victory.
Heading out the door? Read this article on the new Outside+ app available now on iOS devices for members! Download the app.
By Singletrack.com
[album id=50 template=extend]
Todd Wells double-dipped at the Mountain Bike National Championships in Colorado this weekend.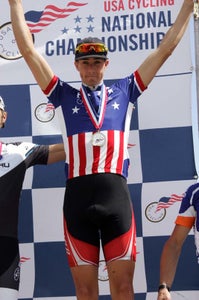 After winning the pro cross-country on Saturday, Wells (Durango, Colo./Specialized Factory Racing) grabbed his second national title of the weekend by winning the men's short-track on Sunday.
Katie Compton (Colorado Springs, Colo./Planet Bike-Stevens) powered to the win in the women's race.
Overall competition wrapped up at Colorado's SolVista Bike Park on Sunday as twenty more national champions were crowned in short track cross country, Super D, and downhill racing.
In the pro short-track, as in Saturday's cross-country race, Wells again finished ahead of silver medalist Jeremy Horgan-Kobelski (Boulder, Colo./Subaru-Trek). Wells set a super-fast pace at the front, and despite an impressive chase effort by JHK and Sam Schultz (Missoula, Mont./Subaru-Trek), his pace simply couldn't be matched.
"Up here at altitude, it's hard to attack because if you go into the red zone it takes a while to come out," Wells explained of his tactics at the finish line. "So I upped it a little bit. It wasn't a full out attack but I could see they were suffering so I started to push the pace a little."
Adam Craig (Bend, Ore./Giant-Rabobank) eventually worked his way past Schultz to take the bronze medal while Schultz claimed fourth and Carl Decker (Bend, Ore./Giant Factory Racing) crossed the line in fifth for the final spot on the podium.
Compton meanwhile, dominated a fast pro women's short track event, upping the pace in lap three and opening a gap that gradually increased until she crossed the finish line for the national title ahead of Saturday's cross country winner Georgia Gould (Fort Collins, Colo./Luna Pro Team). Heather Irmiger (Boulder, Colo./Subaru-Trek) was third while Mary McConneloug (Chilmark, Mass./Kenda-Seven-NoTubes) and Willow Koerber (Durango, Colo./Subaru-Trek) were fourth and fifth.
Amateur Categories
Four categories of amateurs contested the short-track competitions on Sunday morning and afternoon. In the women's cat 1 race, it was Alicia Rose Pastore (Durango, Colo./Rocky Mountain Chocolate) to take the victory over second-place rider Helene Drumm (San Anselmo, Calif./Peanut Butter & Co). Howard Grotts (Durango, Colo./Durango Devo) powered his way to a national title in the junior men's 15-18 event.
In the men's 19-29 contest, Jafer Beizer (Conyers, Ga./Niner) won the national title and dedicated the win to his father who is fighting pancreatic cancer and was unable to witness the victory in person.
Crossing the finish line for the silver and bronze medals were Mark Parmelee (Waterford, Mich.) and Stevie Cullinan (Paradise Valley, Ariz./Racelab U23 Cycling Team) while Peter O'Donnell (Boulder, Colo./Mafia Racing) and Amar Mannina (Boulder, Colo.) rounded out the podium in fourth and fifth.
Next to toe the line were the men in the 30+ group. On the third lap, Jorge Expinoza (Boulder, Colo./prerace.com) took off from the field and never looked back. The Coloradoan powered his way to the national title over silver and bronze medalists Ed Oliver (Littleton, Colo./EPC-Wheatridge Cyclery) and Ward Baker (Boulder, Colo./Justin's-Titus) while Donald Myrah (San Jose, Calif.) and Frank Gonzalez (Montana Velo) made the fourth- and fifth-place efforts.
Super D
The Super D opened up the final day's competition bright and early with a Lemans style start at 8:00 a.m. In the pro men's event, the gold and silver medal were separated by only a second with Mike West (Boulder, Colo./Maverick) posting a  time of 9:52 to take the national title ahead of Kevin Soller (Breckenridge, Colo./Summit Velo) and bronze medalist Mitchell Hoke (Tokyo Joes). Adam Snyder (Westminster, Mass./Jamis Bikes) and Gregory Carpenter (Canton, Conn./3D Racing) rounded out the podium in fourth and fifth.
In the pro women's event, Kelli Emmett (Colorado Springs, Colo./Giant Bicycles) posted a time of 11:23 over the 2.33 mile course to ride into the Stars-and-Stripes jersey ahead of Krista Parks (Cannondale-InCycle.com) who clocked 11:38. Allison Mann (Murrieta, Calif.), Elke Brutsaert (Durango, Colo./Durango Devo), and Julie Olsen (Silverthorne, Colo./Standard Process) were the third, fourth, and fifth women down the mountain.
Additionally, nine groups of category one riders contested the Super D competition Sunday morning. In the men's 18 and under Super D, Seth Kemp (Campobello, SC) descended the course with a time of 10:18 to beat out silver medalist Casey Williams (Big Bear City, Calif.) who wasn't far behind with a time of 10:25. Chris Thibodeau (Grass Valley, Calif./SERT-Sho-Air) clocked a 10:34 to beat out Lars Ellefson  (Durango, Colo.) by only ten seconds in the men's 19-29 category. In the men's 30-39 group, Dejay Birtch (Tucson, Ariz./Niner-Ergon-NoTubes) descended to a national title while Ward Baker (Justins-Titus) and Chris Grove (Flagstaff, Ariz./Absolute Bikes Team) grabbed the wins in the 40-49 and 50+ categories. Kaylee Blevins (Durango, Colo.) barely bested Kate Courtney (Kentfield, Calif./Whole Athlete) for the Stars-and-Stripes jersey in the women's 18 and under contest while Philicia Marion (Mount Airy, NC/Carpe Diem Racing) beat out Amanda Ryan (Wixom, Mich./Wolverine Sports Club) in the 19-29 group. Among women 30-39, Maria Pastore (Eagle, Colo.) was the fastest while Helene Drumm (San Anselmo, Calif./Peanut Butter & Co) rode her way onto the podium's top step in the 40+ category.
Downhill
Bringing the 2010 USA Cycling Mountain Bike National Championships to a close were the final three downhill contests. The junior men, pro men, and pro women all took their turns on the course.
Jill Kintner (Seattle, Wash./Transition Racing) clocked a time of 2:46.20 over the 1.4 miles to best the 2:49.66 clocked by runner-up Jacqueline Harmony (Sedona, Calif./Vixen Racing). Melissa Buhl (Chandler, Ariz./KHS Bicycles) grabbed the bronze medal while Leigh Donovan (Murrieta, Calif./Intense Cycles) and Darian Harvey (Durango, Colo./Vixen Racing)
In the pro men's downhill time test, Aaron Gwin (Morongo Valley, Calif./Yeti Fox Factory) descended to the win with a time of 2:21.17 compared to the 2:24.64 posted by silver medalist Logan Binggeli (Saint George, Utah/KHS Bicycles). Tyler Immer (Rancho Murieta) had the bronze medal ride while Kyle Strait (Huntington Beach, Calif.) and Bradley Benedict (Auburn/Specialized) rounded out fourth and fifth.
In the Category 1 Men 17-18 downhill contest, Sam Powers (Lyons, Colo./Redstone Cyclery) claimed the win over Bryson Martin (Stevenson Ranch/Oakley) and Nate Furbee (Los Osos, Calif.) while Evan Powell (Boulder, Colo./Yeti Fox) and Trevor Trinkino (Evergreen, Colo./Yeti RPM) posted the fourth- and fifth-fastest times.
USA Cycling Mountain Bike National Championships
SolVista Bike Park at Granby Ranch, Granby, CO
July 15-18, 2010
Pro Men Super D
1. Mike West (Boulder, Colo./Maverick)
2. Kevin Soller (Breckenridge, Colo./Summit Velo)
3. Mitchell Hoke (Tokyo Joes)
4. Adam Snyder (Westminster, Mass./Jamis Bikes)
5. Greory Carpenter (Canton, Conn./3D Racing)
Pro Women Super D
1. Kelli Emmett (Colorado Springs, Colo./Giant Bicycles)
2. Krista Parks (Cannondale-InCycle.com)
3. Allison Mann (Murrieta, Calif.)
4. Elke Brutsaert (Durango, Colo./Durango Devo)
5. Julie Olsen (Silverthorne, Colo./Standard Process)
Men 18 and under Super D
1. Seth Kemp (Campobello, SC)
2. Casey Williams (Big Bear City, Calif.)
3. Christopher Ravina (WTB)
4. Mason Bond (Cedar Ridge, Calif.)
5. Max Houtzager (Ross, Calif./Whole Athlete)
Men 19-29 Super D
1. Chris Thibodeau (Grass Valley, Calif./SERT-Sho-Air)
2. Lars Ellefson  (Durango, Colo.)
3. Evan Ames (Sutter, Calif./Santa Cruz Bikes)
4. Derek Brinkerhoff (Lakewood, Colo.)
5. Taylor Reed (Eagle, Idaho/Reed Cycle)
Men 30-39 Super D
1. Dejay Birtch (Tucson, Ariz./Niner-Ergon-NoTubes)
2. Zachariah White (Singletrack.com)
3. Douglas Schuler (Boulder, Colo.)
4. Jon Freckleton (Steamboat Springs, Colo./Steamboat Velo)
5. Cashion Smith (Boulder, Colo./WAVi Brain Health)
Men 40-49 Super D
1. Ward Baker (Justins-Titus)
2. Chuck Ross (Grass Valley, Calif./SERT-Sho-Air)
3. Scott Hackett (Lakewood, Colo.)
4. Chris Bentley (Fall City, Wash./MtnSideBikes.com)
5. Craig Skinner (Sandy, Utah/GoRide.com)
Men 50+ Super D
1. Chris Grove (Flagstaff, Ariz./Absolute Bikes Team)
2. Mark Enders (Pleasant View, Utah/Autoliv Cycling Club)
3. Luther Barden (Ruckersville, Va./Bike Stop Pro Team)
4. Gary Fraser  (Abilene, Texas)
5. David Strouse (Broomfield, Colo.)
Women 18 and under Super
1. Kaylee Blevins (Durango, Colo.)
2. Kate Courtney (Kentfield, Calif./Whole Athlete)
3. Ksenia Lepikhina (Superior, Colo.)
4. Victoria Yoham (San Rafael, Calif./Whole Athlete)
5. Kelsey Anderson (Novato, Calif.)
Women 19-29 Super D
1. Philicia Marion (Mount Airy, NC/Carpe Diem Racing)
2. Amanda Ryan (Wixom, Mich./Wolverine Sports Club)
Women 30-39 Super D
1. Maria Pastore (Eagle, Colo.)
2. Michelle Monroe  (Salinas, Calif.)
3. Jennifer Horn (Atlanta, Ga./Sorella Cycling)
4. April Graham (Issaquah, Wash./Mafia Racing)
5. Christin McCurdy (Park City, Utah/White Pine Touring)
Women 40+ Super D
1. Helene Drumm (San Anselmo, Calif./Peanut Butter & Co)
2. SyRae Weikle (Denver, Colo.)
3. Ann Davis (Maple Valley, Wash.)
Pro Women Short Track Cross Country
1. Katherine Compton (Colorado Springs, Colo./Planet Bike)
2. Georgia Gould (Fort Collins, Colo./Luna Pro Team)
3. Heather Irmiger (Boulder, Colo./Subaru-Trek)
4. Mary McConneloug (Fairfax, Calif./Kenda-Seven-NoTubes)
5. Willow Koerber (Durango, Colo./Subaru-Trek)
Pro Men Short Track Cross Country
1. Todd Wells (Durango, Colo./Specialized)
2. Jeremy Horgan-Kobelski (Boulder, Colo./Subaru-Trek)
3. Adam Craig (Bend, Ore./Giant-Rabobank)
4. Sam Schultz (Missoula, M ont./Subaru-Trek)
5. Carl Decker (Bend, Ore./Giant)
Category 1 Women Short Track Cross Country
1. Alicia Rose Pastore (Durango, Colo./Rocky Mountain Chocolate)
2. Helene Drumm (San Anselmo, Calif./Peanut Butter & Co)
3. Kate Scheider (Boulder, Colo./Mafia Racing)
4. Kaila Hart (Bayfield, Colo./Durango, Colo./Get Out!)
5. Amber Broch (Reno, Nev.)
Category 1 Men 15-18 Short Track Cross Country
1. Howard Grotts (Durango, Colo./Durango Devo)
2. Skyler Trujillo (Fort Collins, Colo.)
3. Chase Dickens (Mount Airy, NC/American Classic-Kenda)
4. Seth Kemp (Campobello, SC)
5. Casey Williams (Big Bear City, Calif.)
Category 1 Men 19-29 Short Track Cross Country
1. Jafer Beizer (Conyers, Ga./Niner)
2. Mark Parmelee (Waterford, Mich.)
3. Stevie Cullinan (Paradise Valley, Ariz./Racelab U23 Cycling Team)
4. Peter O'Donnell (Boulder, Colo./Mafia Racing)
5. Amar Mannina (Boulder, Colo.)
Category 1 Men 30+ Short Track Cross Country
1. Jorge Espinoza (Boulder, Colo/www.prerace.com.)
2. Ed Oliver (Littleton, Colo./EPC-Wheatridge Cyclery)
3. Ward Baker (Boulder, Colo./Justin's-Titus)
4. Donald Myrah (San Jose, Calif.)
5. Frank Gonzalez (Montana Velo)
Pro Women Downhill
1. Jill Kintner (Seattle, Wash./Transition Racing)
2. Jacqueline Harmony (Sedona, Calif./Vixen Racing)
3. Melissa Buhl (Chandler, Ariz./KHS Bicycles)
4. Leigh Donovan (Murrieta, Calif./Intense Cycles)
5. Darian Harvey (Durango, Colo./Vixen Racing)
Pro Men Downhill
1. Aaron Gwin (Morongo Valley, Calif./Yeti Fox Factory
2. Logan Binggeli (Saint George, Utah/KHS Bicycles)
3. Tyler Immer (Rancho Murieta)
4. Kyle Strait (Huntington Beach, Calif.)
5. Bradley Benedict (Auburn/Specialized)
Category 1 Men 17-18 Downhill
1. Sam Powers (Lyons, Colo./Redstone Cyclery)
2. Bryson Martin (Stevenson Ranch/Oakley)
3. Nate Furbee (Los Osos, Calif.)
4. Evan Powell (Boulder, Colo./Yeti Fox)
5. Trevor Trinkino (Evergreen, Colo./Yeti RPM)