Wounded Warriors: Trailblazer and the Biffmaster
Bob Babbitt recounts his 100K ride with President Bush and the group known as Peloton One.
Heading out the door? Read this article on the new Outside+ app available now on iOS devices for members! Download the app.
Trailblazer and the Biffmaster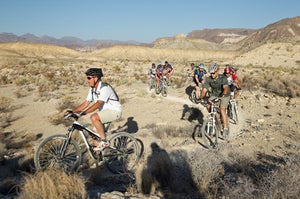 In mountain biking terms, they call it the calm before the yard sale. I was up out of my saddle barreling down a short, steep singletrack section channeling my inner Ned Overend when I somehow planted my front wheel deep into the soft scree of Big Bend Ranch State Park.
The bike came to a complete stop and I was sent flying ever so gracefully through the hot and humid southwest Texas air. One leg pointed north and one pointed due south before I landed face first in the prickly desert brush. My brand new Specialized Stumpjumper Comp Carbon Hardtail 29 landed to my left while my hotel key, sunscreen, water bottles, bike tools, a silver foiled covered two-pack of Pop Tarts — the world's most desired endurance food, by the way — and the pilot were left scattered all over the crash site. Hence the term yard sale.
I had been invited to be part of the Warrior 100K Mountain Bike Ride, the inaugural event for the George W. Bush Presidential Center's Social Enterprise Initiative. The goal of the initiative is to highlight the bravery and strength of the wounded warriors and the organizations that support them. The W100K was held in April and the guests of honor were 14 servicemen and women who had been injured or had lost limbs in Iraq and Afghanistan.
Mountain biking with the group during the three day adventure would also be representatives from four charities who raise funds to support the needs of our injured troops; Wounded Warriors, Ride 2 Recovery, Challenged Athletes Foundation (which I co-founded) and World T.E.A.M. Sports. We would ride about 12 miles on day one, 30 miles day two and 20 miles day three. All of it off-road in the 90 degree heat and sauna-like breezes of the desert.
The idea was to ride 100K with President Bush and the group known as Peloton One, which was at least two zip codes in front of me at the time of my first solo circumnavigation of Big Bend attempt. Over the three days of mountain biking I found myself, in so many different ways, falling and flying off my bike and into each one of the 1,200 species of plants while also getting up close and personal with the majority of the 3,600 types of insects that call the area home.
The Secret Service folks who attempted to shadow Mr. Bush — code name Trailblazer — during the ride knew all too well that they would have their work cut out for them. The guy with the number 43 plate on the front of his stead can definitely ride the mountain bike. If you're not ready to rock and roll, he will leave you in the dust. Or, in my particular case, in the cacti.
Wounded Warriors: Fit Former Commanders in Chief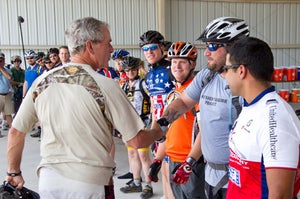 I really don't know a heck of a lot about the fitness or athletic achievements of other former Presidents like Theodore Roosevelt, Herbert Hoover or the even the very buff looking Chester A. Arthur. But in my humble, thorn-coated opinion, after catching a glimpse or two of George W. Bush riding off the front of Peloton One, there is no doubt in my mind that he is our fittest former President ever, hands down.
Paul Morse was a staff photographer for the LA Times when his friend, Eric Draper, was named as President Bush's official photographer. Morse was recruited by Draper to become the Deputy Director of Photography and move to Washington, D.C.
"The President was having issues with his knees at the time and knew he needed to find another outlet besides running," Morse recalls. "He decided to get into mountain biking and when he found out that I had experience on the trails, he started asking me a lot of questions and we started to ride together."
At first they would ride at the Secret Service facility in Beltsville, Maryland.
"The Secret Service staff was obviously very fit," continues Morse, "but running fitness is a lot different than mountain biking fitness. The Secret Service put together a special training group to get their team up to speed as mountain bikers. Besides being able to carry their weapons and radios while they rode, they had to learn bike handling and mechanical skills plus keep up with the President, who was becoming a really good rider."
Morse rode with Mr. Bush at the President's ranch in Crawford, Texas, at the Marine Corps Base in Quantico, Virginia and at Fort Belvoir, Virginia. But the President's favorite rides were right there at the White House.
"I'd get a call and the President would want to ride at say 3 that afternoon," says Morse. "We'd ride laps on the South Lawn and through the Rose Garden. It would just be the two of us and his dogs."
Over the years, a number of White House staffers would come out to try and ride with President Bush —once.
"People underestimated how hard the President rode or how competitive he was," says Morse. "A lot of them quickly got dropped and never came back."
After a trip to Idaho where the President had his first taste of singletrack riding, everything changed.
"He loved the singletrack," remembers Morse. "The day after we returned from Idaho we started building singletrack trails on President Bush's ranch. The President would be out there with us working on the trails and sweating together."
Wounded Warriors: Still Shredding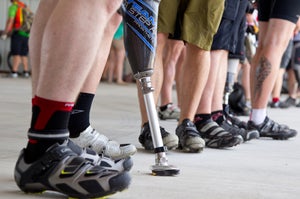 Not much has changed. During the three days of the W100K, President Bush spent time on the bike sweating together with the troops. Off the bike, he would check in with each of the servicemen and women to see how they were doing, how their lives were going. Could he do anything for them? To him a catered three-day mountain bike trip with a guest appearance from seven-time Tour de France champion and fellow Texan Lance Armstrong and some magic during dinner from David Blaine was only the beginning of the conversation.
Mr. Bush feels a loyalty to the troops that served under him and his reasoning behind creating the W100K was simple.
"I put these men and women in harm's way in Iraq and Afghanistan, "he says emphatically. "I feel that they will always be part of my family and I will always be part of theirs."
Wounded Warriors: Self-less Service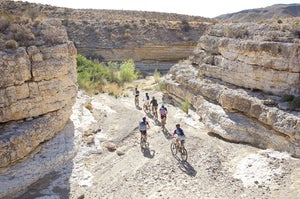 One of those family members is U.S. Army Sergeant Major Chris Self, 44, who is based at Fort Campbell, Kentucky. Self grew up in Canton, Ohio, the home of the Pro Football Hall of Fame, played linebacker in high school and enlisted in the Army right after graduation.
"I saw my uncle go off to Vietnam when I was a kid," he remembers. "I loved the shiny boots and the uniforms. That was so cool. I told myself, 'I've got to do that.'"
From 1986 through 1992 he was part of the Military Police at Fort Campbell. Then he went through the program to become part of the Special Forces.
In 2001, he broke his foot and on Sept. 8 of that year he went in for surgery. While at home recuperating, he watched the attack on the World Trade Center on television on Sept. 11, went into his garage, took out a hacksaw, cut off the cast and went back to work. He was deployed to Iraq in late October, on Halloween.
On December 28, 2005, Self was based in Northern Baghdad and three weeks from returning home to the U.S. to attempt his first long-distance triathlon, Ironman Florida, in November of 2006. That particular day, he was wearing running shorts, a t-shirt and flip flops as he drank his morning coffee and geared up for his morning run.
"I was carrying my M4 rifle and I happened to walk right into a prison break," he remembers.
During the firefight that followed, seven of the escapees were killed and Self was shot in each leg.
"At first they thought my right leg was paralyzed," he says. "It turned out that a bullet had severed the sciatic nerve so my options were a nerve graph or amputation."
One doctor wanted to amputate just four inches below the knee, but that wouldn't have left Self enough leg to be able to handle a running or cycling prosthetic. The next doctor recommended they leave more leg and Self was totally on board. He had his right leg amputated on July 13, 2006, and in September of 2007 he was back with his unit in Iraq.
It was while Self was on site at Brooke Army Medical Center in April of 2009 in San Antonio, Texas that he met President George W. Bush for the first time.
"I was there for rehab and to have my prosthetic worked on," he remembers. "This was not long after President Obama took office. President Bush was at the hospital visiting the troops, he saw my road bike and asked who it belonged to," Self recalls.
"When we connected, he asked me if I wanted to go for a ride on his ranch sometime. It was a Tuesday. I told him that he was the boss and I'd ride anytime he'd like. I borrowed a mountain bike and that Friday we rode for two hours on his ranch. I had no idea what that one ride would eventually lead to."
It led to 14 troops getting to ride with President Bush for three days and to me getting up close and personal to way too much South Texas desert fauna.
Wounded Warriors: The Way to W100K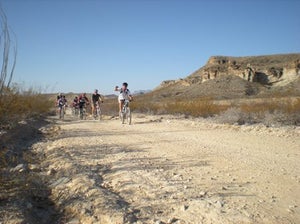 The plan for the W100K started to germinate when the President's personal spokesman, David Sherzer, called Self in February of 2011 to let Chris and his wife Dana know that the President would be coming to Fort Campbell for the release of his book and wanted to meet.
"I was asked if I could help them find some injured troops and representatives from groups that support the troops to go on a little mountain biking adventure," recalls Self.
Not a problem. Self totally understands the mindset of an injured serviceman or woman. When he first came to CAF's San Diego Triathlon Challenge in San Diego back in October of 2006, Self couldn't run or ride at all. He was in the recovery mode.
"I spent that weekend soaking up information from other guys who had already figured out what they wanted to do in sport," he says. "The best part about getting wounded guys together is to share your experiences, to learn about each person's path to recovery."
For Staff Sergeant Kenny Butler, 31, from Braintree, Massachusetts, it was the events of Sept. 11, 2001 that led him to enlist in the Army Airborne Infantry. He was based at Fort Bragg, North Carolina and did three tours overseas, his first in Afghanistan in 2002 and then three in Iraq. On May 14, 2007, the Humvee he was in hit a roadside bomb outside of Baghdad.
"The explosion was so loud I couldn't hear the gunner yelling out at me," he recalls. "When I was hit, my right arm had been blown off and was loose in the sleeve of my uniform. I wasn't surprised when I woke up at Walter Reed and it was gone. The doctors told me that if my team at the scene hadn't reacted the way they did, I would not have made it. I owe them my life."
When he returned home, he went online and looked for videos of one arm athletes riding bikes and then went on a Ride 2 Recovery event in Texas in 2008.
"I saw a lot of guys with way more severe wounds then me," says Butler. "I knew then that there was no room for the tiny heart syndrome."
Tiny heart syndrome?
"You know," he continues, "when you start to feel sorry for yourself."
Butler is going to school at Norwich University and transferring to Bridgewater State University in Massachusetts this fall. He is studying education and history and hopes to become a teacher down the line.
What he has learned from dealing with not only the loss of his right arm, but also all of the shrapnel that punctured his body that day in May, was that he has to stay active and expand his lungs every day so that the scar tissue he has doesn't tighten up and force him to lose
flexibility.
On the mountain bike Butler was amazing. With his prosthetic arm he hung tough with President Bush throughout the Warrior 100K.
"I was impressed with how President Bush rides," says Butler, "He'll drop you quick if you're not careful."
Army Specialist Juan Carlos Hernandez, 24, from Schulenburg, Texas could relate.
"I wasn't expecting President Bush to be as fast as he was," says Hernandez. "He's in great shape."
Hernandez is as well. In 2010, the lower leg amputee did all five of the Ride 2 Recovery events plus one in Europe benefitting injured British troops. Hernandez went into the Army right out of high school and in December of 2008 went to Afghanistan where he was a gunner on a Chinook Helicopter. In October of that same year, while on a mission, the chopper he was in was hit by a Rocket Propelled Grenade (RPG) under the left gunner's window.
"I knew I was hit," he remembers, "and I knew something was terribly wrong. I couldn't feel either leg."
If the RPG had hit the chopper two feet over, it would have hit the gas tank and no one would have survived. As it turned out, Hernandez was the only one wounded.
"My leg was amputated in Afghanistan," he continues. "After that I was in Germany for a day, then Walter Reed and finally on to Brooke Army Hospital."
He was 22 years old at the time of the accident and his background as an athlete had been in football, baseball and power lifting. At 197 pounds, he bench pressed 405 pounds as a senior in high school.
"There was a cycling program at the hospital and I started out using a handcycle before receiving my prosthetic and getting back on a road bike."
His first event with Ride 2 Recovery was in April of 2010, the five day Texas based San Antonio to Arlington event. He was hooked.
Hernandez is pretty easy to spot when he's riding the roads or the trails. His girlfriend, Courtney, decided that she would dress up Hernandez' prosthetic for the holidays. Paper hearts were glued on for Valentine's Day, Shamrocks on St. Patrick's Day and multi-colored eggs during Easter.
"On Memorial Day she'll be putting American flags all over my leg," he says.
Hernandez just finished his first semester at San Antonio Community College and he's planning to major in Kinesiology.
Wounded Warriors: Special Stories
Every athlete at the first ever W100K had a great story and was more than happy to share. It was a very special few days.
"It was a once in a lifetime experience," admits Hernandez.
And he's right. Every one of the troops that made up Peloton One is dealing every single day with the mental and physical trauma that comes along with being seriously injured. Some of those wounds are visible, but some are not. The W100K was all about providing a venue for mentoring, sharing, riding, biffing and, ultimately, recovering and moving on.
Bob Babbitt is editor-in-chief of Competitor Magazine.
The Charities
• Challenged Athletes Foundation/Operation Rebound
MOUNTAIN BIKE LOCATION
Big Bend Ranch State Park
• 300,000 acres
• 200 miles of old Jeep roads and trails
RESORT
Lajitas Golf Resort
www.lajitasgolfresort.com